Matt Roloff Slams "White Privilege" Criticism on Instagram
Matt Roloff swiftly clapped back at his hater on Instagram.
The 'Little People Big World' star Matt Roloff shared an inspirational quote on his Instagram during an ongoing protest against racial injustice.
On his post, the quote read, "practice gentleness, seek the truth, give up anger, do not slander, and have compassion for all beings. Be gentle, modest, and useful to others."
Such a lovely message it was during this time of difficulties, however, not all equally inspired by his words. The comment section saw a pretty mixed up reaction by his followers.
Also See: Greg Gutfeld Twitter War: He is Going At Lengths to Defend the "Flop Trump Rally" in Tulsa Oklahoma
Some even went to the extent, saying Matt's showing his "white privilege." The Instagram user wrote, "Careful Matt, your white privilege is showing.'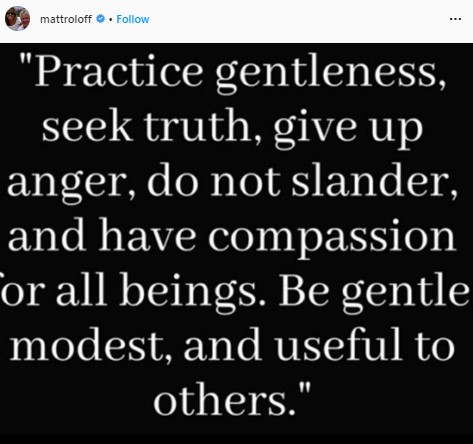 A screenshot of Matt Roloff's Instagram post.
But Matt was not going to just sit there and let them dunk all over the place. The TV reality star swiftly fired back at the fan saying, "that's the most uninformed thing you can say to another human of profound short stature."
Roloff further added, "Little people are not 'privileged' (as in born privileged) regardless of their skin color. We have to fight for every inch they get. What a cruel thing to say to someone who has fought hard to overcome all the adversity life has to offer. A community that struggles with so much bullying, discrimination, teasing, unemployment. Shame on you."
Following his reply to the commenter, other fans joined Roloff and supported him for the response. They agreed it was a cruel and disgusting thing to say to anyone.
You May Also Like: Greg Gutfeld Twitter War: The TV Producer Calls Pink a 'Third Rate Joan Jett'
For more information on your favorite celebrities' lifestyle, stay tuned to Glamour Fame, and don't forget to sign up for the newsletter.
-->