Meek Mill's Verbal Altercation with Nicki Minaj and Kenneth Petty
Published Thu Feb 06 2020 By Matthew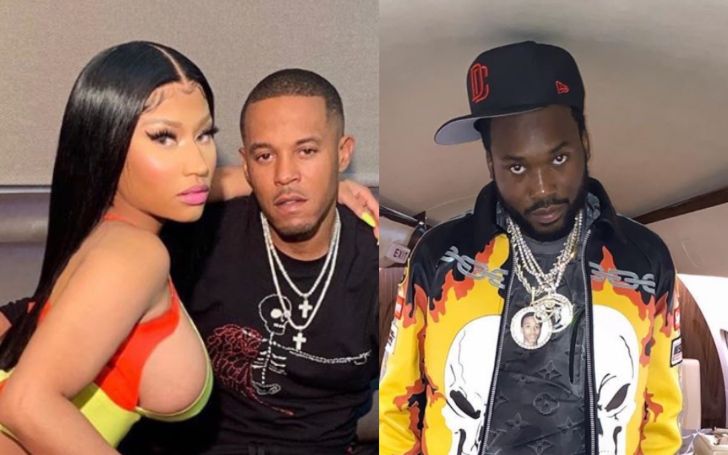 Meek Mill took a bad trip down the memory lane with his ex-girlfriend Nicki Minaj and her current husband, Kenneth Petty!
Meek Mill ran into his former girlfriend Nicki Minaj and her current spouse Kenneth Petty, and they weren't happy to see each other, to say the least. As reported by TMZ, the ex-lovers got into a verbal altercation with each other, and the situation almost turned physical.
The incident went down on Friday at Maxfield in West Hollywood, a boutique that carries clothing from top designers and is noted for outfitting movie and TV stars, where both involved sides were reportedly shopping.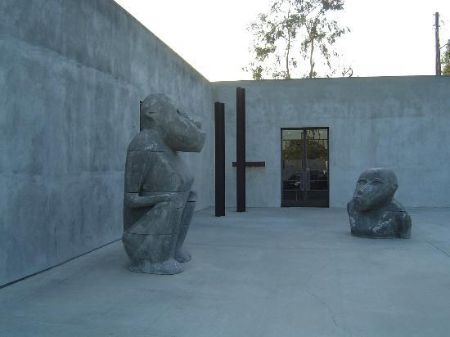 Meek Mill's verbal altercation with Nicki Minaj and Kenneth Petty went down on Friday at Maxfield in West Hollywood.
Source: Trip Advisor
The video released by TMZ shows Meek, the guy in white, being escorted out the store by guys working for the exclusive shop and his security detail, but not before the 32-year-old rapper fired back a few insults in response to Kenneth.
Watch: Meek Mill Gets Into Shouting Match With Ex Nicki Minaj's Husband | TMZ
Nicki and Kenneth, while not seen in the video, can be clearly and distinctly heard in the background. One cannot miss their voices as they let off insults after insults to the 'Going Bad' singer.
At a point in the video, it can be made out that Kenneth calls Meek a p***y, and Meek calls him one right back. Prior, Nicki's husband can be heard yelling "She ain't talking to you no more," which only concludes the beef between two started over Minaj.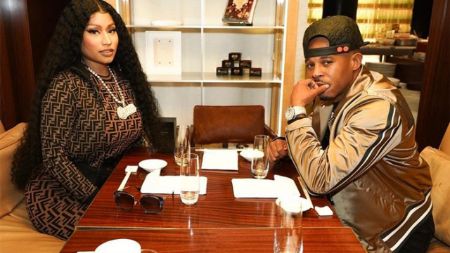 Nicki Minaj and her current spouse Kenneth Petty.
Source: Daily Bayonet
It's still unclear, however, as to who started the showdown, yet a few sources are claiming unconfirmed details leading up to the screaming grudge match. According to TMZ's sources, Mill was already in the store with 10 of his other crew members when Minaj and Petty arrived. Mill, who was reportedly approached by the couple, wanted to keep things civil, anyhow, the situation blew up right in his face instead.
Recommended: Nicki Minaj Defends Her Sex Offender Boyfriend Kenny Petty
The disagreement, nevertheless, moved to Twitter afterward, where Mill and Minaj took turns calling out accusations to each other. And we can tell you it all looks like a disaster waiting to happen. Nicki even went far enough to call out her former-lover for physically abusing his own sister and herself. Meek wrote back, claiming the 'Super Bass' singer was only trying to ruin his career and held Nicki accountable for baling out her brother from a child molestation case.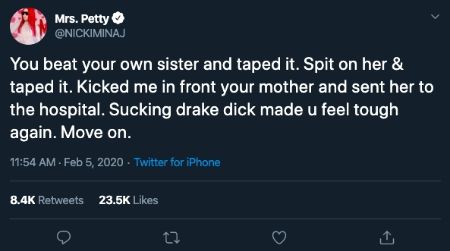 Nicki Minaj accused Meek Mill of physically abusing his own sister and herself.
Source: Twitter
Meek Mill and Nicki Minaj didn't end their relationship in the best of terms, and that's no news. Even so, the feud between previous romances is heating up to a whole new level now. How this ends, only time will tell.
Before the incident, both showed like they were able to move on from each other as Nicki Minaj married Kenneth Petty in October 2019, all the same, while Meek Mill was rumored to be involved with Milan Harris of Milano Di Rouge.
Tune in to Glamour Fame for more celebrity updates, and don't forget to sign up for the newsletter.
-->