Meet Jensen Karp: The Man Behind Danielle Fishel's Heart!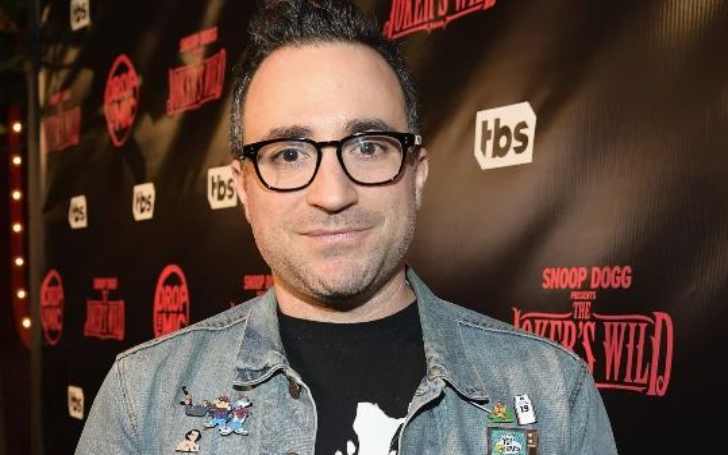 Jensen Karp is a multifaceted talent known for his dynamic career in the entertainment industry. Born on November 8, 1979, in Los Angeles, California, Karp initially gained prominence as a rapper under the moniker "Hot Karl." His witty and irreverent lyrics captured the attention of music enthusiasts. However, he transitioned seamlessly into the world of comedy, leveraging his sharp sense of humor and storytelling abilities to establish himself as a comedian and writer.
Karp's creative pursuits extend beyond music and comedy. He has made a name for himself as an accomplished art collector, curator, and gallery owner, specializing in pop culture and contemporary art. Additionally, Jensen Karp is recognized for his engaging podcast, "Get Up On This," where he introduces listeners to emerging cultural trends and innovative artists.
A Beautiful Love Story With Wife, Danielle Fishel
Jensen Karp's personal life took a heartwarming turn on July 4, 2017, during a memorable moment on episode #303 of his podcast, "Get Up On This." In a surprise announcement, he revealed that he was in a romantic relationship with actress Danielle Fishel.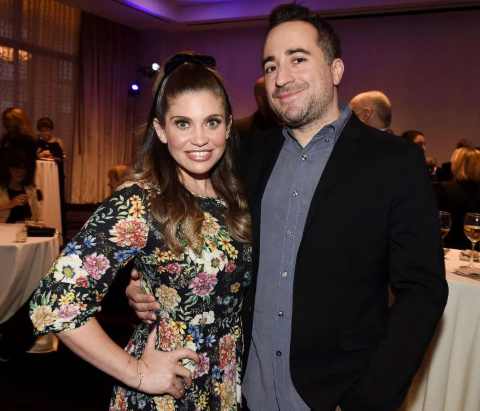 What made their love story even more enchanting was the fact that they had attended high school together but had only reconnected as adults, igniting a deep connection. Their love story continued to blossom, and on March 22, 2018, Jensen Karp took a romantic and traditional step by getting down on one knee to propose to Danielle Fishel.
His proposal was a heartfelt gesture, met with an enthusiastic and heartfelt "yes" from the beloved actress. Their engagement marked the beginning of a new chapter in their lives, filled with love and shared adventures.
Wedding Ceremony, Dresses and Guests
On November 4, 2018, actress Danielle Fishel and Jensen Karp celebrated their wedding at the Carondelet House in Los Angeles. Jensen took to Instagram to express his joy, calling it the "best day of my life."
The bridal party included Sabrina Carpenter, Fishel's co-star from "Girl Meets World," while John Mayer, one of Karp's groomsmen, serenaded the couple with a heartfelt rendition of Beyoncé's "XO" for their first dance.
Fishel expressed her gratitude for John Mayer's presence, highlighting his talent, humor, and generous spirit, thanking him for being both a groomsman and a singer on their special day. The wedding was a star-studded and heartwarming affair, uniting the couple in love and friendship.
Father of Two Children
Actress Danielle Fishel and Jensen Karp welcomed their first child, Adler Lawrence, prematurely on June 24, 2019, with his middle name honoring Karp's late father. Adler faced a challenging start, spending three weeks in the NICU due to fluid buildup in his lungs, linked to breast milk.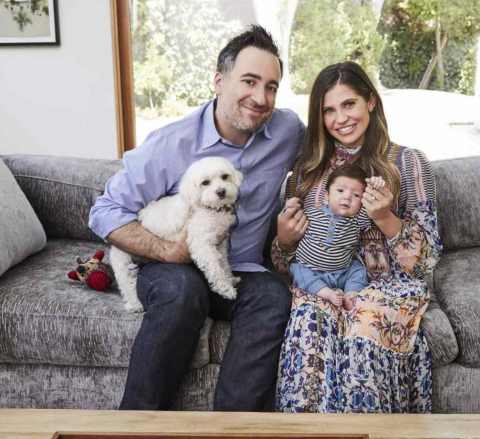 Fishel expressed her guilt over this, but Adler eventually recovered and went home after 21 days. On August 29, 2021, their second child, Keaton Joseph, was born on the birthday of Karp's deceased grandfather, with his middle name paying tribute to his great-grandfather.
Karp celebrated Fishel as an exceptional mother, emphasizing her crucial role in their family on Mother's Day in May 2022.
Early Career
Jensen Karp, raised in Calabasas, California, embarked on a multifaceted career journey. He started in hip-hop, signing with Ice-T's Rhyme Syndicate at just 11 years old. During his time at USC, he became a record-breaking champion in the roll-call freestyle competition on Power 106 radio.
Jensen signed a million-dollar deal with Interscope Records and recorded his debut album, "Your Housekeeper Hates You," featuring notable artists. Despite promising beginnings, scheduling conflicts led to Interscope shelving the album. Karp chronicled his experiences in the memoir "Kanye West Owes Me $300." His music found its way into NBA Live 2003 and the movie "It's Complicated."
He later recorded songs, including one with Mike Shinoda from Linkin Park. In radio, Karp joined KROQ 106.7 FM's morning show and had a segment based on his podcast. However, he, along with the entire morning crew, was let go amid the COVID-19 pandemic.
Movies and TV Shows
Karp's television credits include writing for WWE Raw, appearing on VH1's "Barely Famous," "Candidly Nicole," and "Comedy Central's @midnight." He co-created "Drop the Mic" and worked on various award shows and programs.
In the art world, Jensen co-owns Gallery 1988, known for its pop art exhibits, including the annual "Crazy 4 Cult" show. He's also been involved in marketing, design, and branding, collaborating with Pete Wentz's Clandestine Industries and creating projects for TV shows like "Lost" and "Breaking Bad."
The gallery has hosted exhibitions for popular franchises like "The Avengers," "Rick and Morty," and "Star Wars: The Force Awakens."
Podcast With Wife, Danielle Fishel
In July 2020, Jensen Karp and his wife, Danielle Fishel, introduced a podcast called "Talk Ain't Cheap." On this podcast, they analyze and scrutinize the Cameo accounts of various celebrities. They also launched a Patreon account, offering early access to the podcast and other exclusive content, including an interactive Instagram game show called "Scorantine."
However, the podcast faced criticism for its concept, which was accused of being copied from the Canadian podcast "Blocked Party," including the title "Word Up!" closely resembling a segment from "Blocked Party."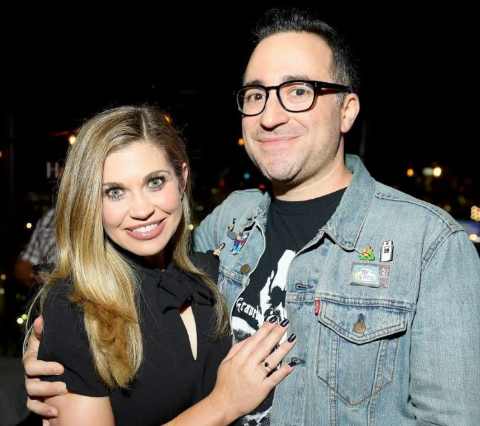 Additionally, since the summer of 2022, Jensen Karp has been producing the podcast "Pod Meets World." In this show, three cast members from the 90s sitcom "Boy Meets World," including Rider Strong, Will Friedle, and Karp's wife Danielle Fishel, watch episodes of the show and share behind-the-scenes stories from their time working on it.
Net Worth of Jensen Karp in 2023
Jensen Karp's estimated net worth in 2022 stands at around $2 million, primarily attributed to his extensive work as a film producer. Besides his film production career, Karp has diversified his income streams by working as a podcaster, writer, and rapper.
His financial success has been a result of his involvement in multiple industries. On the other hand, his wife, Danielle Fishel, boasts a net worth of approximately $4 million, likely stemming from her successful career in acting and other endeavors.
Stay With Glamour Fame For More
-->