Metallica Were On The Brink Of Calling It Quits Before Receiving A Phone Call From The Rolling Stones
Published Sat Jun 22 2019 By Chester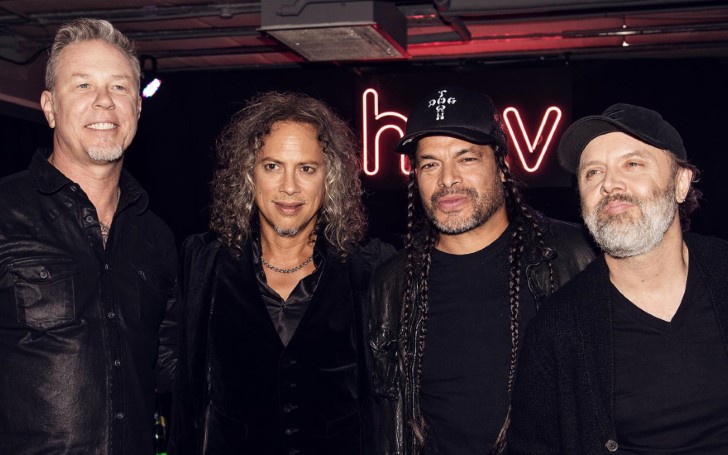 Metallica was on the edge of calling it quits and shortly a phone 'rings' from Rolling Stones asking them to open for the band.
The Unforgiven rockers, in 2004 announced their retirement due to fallout and some personal struggles but guess what, they are rocking it again.
'Let's rock' it boys probably what James Hetfield must have told, yes they will be performing multiple shows on the going 2019 Britain Festival.
Metallica on Finally Finding Harmony & Whether They'll Still Tour at 70

SOURCE: Billboard
This may be one of the few musical experiences you will able to get to headbang on if you are rock & metal lover from the iconic 'Metallica'.
Taylor Swift's New Music Video Features A Number Of Famous Face >>>
Drummer Lars Ulrich pulled out a performance during Britain's Download festival due to anxiety issues.
But they are back, to rock the show, Lars explained why he accepted the call from Stones a year later to team up this Britain festival. Lars testimonies on Britain's The Sun newspaper saying,
"That period (2004) certainly wasn't easy for us and, since then, we have learned boundaries and where our breaking points are. That was the last time we had a real break - we haven't shut down the band in 14 years, but we disappeared then for about a year."
"And then the Rolling Stones called us up and said, 'Come and play some shows with us in ­California,' and we sort of agreed - you're not going to say no to the Stones - so that was it."
Check Out: Metallica: Live in Tulsa, OK - January 18, 2019 (Full Concert)
Frontman Hetfield, 55, explained how the call inspired him and his lead guitarist pal Kirk Hammett and bassist Robert Trujillo to perform.
James did it for the fans,
"If you don't care, it's easier to walk away, but fortunately we cared enough about Metallica on behalf of ourselves and the fans to figure out a way to make it function. I'm happy that we did."
Metallica recently performed a two winning gig at the Etihad Stadium in Manchester and England on Tuesday and donated $51,000 to local homelessness charity 'Coffee4Craig' ahead of the concert.
Megadeth's Dave Mustaine Has Been Diagnosed With Throat Cancer >>>
So guys are you excited about the gig? Their upcoming show is in July. Stay tuned and connected to find out their upcoming gig.
-->