Mia Khalifa Reveals Her Plastic Surgery Transformation
Mia Khalifa has had plastic surgery to make her nose smaller and thinner.
Former porn star Mia Khalifa has news to share to her fans. Recently the former adult star has had plastic surgery and Mia is not shying to tell you the truth.
Unlike many celebrities, who never admits about their plastic surgery or any cosmetic enhancements, Khalifa is different. The former porn star, Mia, 27, has gone under the knife for rhinoplasty. The star revealed she invested more than $15,000 for her recent nose job.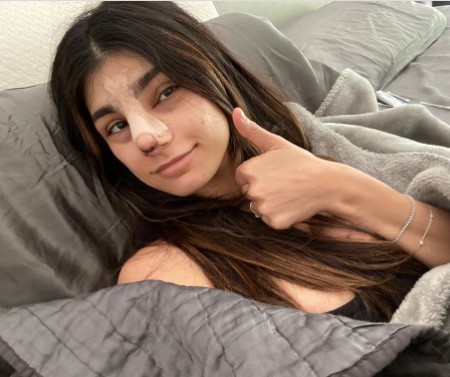 Mia Khalifa's Rhinoplasty: She has had plastic surgery to make her nose to make it smaller and thinner.
Photo Source: Mia Khalifa's Instagram
According to the reports, Mia decided to go for rhinoplasty to make her nose thinner and smaller, ditching her Lebanese features. The former adult star revealed about her latest procedure through her social media. Mia took to her Instagram account and uploaded a picture of herself lying on a bed, while her nose still wrapped on bandage.
Also See: 'Mulan's Premiere Date Pushed a Little Further Back Again
On the caption, Mia wrote, "THIS IS THE REAL REBRAND 😭😂 @deepakdugarmd [Doctor Deepak Dugar] just changed my life and I couldn't be happier or more ready for 75+ people to stare at my side profile at my wedding 🥺♥️ this is day 2 post-op and I have a pain scale of 0 so far. I'm gonna take y'all on this whole process with me, and so is @deepakdugarmd so follow him for the Q&A's we did for y'all about my hopes/expectations."
Mia continued, "What I loved about @scarlessnose was that Dr. Dugar and I were on the same page about maintaining my strong middle eastern nose, just softening it to be more feminine. I can't wait to show y'all the result 😩😍😭!!!! #ScarlessNose #NotHidingBehindATree."
Khalifa further added, "(P.S. being transparent about this was never a question. Do not idolize the women you see on social media and base your self worth on comparisons that are unrealistic. If you've ever looked at my boobs and wished yours look like that, please remember mine are made out of the same material as the spatula in your kitchen drawer)."
You May Also Like: Joy-Anna Duggar Tributes Unborn Daughter a Year After Her Miscarriage
For more information on your favorite celebrities' lifestyle, stay tuned to Glamour Fame, and don't forget to sign up for the newsletter.
-->