With no doubt, one thing every woman possess in their closet is leggings. And thank goodness to whoever created leggings. The comforts and satisfaction in wearing leggings, whether it's for yoga classes, gym or daily purpose. Whatever is the situation, yoga is always there for you.
And, today, we will be showing you some of the best stylish leggings that exist. As a matter of fact, even celebrities prefer these leggings.
With no further ado, check out these life-changing stylish leggings available in stores that will get you so obsessed that you won't ever wanna take em off.
10. Prada Jersey Knit Trousers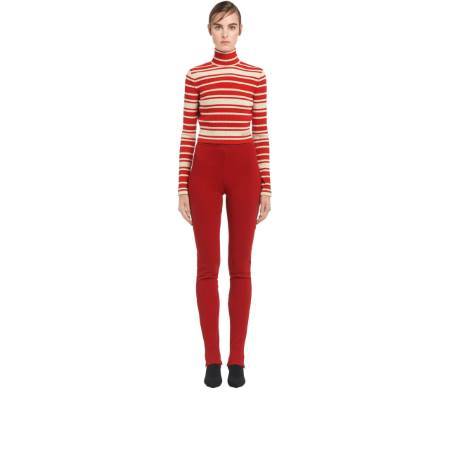 SOURCE: Lyst
The Prada Jersey Knit Trousers designed with strong geometric patterns features a side zip fastening, an elasticated waistband, a printed logo to the front and a stretch fit. The trouser perfect for winter is 100% polyester and available in black and red.
You may also like: The Belgian Designer Raf Simons is Stepping Down From Calvin Klein
9. Splendid Heavy Weight Leggings
SOURCE: Shop Bop
Splendid's Heavy Weight Leggings is a French terry legging that covers elastic waistband. This legging is not just comfortable and great looking but soft as well.
8. Faux Leather Leggings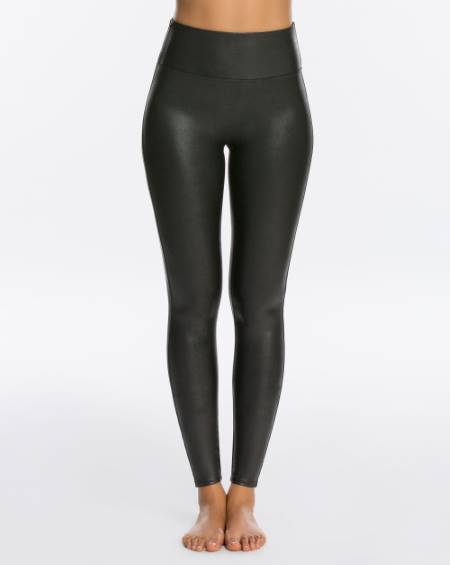 SOURCE: Spanx
The Spanx Faux Leather Leggings are the best for nights out. The faux leather legging made in signature power waistband keeps you comfortable and confident throughout the day and night.
7. Terez Galaxy-Print Leggings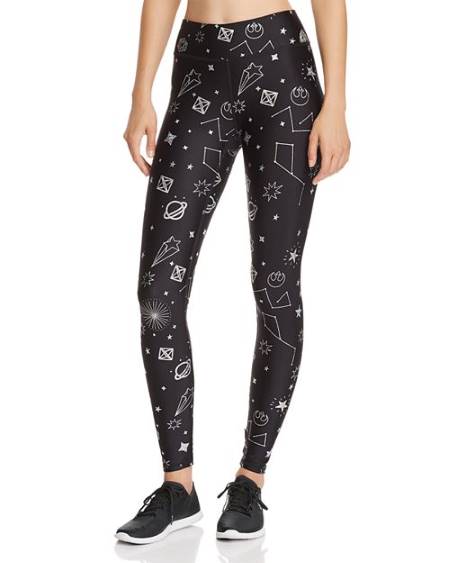 SOURCE: Bloomingdales
The Terez Galaxy-Print Leggings is a machine washable made with polyester & spandex. And you will deffo rock this galaxy print legging whether for casual wear or a party.
Read as well: Best Hollywood Fashion Designers Ever Born in The Industry
6. Lysse Slashed Leggings
SOURCE: Bloomingdales
The Lysse Slashed Leggings is probably the coolest legging available out there. If you are into knees reveal sheer mesh insets, then this is the one for you.
5. Calvin Klein Icon Logo Legging
SOURCE: Bodycon fit
The high waisted Calvin Klein Icon Logo Legging appears semi-sheer when stretched and a bodycon fit. Get ready to fresh and chic when you purchase this legging.
4. Lucas Hugh Women's Erte Leggings in Black Print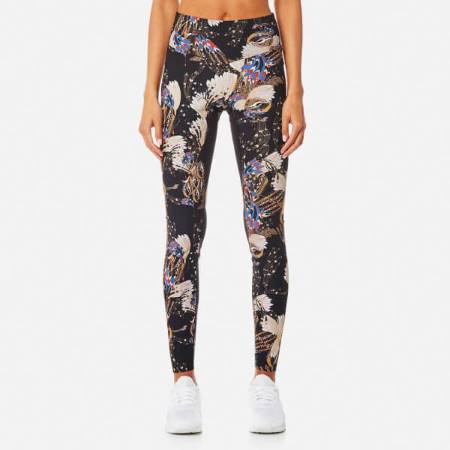 SOURCE: Coggles
The Lucas Hugh Women's Erte Leggings - Black Print is ventilated panels that feature to the inner thigh and behind the knees to secure maximum breathability, while fused closures bound chafing.
3. Honeydew Evie Ribbed Leggings
SOURCE: Bloomingdales
The all-over ribbed knit Honeydew Evie Ribbed Leggings which include side slit pockets are machine washable. The pink colored legging is cute and perfect for a night over at your besties too.
Also see: Discover Our Extensive Range For Women Knee High Boots
2. Dolce & Gabbana Floral Print Leggings
SOURCE: Fashiola
Dolce & Gabbana Floral Printed Leggings is a high waisted legging draped in an elastic waistband with print placement all over. The legging is greatly wearable for summer.
1. Ralph Lauren Soutache Straight Pants
SOURCE: Shop Spring
The Ralph Lauren Soutache Straight Pants is a very stylishly made one with rich design. Besides, the legging is a Pull-on style with elasticized waist made with nylon.
We absolutely love these leggings, what about you? We hope you will try one of these out and flatter your curves and legs.
-->