Netflix Confirms Sex Education Season Two Has Officially Finished Shooting
Published Mon Sep 09 2019 By Sea
The second season of the much-anticipated 'Sex Education' is finally done getting filmed. Hitting the Netflix soon.
On Saturday, September 7, the streaming giant, Netflix, announced that the filming of fan-favorite, 'Sex Education', Season Two is at its end. They posted a photo on Facebook that depicted the crew of the series celebrating their hearts out.
Gillian Anderson, Asa Butterfield, Emma Mackey and the remainder of the Sex Education crew are returning with their exciting new adventure after the demand of the fans exploded following the first season binge-watching phenomena.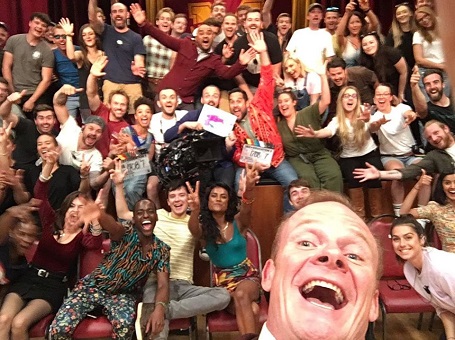 Alistar Petrie who plays 'Mr. Groff', Conor Swindles' on-screen dad captured the selfie as his co-stars cheered at the camera. It didn't take long before a flurry of comments started piling in, and fans started losing their grip. They've missed it terribly.
Meanwhile, Swindells, who plays the bully, 'Adam Groff', also shared his feelings after the wrap of the series on Instagram story.
Weird...
Source: Conor Swindells, Instagram Story
The critically acclaimed series follows the lives of Otis (Asa), Maeve (Emma) and Eric (played by Ncuti Gatwa), students of Moordale High School, as they start an underground sex therapy clinic for their classmates. For a price, obviously.
The 17-year-old Otis inherits his mother's intuitive talent for sex therapy and resolving couples' intimacy issues. His mom, Jean, too is more than happy to talk with him about his own problems, but he declines the offer. Instead, he uses the talent himself to hand out advice to the hormonal teens confused by sex and everything that revolves around it. The show has incredible LGBTQ+ representation, diverse characters and sex-positivity.
The reception to the series was incredible and exciting for its first season as Netflix tracked the view count to an estimated 40 million households within the first few weeks of its release in January. The second season was confirmed a month later. The filming began around May after the streamer posted a video on Twitter cheekily indicating its start.
On the renewal of the chow, creator Laurie Nunn said, "The reception to series one has been so exciting. Seeing how people across the world have connected to characters that began as ideas in my head is incredible. I'm hugely grateful to every person that has taken the time to watch the series, and I can't wait to continue this amazing journey."
Watch: Sex Education Season 2, The Trailer
Netflix is also excited for a journey with the show for the second time around. The release date of another eight episodes is not released yet, but it can be expected to air around early 2020 like it did the last time or at the end of the year. We'll just have to wait to see if the renewal can help the confused up and coming teenagers, as well as adults, figure things out in their life.
-->