Fans of Netflix's 'Sex Education' Are In For A Treat As Exciting News Follows About Season 2
Published Wed Apr 17 2019 By David
Netflix's Sex Education Season 2 - Here's What You Need To Know.
Fans of Netflix's Sex Education are in sheer exhilaration. It didn't take long for viewers to adore the comedy-drama. Created by Laurie Nunn, Sex Education premiered on 11 January 2019 on Netflix with eight slate of episodes.
The show stars Gillian Anderson, Asa Butterfield, Emma Mackey, Ncuti Gatwa, Connor Swindells, and Kedar Williams-Stirling. It follows the daily adventure of socially awkward teenager Otis Milburn (Butterfield) who is ambivalent about sex, despite his mother, herself being a sex therapist and frank about all aspects of sexuality.
After unwittingly assisting the school bully with his sexual performance anxiety, Otis starts a sex advice business with his classmate, Maeve (Mackey) to educate their fellow students in how to deal with their own sexual problems.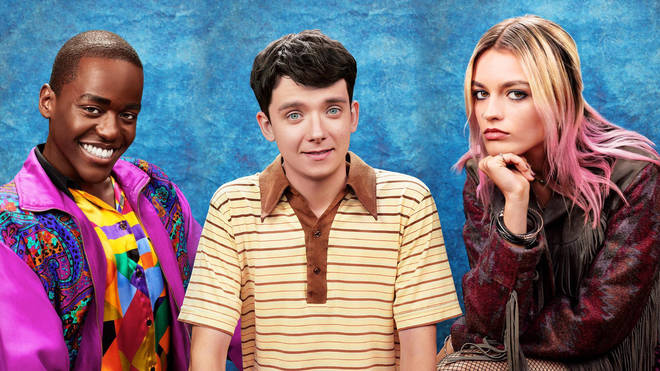 Sex Education is reported to to start filming later this spring.

SOURCE: Capital FM
In February 2019, it was announced that Sex Education had been renewed for a second season, however, the premiere date for the series is yet to be revealed. But as of recent reports, Sex Education is all set to start filming its next run of episodes in sometime around this spring, which means we're probably looking at the end of the year or early 2020 as its release date.
Also Read: Netflix's 'The Umbrella Academy' Officially Gets A Second Season
Gatwa who is known for playing Eric on the series stated that filming for Series 2 will start later this month. Speaking to Radio Times, the 26-year-old said: "Season two starts filming in two or three weeks. We start soon, it's right around the corner, late April."
The first season of Sex Education basically gave an insight into the growing pains of being a horny teen. It wasn't one to watch with your parents and it's likely that the next installment will be much of the same.
Netflix and Gatwa are being quite unforthcoming about what's going to happen in the next season, but the Scottish actor admits he'd like to see Eric get better at playing the French Horn: "I would like for Eric to get better at playing the French horn. I would also like people to know it is the French horn. People often mistake it for the trombone, but it's not."
Recommended: 'The Umbrella Academy' Slammed For Being 'Anti-Semitic'
Creator Laurie Nunn had also shed some of her excitement about season two: "Series one is very much Otis's journey and I think it will be again. If we're lucky enough to get a series two we will always come back to Otis. He's a fantastic leading character."
Watch the official announcement for Sex Education Season 2.
Nunn further added, "It just feels like they could go anywhere. I love the idea of getting different characters together – if not together in a relationship, just together in the space. Like, I never thought those two characters would have a conversation and there will be loads of opportunity for that."
One particular arc of the show that fans are hoping to develop is the relationship between Adam (Swindells) and Eric.
"I always knew that was what we were working towards," Nunn said to Thrillist.
"Even though in some ways in episode eight it feels like a twist, it really is there throughout every episode, the feeling that they have with each other and how kind of confused that is.
"I think that Adam is just desperate for connection. He's so isolated and alone... The fact that he bullies people and in particular Eric is his way of looking for intimacy in the world.
"It will be interesting to see where that takes him now that he's developed a new part of himself after episode eight. It's very sad and it's definitely a cliffhanger in terms of what might happen in the future between those two characters."
You May Also Like: The Full Cast Members For Netflix, 'You' Season Two Has Been Confirmed
Maeve actress, Emma Mackey suggests that if her character does get together with Otis, it shouldn't happen right away. "I think they both need to figure some stuff out," Mackey said to Cosmopolitan UK.
"I think Maeve needs to focus on her friendship with Aimee and on her relationship with herself and self-care and looking after herself. And Otis needs to learn as well, he's not ready for a relationship. … I think he and Ola are a good fit, for now, so we'll see."
Sex Education saw some 40 million households tuning in for its first season. Aside from the main leads, Aimee-Lou Wood (Aimee), Kedar Williams-Stirling (Jackson), Tanya Reynolds (Lily), and Patricia Allison (Ola) are all confirmed to reprise their roles.
-->