NFL Player Jason Kelce's Wife, Kylie Gave Birth to Baby No Three. Know About Their Relationship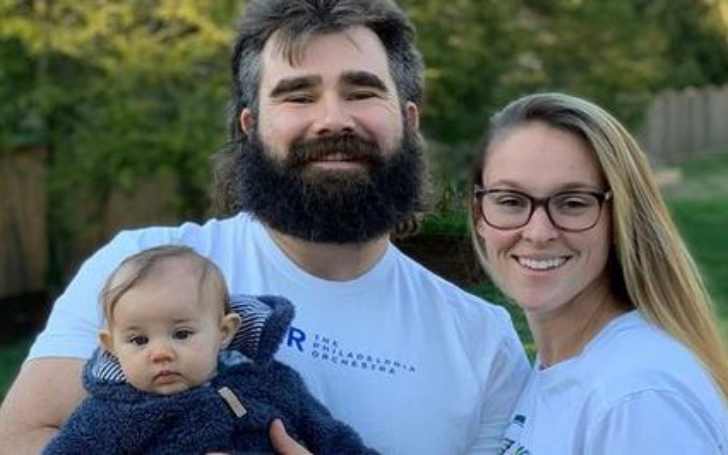 National Football League Star Jason Kelce is one of the most hardworking athletes in the world. Kelce serves as a center for the Philadelphia Eagles which he joined in the 2011 NFL Draft. Before joining the NFL, he played for the University of Cincinnati or Cincinnati Bearcats during his college career.
In 2017, Kelce won Super Bowl LII with his team and doubled his popularity. Jason played six times in Pro Bowl and has a five-time first-team All-Pro selection. Jason remained a hot topic in the NFL world throughout his career.
NFL Player Jason Kelce's Wife, Kylie McDevitt, Gave Birth to Baby No. Three
NFL star Jason Kelce is now the father of three children. Recently Jason informed the world that his wife gave birth to their third child. During Super Bowl LVII, the footballer and his wife, Kylie McDevitt, announced they were expecting their babe number three.
Although the Philadelphia Eagles center didn't take another Super Bowl ring home, Jason and his wife, Kylie, announced a bigger deal than that. Certainly, Losing the Super Bowl upset Kelce, but his mood changed with the new addition to his family.
In February 2023, the Kelce family welcomed a new member to their numbers. The daughter, Bennett Llewellyn Kelce, was born on February 23, which was announced by their respective social media account.
Kylie uploaded a picture of Bennett where she was fitted in the matching outfit and hair band. Several people rushed into the comment section to poke a congratulations note to the football family. The parents are happy and proud of the new member and are very excited.
A Wonderful Marital Journey With Wife, Kylie McDevitt
Most people in today's busy world fall with one another through the internet. Jason Kelce and Kylie McDevitt's love story began through social media. According to Jason and his wife, they matched one another through the Tiner and had an immediate attraction.
In November 2015, the pair confirmed their romance through their Instagram accounts. After that, there is no looking back for McDevitt and Kelce.
Since the start of their relationship, McDevitt started supporting and appearing in several games of the Philadelphia Eagles to cheer Jason up. In every main event of Kelce's game, his wife cheers him through the crowd doubling his confidence.
Swapping Wedding Vows in 2018
With a marvelous love journey, Jason Kelce and Kylie McDevitt finally decided to take the relationship one step forward. On April 14, 2019, they tied the knot at the Logan Hotel located in Philadelphia.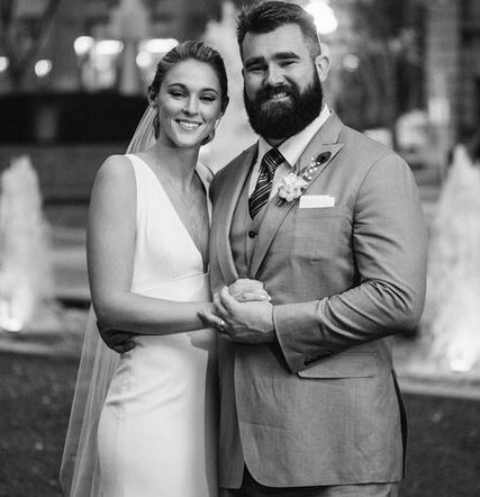 Kelce and McDevitt accepted one another as lifelong partners among 170 guests taking their glance. Despite the massive fame and fortune, the NFL and his wife, Kylie, held an intimate wedding. As such, the guest list for their marriage remains under 200.
During the beautiful occasion, the bride dawned a white gown and long veil accessorized with a diamond necklace. The groom dashed the crowd with his gray tuxedo fitted with a bow tie. Interestingly their pet dog also went side by side with the pair during their walk down the aisle.
Jason Kelce and Kylie McDevitt Are Proud Parents
Jason Kelce and Kylie McDevitt are hooked in love for over seven years and share a great relationship. They often praise one another to achieve their respective goals. Kelce and McDevitt's romance is seen all over social media. During this long journey of love, they are blessed with three children.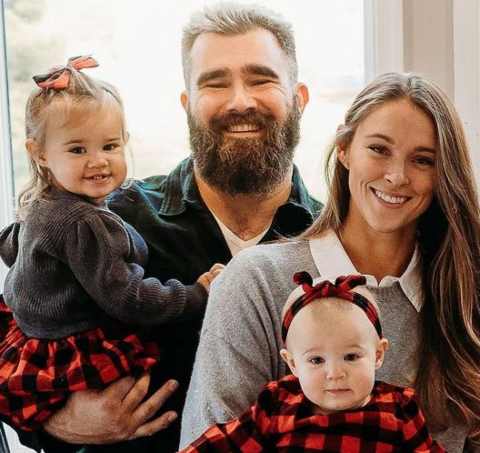 Like every parent, Jason and his wife, Kylie, take good care of their kids. The NFL star and his spouse welcomed their first child daughter, Wyatt Kylece, into the family in October 2019. Within a two years gap, they added a new member, a daughter Elliott Kylece into the family on March 2021.
Then Bennett, the youngest child of Kelce, came in 2023. All three kids of the NFL star are born in two years gap. They are all daughters. According to Kylie, Jason loves being around with daughter and is very attached to his kids.
Runs Podcast With Brother, Travis Kelce
Jason Kelce's younger brother, Travis Kelce, is also a successful American personality. Like brother, Travis NFL player who played who is playing for the Kansas City Chiefs since 2013. With the Chiefs, he has won Super Bowls LIV and LVII with outstanding performance.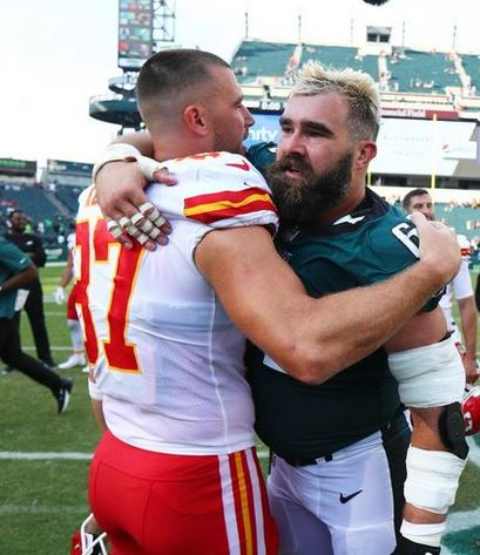 During the Super Bowl LVII, both Kelce's brothers faced one another as opponents for the first time. That particular match went in Kansas's favor defeating Philadelphia with three points. Both Kelce siblings attended the University of Cincinnati during their college years and have tasted success in separate NFL teams.
Despite that, the two are very close to one another and respect one another deeds. In September 2022, they started a weekly podcast New Heights with Jason and Travis Kelce. The episodes are released every week on multiple platforms and are loved by the fans.
Also See: Patrick Mahomes - Facts to Know About Kansas City Chiefs Quarterback
How Rich is NFL Star Jason Kelce? Know About Jason's Salary and Earnings
Jason Kelce has displayed his talents from the beginning of his career. As of 2023, the American football star is enjoying a net worth of $25 Million, which he amassed throughout his career. In 2011 he joined the Eagles and has been with the franchise since with excellent results.
For four years, the NFL team Eagles signed center players for $2.137 Million in 2011 with a signing bonus of almost $100,000. Jason's effort and hard work earned him a contract renewal with $37.5 Million for six years. He concluded the deal with a signing bonus of $6 Million and Total guarantees of $13 Million per year.
Till now, Jason has earned over $80 Million in his decade-long Eagles career, which is still going fine. Also, he has endorsement deals with Old Spice and 6 Shooter Energy Shots and adds fortune to his account. The football star also owns several homes in the United States and is living a lavish lifestyle. In 2018, he reportedly bought Pennsylvania home for $700,000.
For More Related Content, Visit Glamour Fame
-->