Nicki Minaj Announces Completion of 5th Album on "Barbie Goin Bad"
Published Mon Feb 04 2019 By Tess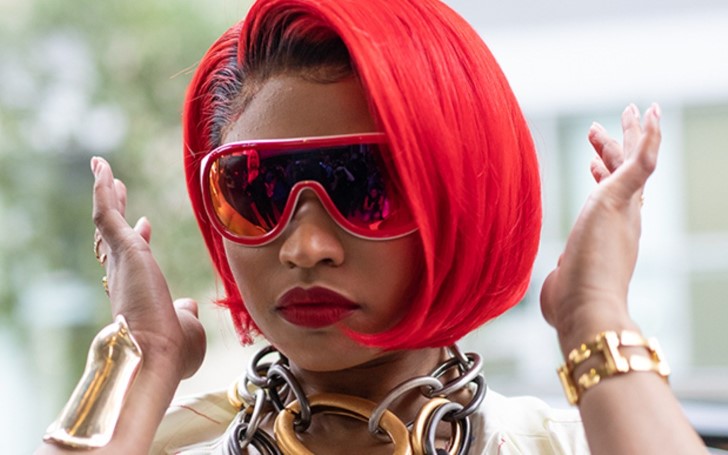 Nicki Minaj reveals the completion of her fifth album in "Barbie Goin Bad" lyrics.
On the latest episode of Nicki Minaj's Beats 1 show, Queen Radio Nicki, the rapper unveils plenty of new music as promised on her earlier episode.
During the Saturday's broadcast, the "Hard White" rapper dropped the first record "Barbie Drip", a freestyle over Lil Baby and Gunna's 2018 "Drip Too Hard" followed by another remix of "Going Bad" by Meek Mill and Drake "Barbie Goin Bad".
The latter release "Barbie Goin Bad" created a lot of buzzes as Nicki uses it to brag about her success such as surpassing Aretha Franklin's Billboard record, while also calling out another artist who attempts to steal her style:
"Imitating Nicki, while your ghostwriter dissin' me?"
Most importantly, in near end of the song "Barbie Goin Bad", Nicki suggests her fifth album, the follow-up to last year's Queen is already finished and her label may soon release the first single. Minaj, further announces she "might drop a freestyle every week".
"The label hit me said they want the fifth thing-thing, I got in the studio, I did the fifth thing thing
And then they say 'You know, it's time to drop your single' I said 'Noooo'
You know radio already tried to blackball a b*tch."
The latter presumably is a diss on her ex-boyfriend Meek Mill and Drake. With the line "Old boy and my brother tried to end me dog", "Old boy" is supposedly her ex-boyfriend Meek, while she often calls Drake "brother".
Don't miss: Cardi B Reveals She Declined Super Bowl Halftime in Support of Colin Kaepernick
Back in July 2015, Nicki was a central figure in the beef between Drake and Meek which led to a taunt from Drake's "Back to Back" in which he addressed Minaj was a more popular figure than Mill where Drake raps:
You love her, then you gotta give the world to her
Is that a world tour or your girl's tour?
I know that you gotta be a thug for her
This ain't what she meant when she told you to open up more
Drake and Meek came in terms with their beef on September 2018, after Meek appeared alongside him on stage in Boston. Since then, Going Bad is their first collaboration.
Also read: Cardi B Back in Court for August Strip Club Fight in Queens
Apparently, Going Bad remix "Barbie Goin Bad" and "Barbie Drip" aren't the only songs out. Additionally, on Queen Radio, Nicki also announced new music recording with Juice WRLD, who will join her on the Nicki WRLD Tour as per her Instagram post.
See more: Bradley Cooper, Lady Gaga To Perform at Oscars 2019
The European leg starting from Feb. 21 to March 28, before making its way to the states will further be joined Soulja Boy in the U.S. trek. The official U.S. lineup will be announced within the next week or two.
-->