Nicki Minaj Shows Some Love to Ariana Grande in Her New Song "Bust Down Barbiana"
Published Thu Feb 07 2019 By Sarah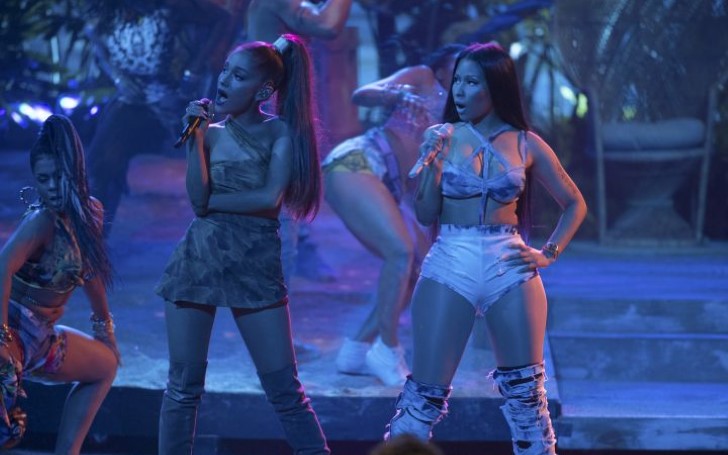 Nicki Minaj showed love to Ariana Grande in her new song ''Bust Down Barbiana.''
On Wednesday, famous rapper, Minaj took to Twitter and shot down rumors of a feud between her and Grande.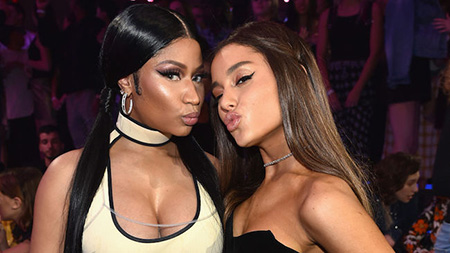 Nicki Minaj and Ariana Grande together
SOURCE: 1075 KISS FM - iHeartRadio
The 25-year-old singer, Ariana Grande took to Twitter after some believed that Nicki disrespected her on her new rap. She posted,
''no silly a**. There will never be anything but love between us ever. She's been there for me (in real life) every time I've needed somebody & I'll always be there for her. We Love each other. bet.''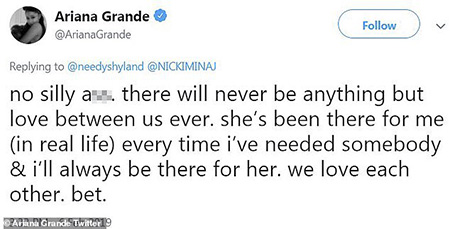 Ariana Grande tweet showing love to Nicki Minaj,
SOURCE: Daily Mail
Following the tweet by Grande, Nicki Minaj provided further evidence to prove the rumor false, she commented,
''Not more than you've been for me behind the scenes. Love you. For life.''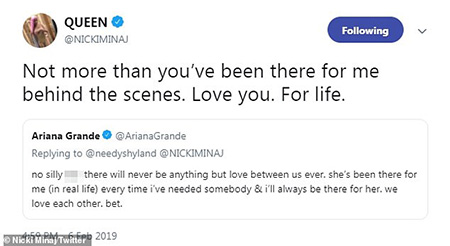 Nicki Minaj comment on Ariana's tweet
SOURCE: Daily Mail
Earlier, the duo recorded ''Bang Bang together, set the record just a few hours after Nicki released her new song, ''Bust Down Thotiana.''
Moreover, in 2016, Minaj featured in Ariana's hit song ''Side To Side'' where she raps. ''I'm the queen of rap, young Ariana run pop.'' The same year, at the MTV Video Music Awards Show in New York, they performed the song together.
Also See: Cardi B Reveals She Declined Super Bowl Halftime in Support of Colin Kaepernick
Similarly, Nicki again featured on Grande's 2018 promotional song, ''The Light Is Coming.'' Later, Ariana provided vocals on Nicki's single, ''Bed.''
-->