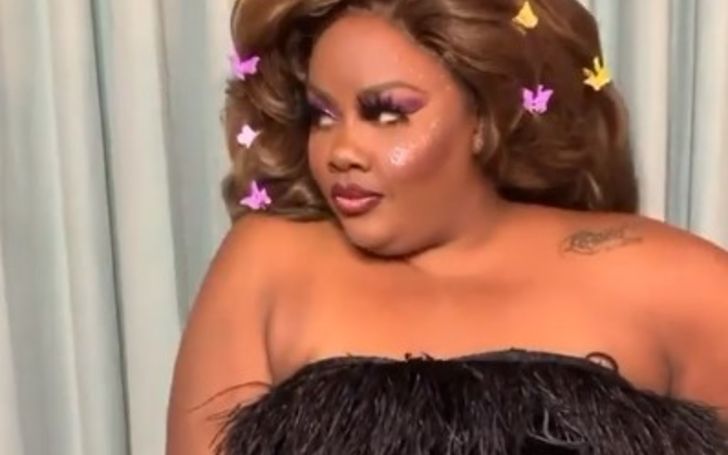 Making people happy and putting a smile on their faces is a hard thing to do, but for Nicole Byer, it is a piece of cake. She is an American comedian, actress, television host, and writer who is famous in the show biz for her entertaining performance. Byer work first got acknowledge from a commentary series Girl Code in 2013. Since then, she garners tons of attention from her act in different motion pictures.
Nicole also played in the MTV/Facebook Watch sitcom Loosely Exactly Nicole from 2016 to 2018, which story was based on her life experiences. The plus-size beauty, also well-known as the host of the comedic reality bake-off series Nailed it!, produced by Netflix.
The Netflix star is not only famous for her hilarity acts, but she also gained lots of recognition from her tattoo. Yes, like most of the artists, Byer also inked different parts of her body with several beautiful portrayals, and her fans all over the globe wanted to know the meaning behind her tat.
If you guys are on this page, then you are one of her followers, new or old, who wanted to know the secret of her tattoos. As Nicole is quite secretive about telling the tale related to most of her tats, there are fewer details on this topic, which created more suspense in the heart of her followers. Still, with some in-depth research, we brought you brief information regarding her tattoos.
Nicole Byer Famous Butt Cheeks Tattoos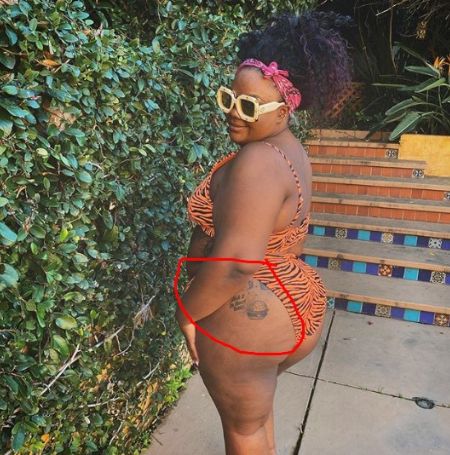 The American comedian Nicole Byer inked Sweet and Spicy tattoo in her butt cheeks.
Photo Source: Instagram account of Nicole Byer
In one of Nicole Byer sit down with Conan O'Brien, she speaks out about her tattoos. Back then, she got a total of fifteen tats of which her butt cheeks Tattoos grabbed tons of attention. Byer explained that she got food-themed tat on her butt cheeks wherein one side there's a lollipop, ice cream cone, and a cupcake, which says, "It's sweet, just taste it."
Nicole Byer Has A Lot Of Saucy Tattoos - CONAN on TBS
On the other side, we can find a sketch of chili pepper that says "Muy Caliente," which is a Spanish phrase, meaning very hot. Conan even asked Nicole about the backstory for her butt cheeks; tat and Byer replied that she wants to keep people interested.
The Comedy Actress Byer Got Bicycle Tat in Her Inner Arm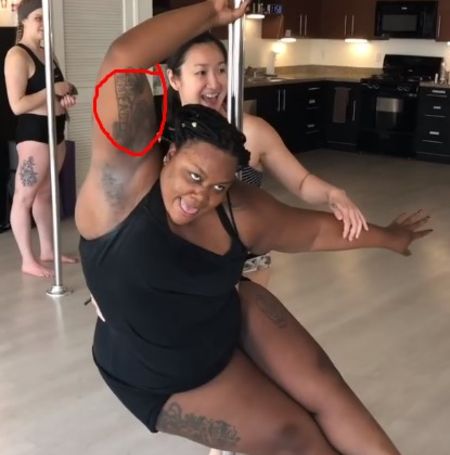 The MTV star got tattoo in her inner arm.
Photo Source: Instagram account of Nicole Byer
Like we mentioned earlier, comedian Nicole Byer loves to speak less about the reason behind her tattoos, which perfect example might be one of the replies the MTV star gave to her fan. According to MTV, Byer got inked with a portrayal of a Bicycle in her inner arm, and when one of her followers asked the meaning behind the sketch, then she responded that it was for some personal reason.
She Inked Her Body With Different Animal Portrayal
Nicole Byer is quite fond of tatting her body with the portrayal of several animals. She inked her upper body parts with different animals like Pig, Elephant, and Flamingo about which Byer spoke out in Conan show. However, like most of her tattoos reason behind the tat is still covered by the curtain.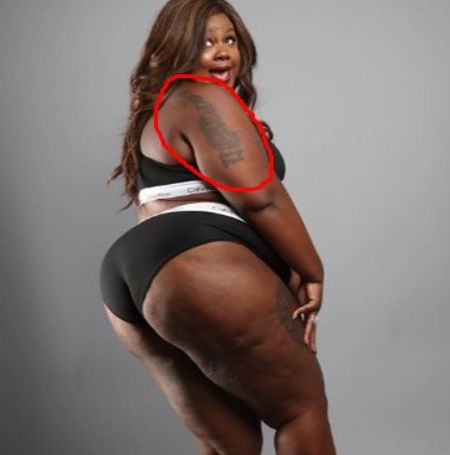 Byer has several animal sketch tattoo in her body.
Photo Source: Instagram account of Nicole Byer
However, we found out that a Pig symbolizes the abundance of wealth and prosperity. As we know, Byer is quite popular and earned a luxurious life through her talent; she might inked Pig sketch as a reminder for her successful career. Further, Nicole also tatted her body with a portrayal of Elephant, as the biggest land mammal represents strength, it might be her way to tell she is powerful enough to live her life.
Also See: Nicki Minaj's New Boyfriend Tattooed Her Name On His Neck
Subsequently, Byer got a flamingo tattoo in her body, and like other animal tats, she hasn't officially declared the meaning behind the flamingo symbol. Still, we found out that Flamingo ranks near the top when it comes to beautiful birds, plus they are very social animals who communicate with each other and has a loving and caring nature.
As we know, Nicole believes in body positivity and love herself; she might want to reflect those actions form her Flamingo tattoo. Besides, it might be a symbol of her social nature, showing she is friendly with each and everyone in her friends and family circle.
Nicole Byer Tattooed Sugar Skull in Her Thighs from Sean Hall Tattoo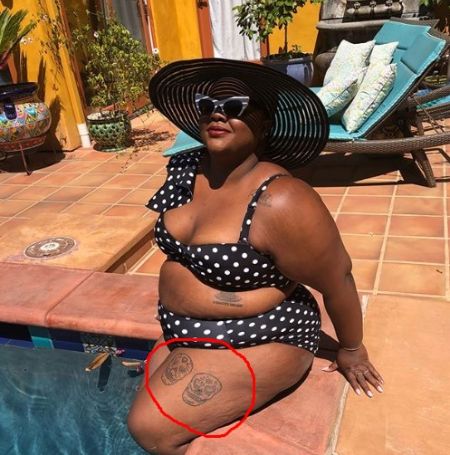 The Netflix star Byer tattooed Sugar Skull in her leg.
Photo Source: Instagram account of Nicole Byer
If you guys follow 33, Nicole Byer on her Instagram, then you guys might know she inked Sugar Skull sketch in her thigh. In one of her posts, she shared a photo where she was in the process of getting the new tat from Dean Hall Tattoo.
Also See: Pete Davidson is 'Cursed' as he Covers Up Matching Ariana Grande Tattoo
While the tat was on the process of development, there wasn't much to see about it at that time, but in her post, she did reply to her fans' comment, when they asked what was she having next? In her answer, Byer said she was adding a Sugar Skull tattoo in her collection.
For more interesting information related to your favorite celebrities visit Glamour Fame.
-->