Nik Wallenda's Wife Erendira Wallenda - Some Facts to Know About American Wire Artist's Wife
Published Fri Mar 06 2020 By Matthew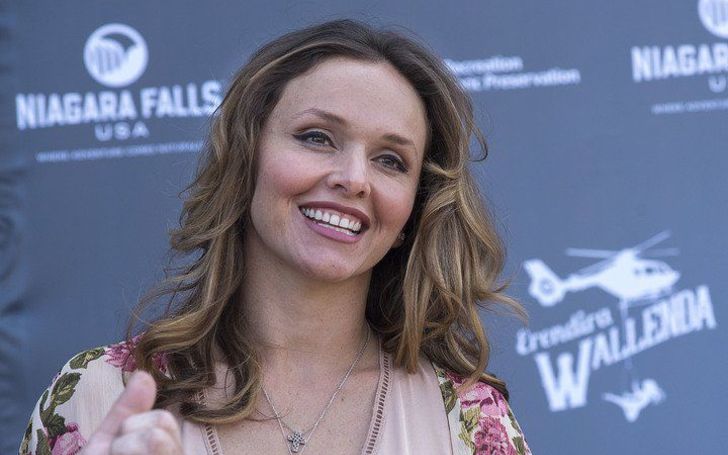 Here are some facts about Erendira Wallenda; Nik Wallenda wife and aerial ballerina partner!
Nik Wallenda is a name rarely unheard of in the world of non-traditional TV specials. The King of the Wire recently made history with his longest walk yet over the Masaya Volcano in Nicaragua on 1,800 feet stretched out steel cable. With 11 Guinness World Records to his name for various life-threatening acts till now, he's still best known as the first person to walk a tightrope stretched directly over Niagara Falls.
Nik Wallenda's Wife Erendira Wallenda.
Photo Source: Heavy
As much success as the 41 years old received from his adventurous career; the luck followed him into his personal life too. Married to beauty with similar interest and alike background, Nik hit the jackpot with Erendira Wallenda. Associated in the same profession, Nik's wife Erendira isn't far away from her husband, nevertheless, in the equally dangerous situations.
Watch: Wallenda hangs by teeth and feet from helicopter over Niagara Falls
We gathered some interesting facts about the personality, and we hope it'll help you know about the flying acrobat better.
5. Erendira Wallenda Broke Her Husband's World Record on Her Fifth Wedding Anniversary
Anniversaries can easily skip one's mind, but Nik will never forget his fifth one. His aerialist wife broke his previous world record when she hung onto an aerial loop by her teeth over a waterfall. Talk about an unforgettable gift.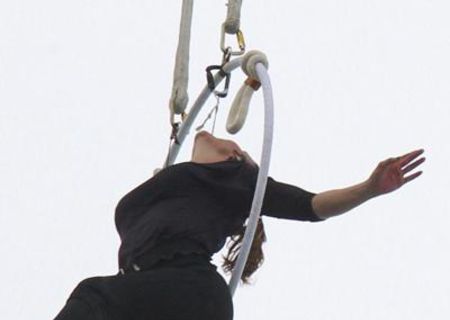 Erendira Wallenda hangs onto an aerial loop by her teeth over a waterfall.
Photo Source: Daily Freeman
Just like her husband, Erendira came from a long generation of acrobats and learned to walk the tightropes as a child. Turning to the profession of an aerialist later in her life, the 38 years old achieved amazing feats herself.
4. Erendira Wallenda Performed After Her Husband in The Volcano
Erendira Wallenda rarely sits back and watches as her husband performs. The trend followed in the recent daredevil act of the couple over the volcano in Nicaragua. Right after Nik's walk over the 1,800 feet long line, Erendira stepped right up the stage and dangled on the hoop over the active Masaya Volcano.
Watch: Erendira Wallenda's Aerial Performance Above the Masaya Volcano
The live broadcast hosted by Chris Harrison and Sage Steele on ABC was, however, met with split reactions from the fans for the fact that the performer used to harness. Erendira was set to do another aerial ballet performance suspended by a helicopter flying over the boiling lava. But the helicopter pilots determined that the weather was too unpredictable and it would be far too dangerous for her.
3. Erendira Wallenda Comes from the Flying Vazquez Family
Just like Nik's heritage, Erendira also comes from a long line of stunt performers. Born Erendira Renee Ashton-Vazquez on July 28, 1971, to Vinicio Vazquez and Golda Ashton Vazquez, Erendira is a seventh-generation circus performer from her family's side.
You Might Also Like: Mikaela George Spielberg, Daughter of Steven Spielberg - Facts You Need to Know
The Flying Vazquez and Flying Wallendas have performed together across generations. Vinicio and Golda have often presented with Nik's parents, Delilah Wallenda and Terry Troffer, and Nik and Erendira's grandparents and great-grandparents have performed together, too.
2. Erendira Wallenda Was Proposed in The Most Daring Way Possible
The couple met through their family when they were quite young. Erendira said she was just three weeks old when she met Nik, who is only a couple of years older than his wife. The aerialist's exact thoughts on her husband as kids were that he was "really annoying and dorky!"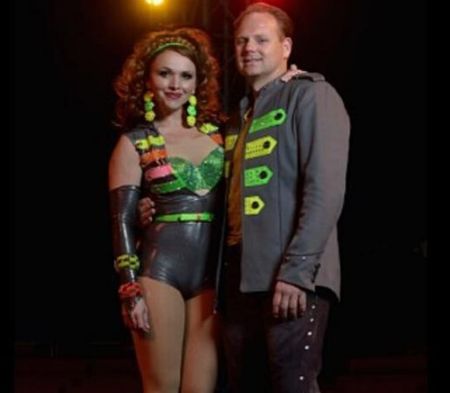 Nik proposed his wife Erendira on a tight rope.
Photo Source: WaliKali
Three years after the pair began dating when they were 14 and 17, Nik proposed in the most fitting way possible for the entertainer. Nik proposed to her on a wire 30 feet high during The Flying Wallenda Seven-Person Pyramid in Canada. The couple tied the knot at the Sarasota County Courthouse on January 3, 2000, in a low-key wedding.
1. Erendira Wallenda Renewed Her Wedding Vows with Her Husband on Say Yes to the Dress
Fifteen years and three children later, the married lovers decided to renew their vows with the whole world watching. Unlike their real low-key wedding in 2000, a result of financial limitations, this time was different. The entire planning and the actual big day made up a special on TLC's Say Yes to the Dress: The Big Day.
Watch: Nik and Erendira Wallenda's Love Story
The ceremony took place on the steps of the Ca' d'Zan Mansion at the Ringling Museum and was officiated by megachurch pastor Joel Osteen. The reception featured a circus theme perfect for the daring duo.
Recommended: Full Story on Jen Atkin Weight Loss
Nik and Erendira show no sign of slowing down anytime soon, be it their profession or their marriage.
Tune in to Glamour Fame for more celebrity facts, and don't forget to sign up for the newsletter.
-->