Pamela Anderson Visits Julian Assange In Prison
Published Fri May 31 2019 By Jessica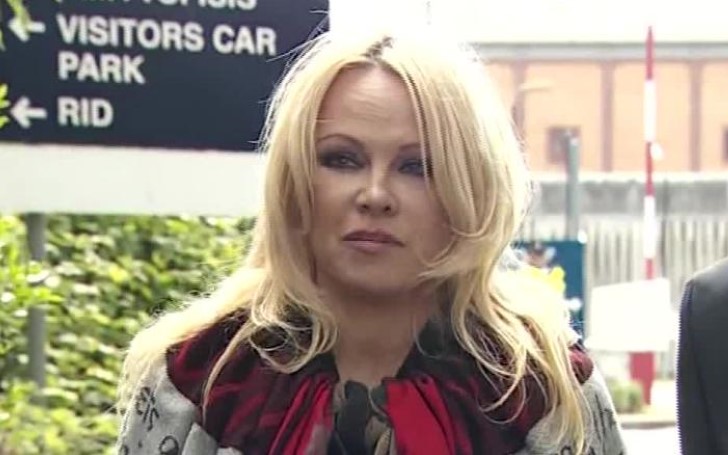 Imprisoned Julian Assange visited by Hollywood star Pamela Anderson in Belmarsh.
"A friend who has dared speak truth to power, who has shone a light on their criminal deeds and who is now paying the price." - Pamela Anderson speaks of Julian Assange.
Canadian-American actress Pamela Anderson who currently resides in Southern France is the first celebrity to meet the detained Julian Assange.
Nearly a couple of weeks ago prior to attending the Cannes' Vanity Fair star-studded party, the animal activist, in defense of Assange, was found waiting outside the notorious Prison Belmarsh in London.
Recommended: Unfazed! Lori Loughlin and Mossimo Giannulli Are Convinced they Won't be Found Guilty in College Scam
Speaking of his Aussie friend who is charged with multiple lawsuit cases including a sexual assault allegation, the 'Baywatch' alum said to THR: "He's a good man, he's an incredible person, I love him, and I can't imagine what he's been going through,"
White-bearded Wikileaks founder Julian Assange arrested in London in April.
SOURCE: Euronews
Anderson who wants the public in Hollywood to step forward and support the founder of WikiLeaks also said: "Now it's really important for Hollywood to get behind Julian Assange. I don't mind coming to these parties and talking to friends and seeing how they feel about it"
Also stating that people in Hollywood have a voice, she later added: "Everyone is a little bit brainwashed because of the election, and they blame it on him or whatever they want to do. I feel like I need to clear up all misinformation out there. He's a great person, he's a great guy, and he's being crucified by people, by journalists."
As a matter of fact, when Pamela visited Julian, she claims she found him in a terrible condition, 'isolated', and believes his human rights are violated.
Although she asserts that her friend is 'psychologically tortured', Pamela still believes Julian as the strongest person she knows.
The 'Baywatch' alum who herself is a rape victim and sexual abuse survivor insists she would never defend a rapist and further alleged that the women only came forward to make the accusation because of pressurization by authorities.
Don't miss: Arnold Schwarzenegger stands Up for a 102-Year-Old Woman Who's being Evicted by her Landlord
Further sharing the news outlet that the sexual encounters were consensual and not forced, she told the interviewer that she is speaking in support of her friend who she loves dearly. "But whose health is crumbling, whose hopes are fading and whose time is running out," she added.
Julian was arrested in London at Ecuador's embassy on 11th April where he sought refuge to avoid sex offense allegation made by the Swedish prosecutors in 2012.
Following the charges pressed by the US government alleging that he conspired to hack computers, Assange might face decades in jail.
-->