Park Min Young Plastic Surgery - The Complete Details
Published Mon Dec 09 2019 By Travis
Korean show business industry is a weird place for someone to try and start their career. The need to be perfect and appeal to the western market is a must for the people working in the industry, and the first hurdle in the path to perfection is changing one's appearance.
The entertainment industry in Korea puts so much emphasis on flawless face, skin, and attributes; they will stop at nothing to get the perfect look. It is almost inevitable, someone working in the Korean entertainment industry will go under the knife at least once, and the whole thing is even more relevant when it comes to female actors.
Source: The Star
Park Min Young is one of those actors who made her career in the Korean movie industry and appeared in some high profile movies and TV shows. The actress appeared in 'Sugkyunkwan Scandal,' which propelled her to fame. Her glowing skin, tapered nose, and wide eyes caught the attention of the masses, and soon, her high school graduation photos surfaced on the internet, which brought to question the appearance of the actress and queries if the actress ever got any plastic surgery work done.
Park Min Young Plastic Surgery: Rumor or Truth?
Source: Stock
Most of the Korean actors and entertainment industry professionals went under the knife at one point or the other, and most of them admit to getting plastic surgery work done when asked about the change to their body and face. Park Min Young never admitted to getting work done to look pretty.
But then photos of her in school started making the rounds of the internet, and there were drastic differences between the teenage Park and the adult actress. As if they were two different people living in two different lives, and finally, the actress admitted to getting plastic surgery work done on her face.
Park Min Young Nose Job; She got Her Nose Fixed While She was Still in School After Permission from Her Mother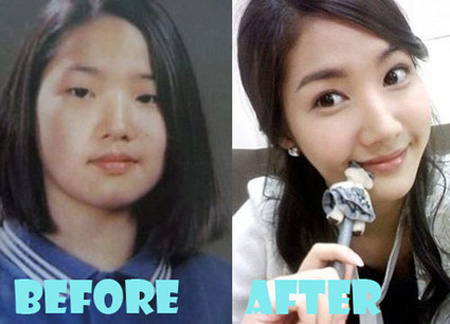 Source: Scoop
When the pictures of her school days were made public, and the changes were greater than just growth and bodily changes according to age. The actress made a public statement admitting to getting work done and said she got her mother's permission to get the surgery.
Park Min Young got her nose fixed in Junior High because her "nose was crooked during junior high," the actress said, and you can see the changes on her face. The nostrils are a little wider, sitting between her cheeks and the bridge of her nose also feels as one simple stroke compared to the slight bend her previous nose was showing.
Park Min Young Eye-Lids Surgery; She did it to Look Pretty
Source: Savor
In the same interview she gave to Sports Chosun, the actress admitted to getting surgery for both of her eyelids. Park said, "I got double eyelid surgery in junior high school. My mom let me get it so I could become prettier."
Park got the permission of her mother, and getting eyelids surgery seems to be the understatement of the century considering how her eyes appear close together than before, and they also appear bigger and are centered instead of a downward point of her younger days.
Did Park Min Young get a Facelift?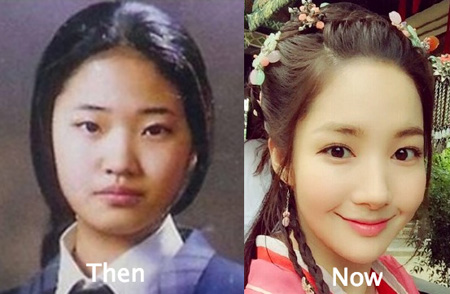 Source: Olivia Taylor
If you look at the two images from her young and adult days of the actress side by side, then you can see differences in her cheek. They appear leaner and pulled up slightly, giving a puffy look without being fat. Her forehead also gives an appearance of smooth surface, which was not the case of her younger days, along with them looking a little narrower now than before.
Park's chin is also a suspect of getting plastic surgery; they appear to be more defined, but it just may be a lot of exercises, which resulted in the loss of facial fat, but still, the point at the top gives an impression she corrected her jaw as well.
Also Read: The Real Truth About Bella Thorne Breast Augmentation
Lips are another aspect of her face, which appears suspect of plastic surgery with her lips appearing fuller than her past life, giving her the charismatic, charming smile which made her famous. The facial features she changed are the reason most of her fans love her, and if she is comfortable with the changes to her body, then no one, in particular, should have any problem when it comes to Park Min Young plastic surgery.
Also Read: Niykee Heaton Surgery - The Full Story!
Before you leave, make sure to head on over to our Entertainment section for all the latest news and gossip on your favorite celebrities. Also, do not forget to visit Glamour Fame to be in the know of all the happenings in the world of show business.
-->