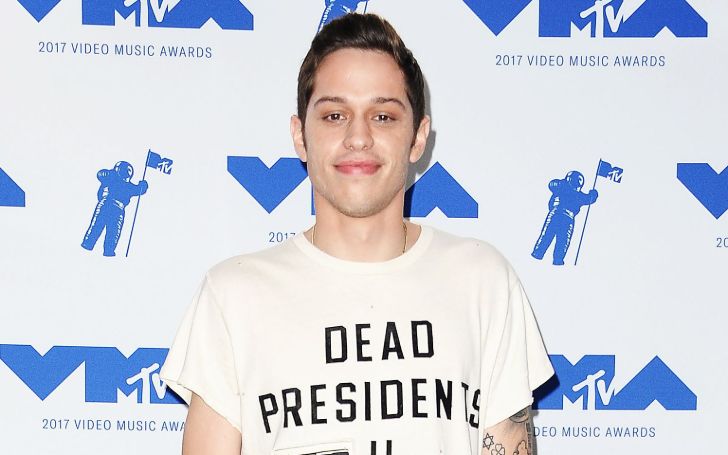 Who doesn't know the famous American comedian and actor, Peter Michael Davidson? If you don't, then you might recognize him from his stage name Pete Davidson. He first performed stand up comedy with the group of his friends at a early age of 16.
Davidson is famous for his unique humor and comedy style, which is focused on his life. He is a cast member on 'Saturday Night Live' and also appeared on the MTV shows Guy Code, Wild 'n Out, and Failosophy. Pete even gave his performance on Adam DeVine's House Party, Comedy Underground with Dave Attell, and Jimmy Kimmel Live!
As getting a tattoo is not a new thing for the celebrities but Pete Davidson's come on the radar of those famous superstars who took their inking process on a different level. Like us, you guys might get shocked by hearing the news that Peter's body is tatted with around 104 Tattoos until today.
Yeah, our beloved readers, you read it right. Pete's filled his body with tons of tattoos, which he might increase soon, as there are still many spaces to ink many new stories. Until then, let us disclose the tale behind some of the Davison's tattoos to you guys. So, let's begin.
Firefighter and 8418 Tattoo in Davidson Left Arm
Pete Davidson tatted a big tattoo of a 'Firefighter' in his left arm, which he dedicated to his late father, Scott Davidson.
Davidon dedicated his Firefighter tattoo to his late dad.
Source:Cosmopolitan
Pete's dad was a brave firefighter who gave his life on September 11, 2001, during a terrorist attack in the United States of America. Therefore, the comedian inked the tattoo for showing a token of love and tribute towards his father.
'8418' was the badge number of Pete late firefighter father, Scott Davidson.
Source: Body Art Guru
Another mark '8418' in his left arm was the badge number of Pete pop, so the number in his left arm is another tribute for his daddy.
11 Behind His Left Ear
We think you guys might already know how much Pete loved his old man, and only two marks were not enough to symbolize his appreciation for his late dad.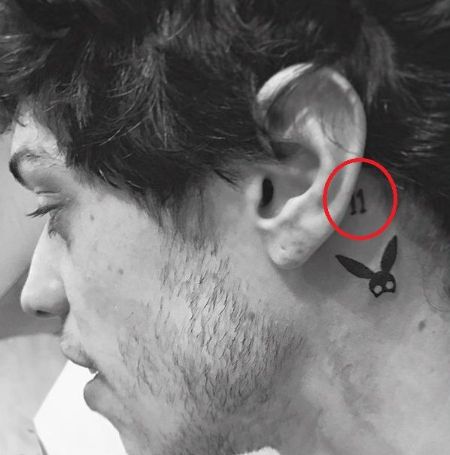 Pete tatted number '11' behind his left ear.
Source: Body Art Guru
As a result, Davidson inked the number '11' behind his left ear. So, he won't forget the day his father, Scott, left his physical presence and went to the spiritual world.
Recommended: Nicki Minaj's New Boyfriend Tattooed Her Name On His Neck
In one of Pete interview, he also mentioned,"I don't let a lot of people know about my dad dying on 9/11. It's not a way to introduce yourself. So I never told anybody, and then I would do jokes about it… and I think people thought I was lying about it. Which would be crazy!"
IX Tattoo and Fireman Hat on Pete Left Forearm
To get parental love is a blessing for everyone in this world, but many people aren't lucky enough to experience those feelings. Though Pete lost his dad at a young age, Scott imprinted a huge image of him in the heart of the actor Davidson. Hence, Peter even tatted a tattoo of 'IX' on his left forearm.
Pete Davidson firefighter dad lost his life on September 11, 2001.
Source: Body Art Guru
Yes, people the comedian Pete also has another tattoo devoted to his belated father, which resembles the month he lost his pop, September 9/11.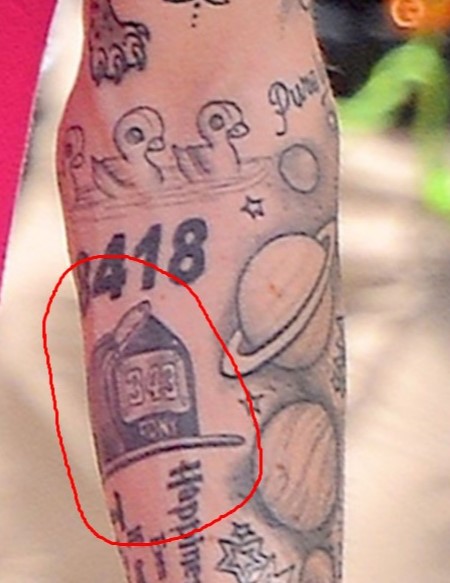 Pete got a tattoo of a firefighter hat with the number 343 on it.
Source: People
Subsequently, the American actor also got a tattoo of a 'Fireman Hat' to show his affection to his late dad with the number 343 over it.
Tattoo of Wolf on His Right Forearm
Now talking about another tatt of the young artist, Pete Davidson, he inked 'Wolf Head' in his right forearm. A wolf symbolizes the love and affection towards the family; Pete might tat it to show how much he cares about his family.
Wolf Tattoo of Davidson reflects the love and care for his family members.
Source: Cosmopolitan
Further, Pete, after the death of his father, might get the feeling of looking after his mother and sister, as the elder son in the house.
SpongeBob and Winnie-the-Pooh Tattoo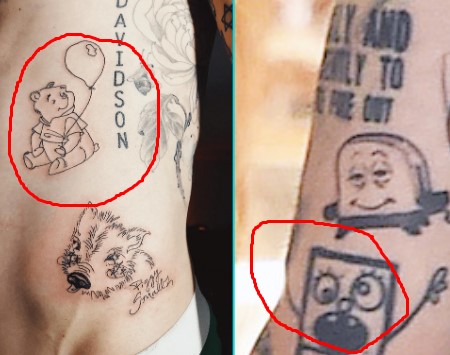 Pete Davidson got many tattoo of the fictional characters in his body.
Source: Glamour Fame
'SpongeBob' and 'Winnie' the Pooh are some of the famous cartoon characters. So, Pete might tat those animated characters to show his fun-loving nature.
Davidson Tattoos For His Former Lover Cazzie David
By now, we all might get the idea that Pete is fond of covering his body with tattoos to remember his special moments in life.
Cazzie was the ex of the comedian Davidson who for whom he dedicated one of his tattoos.
Source: People
Cazzie David was one of the exes of the comedian Davidson for whom he inked a drawing by Cazzie. After breaking up with her, Pete covered the tatt with a 'Giant Forest' tattoo.
Pete Dedicated Tattoos For His Ex-girlfriend Ariana Grande
Pete Davidson showed his love to his ex-girlfriend, Ariana Grande, with a tattoo of her album cover 'Dangerous Woman' in the backside of his ear while the couple began to date in 2018.
Davidson had inked several number of tattoos for his former lover, Ariana Grande.
Source: Glamour Fame
As we can see, that tattoo is the way Davidson shows his emotion because of which he even inked 'Grande' on the right side of his stomach while he was in a relationship with his former lover, Ariana Grande.
Also See: Mayim Bialik Spent Thanksgiving with her Ex–husband, Michael Stone And His New Girlfriend
The comedian artist even imprinted 'Piggy Smalz' on the left side of his waist. According to Ariana, the tatt is dedicated to the pet pig the pair had when they were in a relationship.
Matching Tattoo With Grande
The former lovebirds, Grande and Davidson, used to share matching tattoo, 'Mille Tendresse,' which states a 'Thousand Tendernesses.'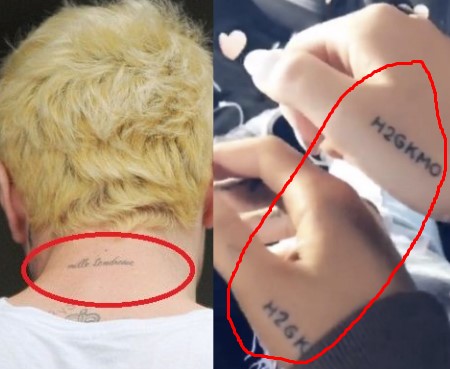 The pair of Davidson and Grande had sketched similar tattoo while they were in relationship.
Source: Glamour Fame
Further, Pete and Ariana also got another similar tattoo 'H2GKMO', which is related to the favorite catchphrase of the beautiful singer, Grande,' honest to God, knock me out.'
Covering The Memories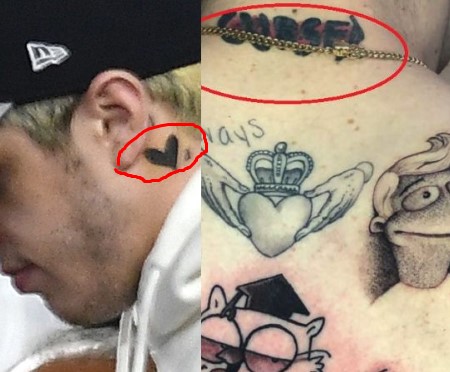 Pete modified his 'Dangerous Woman' and 'H2GKMO' tat after breaking up with his lover Ariana Grande.
Source: Insider
Later on, the pair got separated, and Pete converted his 'Dangerous Woman' tattoo into a black colored heart. He also covered the 'Mille Tendresse' tattoo with the word 'Cursed.' Davidson also covered his 'H2GKMO' tattoo after breaking up with Ariana Grande.
Portrait of Hillary Clinton Inked on Pete Right Leg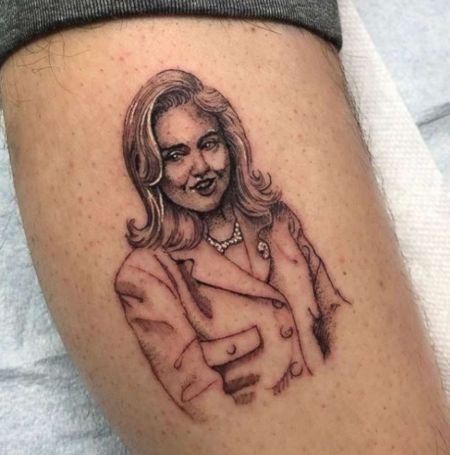 Pete showed his support to politician Hillary Clinton by sketching her potrait in his leg.
Source: ABC News
Hillary Clinton is the icon for the American star Pete Davidson. So, to support her works in 2016, during U.S. Presidential Election, he inked Hillary Clinton on his right leg which was tatted by the tattoo artist, Jon Mesa. Davidson uploaded the photo in his social media account with a caption, "Wanted to get @hillaryclinton a Christmas Gift, so I got a tattoo of my hero. Thanks for being such a badass and one of the strongest people in the universe.Tatt by @jonmesa."
Smiley Heart To a Wobbly Heart on The Left Side of His Chest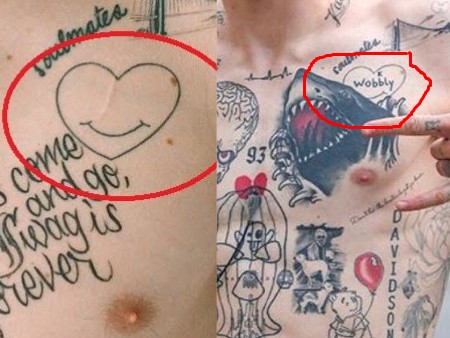 Davidson modified his smiley heart with wobbly heart.
Source: Glamour Fame
The Catholic actor, Pete, used to have a smiley heart tattoo on the left side of his chest, which he afterward added word wobbly inside of the heart tatt. Davidson modified his sketch after struggling with his mental health and relationships.
Ruth Bader Ginsburg Inked Near His Right Shoulder
After facing some ups and downs in his relationship, Peter took some break from modifying and covering memories of his ex. He then inked the Supreme Court Justice, Ruth Bader Ginsburg's picture on his right shoulder.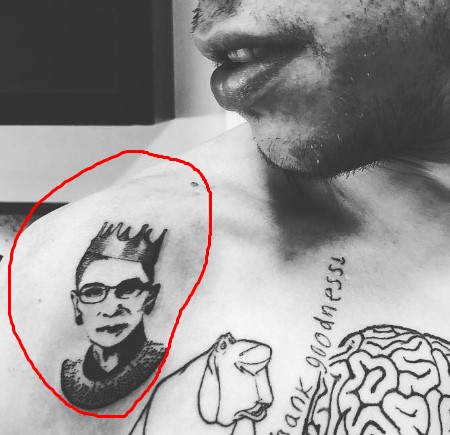 Ruth Bader Ginsburg portrait is inked on the body of the comedian Pete Davidson.
Source: The Blemish
The tatt near Pete right shoulder was created by the tattoo artist Jon Mesa who shared the art on his official Instagram profile with a caption,'The Notorious R.B.G.' Ruth Bader Ginsburg on @petedavidson.'
93 and Flying Eagles By Jon Mesa
Getting a tattoo is a big deal, as one simple mistake, it will ruin the whole art and will create something irrelevant. However, Pete Davidson shows no hesitation to have a new tattoo with the help of his friend, Jon Mesa.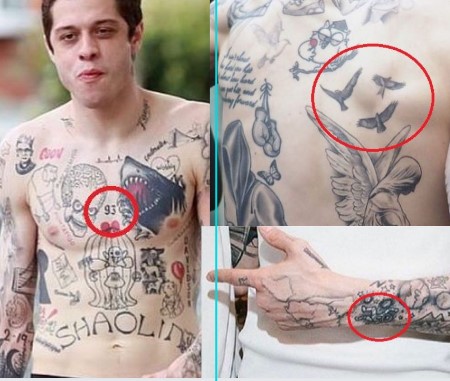 Many tattoos of the Pete are tatted by the tattoo artist, Jon Mesa.
Source: Glamour Fame
Jon Mesa is a tattoo artist who painted some of the important tattoos in the body of Davidson. Mesa tatted number '93,' which denotes the born year of Pete, November 16, 1993.The tattoo painter Jon even sketched 'Flying Eagles' on the right side of his back, which represents wisdom and power.
You Might Also Like: Aaron Carter's Face Tattoo is Horrifying for the Fans
Mesa also tatted Astronaut portrait on the left wrist of Pete, which is a unique way to express his support for NASA and other space exploration programs.
For more celebrity-related news and information visit Glamour Fame.
-->