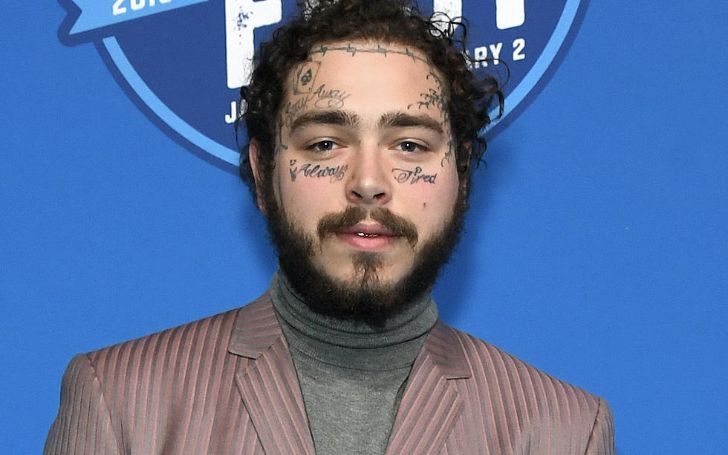 Know all of Platinum hit artist Post Malone face tattoos and meaning behind them.
Austin Richard Post, professionally known as Post Malone, is one of the unique artists living in the era. Post musical compositions, the rooted harmonious blending of R & B & Hip-Hop, with some Metal flavors enriched, surely has brought us with a taste of music.
And we've always been stunned with Posty's inspiring pop culture dress ups and vibes and especially his irresistible face tattoos. so here we present you with all the details of Post Malone tattoos,
Why does Post Malone has Face Tattoos?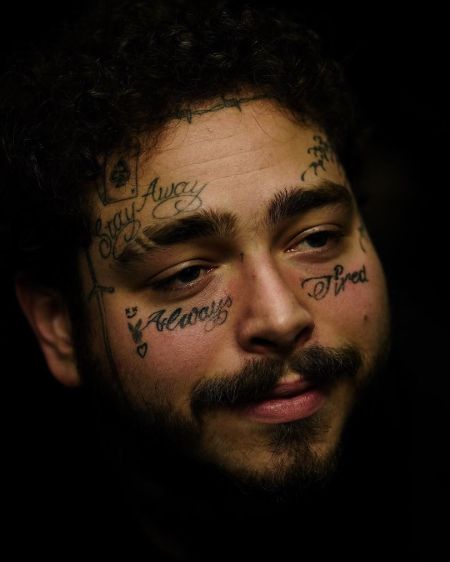 Post Malone Face Tattoos
Image Source: Instagram (@postmalone)
Well talking exclusively to GQ Cover Story Post Malone shared,
The face tattoos do maybe come from a place of insecurity, to where I don't like how I look, so I'm going to put something cool on there so I can look at myself and say, 'You look cool, kid,' and have a modicum of self-confidence, when it comes to my appearance.
Anyway, here we present you with all the details of Post Malone facial tattoos,
Post Malone Face Tattoos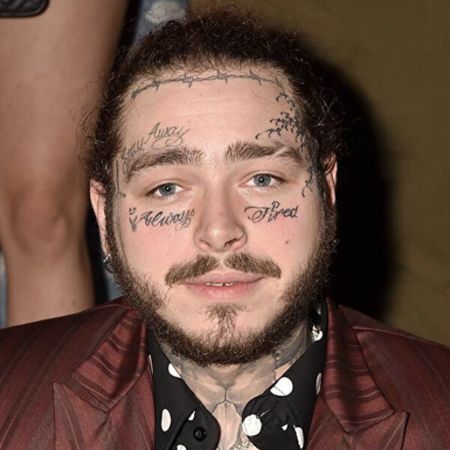 Find out the meanings behind all Malone's face arts.
Image Source: Instagram
Over Malone's face, he shares around ten tattoos. And the best part Yeah, he can hide them and even come with different cool combinations using concealer and foundation.
So here is the list of all Posty face tattoos and the meaning behind all of em'.
Barbed Wire Tattoo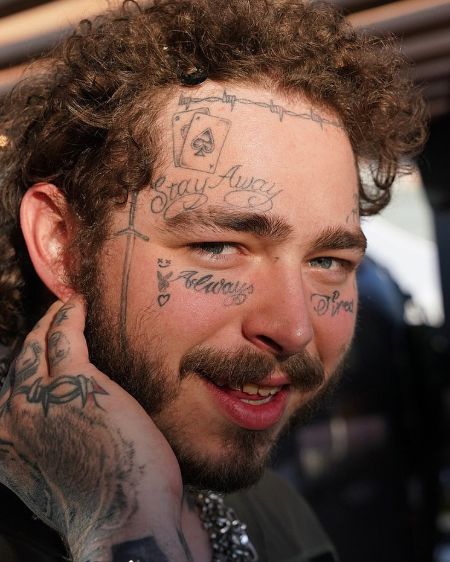 Man of Steel.
Image Source: Pinterest
On Malone's forehead, he shares a 'Barbed Wire' tattoo, and below the right brow Post has On the right part of his forehead Malone shares Stay Away and a Sword coming down from his which majority of fans has speculated because of his mental barrage and illness before gaining the stardom.
Check Out: John Finlay Tattoos and Their Meaning
Meaning: The platinum hit artist denied all the negative rumors and shared 'Stay Away' tattoos are 'simply songs lyrics'.
Posty's Sword and Ace Tattoo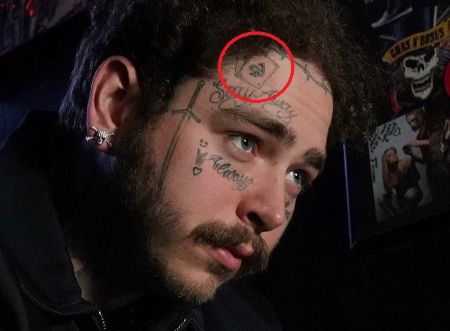 The Rockstar hitmaker Ace of Spade ink.
Image Source: Pinterest
And starting from the 24 years old right 'temple' part to down the cheeks, Post shares a long 'Sword'. And right above it, there's a spade 'Ace card.' Around the Sunflower hitmaker cheek, there are three mini symbols - a cross-eye smiley, playboy logo, and love emoji.
Sword Tattoo Meaning: Malone shared that he had a love for the swords since he was a little kid, around 12, and was a dedication for his medieval props- his love for swords and armors is also well reflected on his 2019 hit songs 'Circles'.
Find Out: Baron Corbin Tattoos and Their Meaning
The 'Hollywood Bleeding' artist on the right side of under eyes he has inked 'Always' and similarly on his left part he has 'Tired' tattoos. It makes sense when the one going insecure about his looks will surely ink something.
Etching Tree Tattoo
Post shares an etching tattoo on the left side of his face. Well, they kind of look weird but also previews the dark part of his face. The tattoo on the left side of his face was inked by tattoo artist known as Ganji.
So that's all of Post Malone face tattoos. We hope you enjoyed the article, stay tuned for more Celebrity Tattoos only on Glamour Fame.
-->