Who Is Priscilla Presley? Inside Her Controversial Marriage With Elvis Presley
The complete truth about Priscilla Presley and Elvis Presley's marriage: The actress recalls her early years of marriage!
An actress and businesswoman, Priscilla Presley is better known for her iconic relationship with the late rock'n'roll king Elvin Presley. The relationship Priscilla shared with Elvis was scandalous, challenging, and yet rare and beautiful. During her years of companionship with the legend, Priscilla explored a relationship so unconventional that the world deemed it "troublesome."
Priscilla Ann Presley (née Wagner) was born on May 24, 1945, in New York City. She was a 14-years old high school kid when she fell in love and moved in with Elvis, who was 24 at the time. Priscilla's fateful encounter with Presley was the beginning of her tumultuous decade-long relationship, with the king of rock exerting immense control over Priscilla's life and career. Her acting credits include roles in Love Is Forever, The Naked Gun: From the Files of Police Squad!, and The Naked Gun 2½: The Smell of Fear. Details about her career.
The truth about Priscilla Presley and Elvis Presley's marriage!
The pair met in Bad Nauheim, Germany, where Elvis was stationed during his service in the United States Army. The rendezvous soon became an illicit romance, considering the actress was only 14. But the yearning continued nonetheless, and the couple stayed in touch. Priscilla moved to Elvis's iconic mansion, Graceland, as a teenager. Throughout their years together as a non-married couple, the late rockstar had many intimate relationships with his co-stars.
Priscilla was 21 when she married Elvis and birthed their only child. Photo Source: Instagram
Priscilla and Elvis tied the knots on May 1, 1967, at the Aladdin Hotel in Las Vegas. But instead of throwing an elaborate function, the pair's wedding was wrapped in mere eight minutes, followed by a $10,000 breakfast reception for the handful of guests. In her book Elvis and Me, Priscilla reveals she and Elvis didn't consummate their physical relationship until their wedding night. A marriage set out in the age meant Priscilla had to adhere to the accepted norms of a good wife.
Don't Miss: Who is Michael Cera Married to? Details on his Wife & Kids.
In efforts and process to keep up with her husband's lifestyle and likings, the actress says she lost herself. Precisely nine months into their marriage, Priscilla birthed the couple's only child, Lisa Marie Presley, on February 1, 1968. In her book, Priscilla also confesses to infidelity while her husband was busy filming for Live a Little, Love a Little.
The actress admits to infidelity during her marriage to Elvis.
Photo Source: Instagram
Despite knowing about her husband's philander reputation when away from family, Priscilla expresses tremendous guilt over her brief affair in the book. The actress had started to take up karate lessons to share in Elvis's interest when she had another fling with her instructor, Mike Stone. The actress recalls Elvis was engulfed in anger when he discovered his wife's affair. The two called it quit in February 1972 and legally filed for divorce after a few months.
Priscilla Presley reveals the difficult early years of marriage with the mega-star!
Nearly three decades since the dissolution of her marriage with the king of rock, Presley is opening up about her early years with Elvis. During her recent visit to the Bendigo Art Gallery, where the actress is starting a new Elvis Presley exhibition called Elvis: Direct From Graceland, Priscilla provided some insight into Elvis's mind and her relationship with the late icon.
Priscilla opens a new exhibition dedicated to her late ex-husband in Australia.
Source: Studio 10
"Elvis at one time thought that he would be forgotten," Presley says, adding, "He didn't get to tour all of the places he wanted to go, and Australia was one of them." Recalling the early years of marriage, the mother of one says, "The beginning [of the marriage] was challenging, but I knew what I was in for because I saw it at a very young age. It was hard to get accepted. But he always told me, 'Don't pay attention.'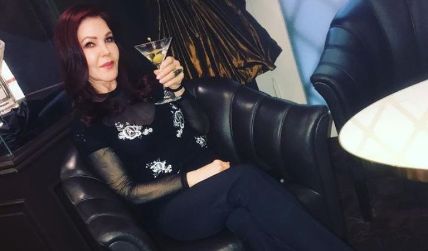 Presley shares a son with her ex-boyfriend Marco Garibaldi.
Photo Source: Instagram
The 76 years old actress also touches on the deceitful gossip mongers tabloids of the time. "I found out how vicious people could be. There were rumors I was pregnant, which is why he got married, and I'm going, "Oh my God, this is not gonna be good for me." After Elvis's death in 1977, Priscilla went on to have many relationships, including with Robert Kardashian, Kirk Kerkorian, and screenwriter Marco Garibaldi, with whom she welcomed a son, Navarone, in 1987.
Recommended: Anthony Anderson and Wife Alvina Stewart Anderson Separated After 20+ Years of Marriage.
Stay connected to glamour fame for more.
-->