'Queer Eye's Tan France Becomes a US Citizen and He's 'Grateful' for It
Published Wed Jun 10 2020 By Sea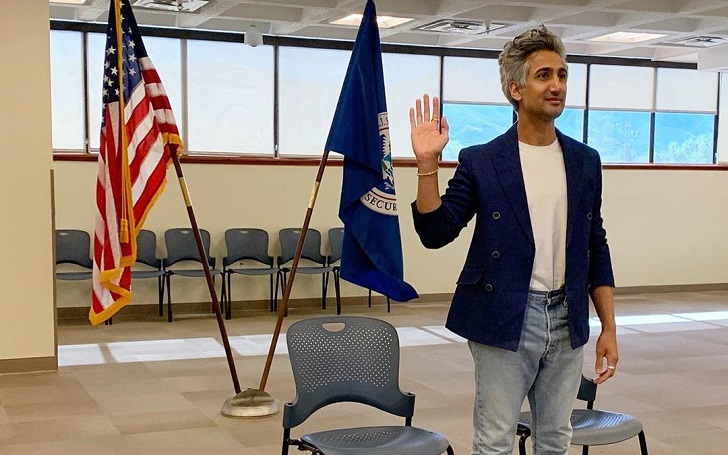 Tan France's application for US citizenship has been accepted, and everyone's excited about it.
UK-born fashion designer, Tan France, who is known for his eye-catching designs on 'Queer Eye', announced on Tuesday via Instagram that he's now a full-fledged US citizen. But the road wasn't easy. Apparently, it took him two decades to get the acceptance.
"A few minutes ago, I officially became an U.S citizen!!" He wrote as the caption for a collection of photos. "For me, this is monumental. It's something I've been working towards for literally 20 years, which makes this all the more emotional."
Yep, it's official.
Photo Source: Tan France, Instagram
While taking the oath, his husband Rob was there to support him as the two took a shot in front of the American flag. France also posed in front of the U.S. Citizenship and Immigration Services building sign to top off the accomplishment.
Born to Pakistani parents, France has more plans as well. "And now, I will exercise my constitutional right as an American," he continued in his post. "Today, I will register to vote, and vote for the change I wish to see in OUR nation."
Recent: MTV Cancels 'Teen Mom' Special As They Cut Ties with Taylor Selfridge
A bunch of 'Queer Eye' stars jumped on to the comment sections to congratulate the fashion designer on the achievement.
"There is no word or phrase I have strong enough to say how happy, proud, strong you are I have no words strong enough. Love you so much," Jonathan Van Ness wrote.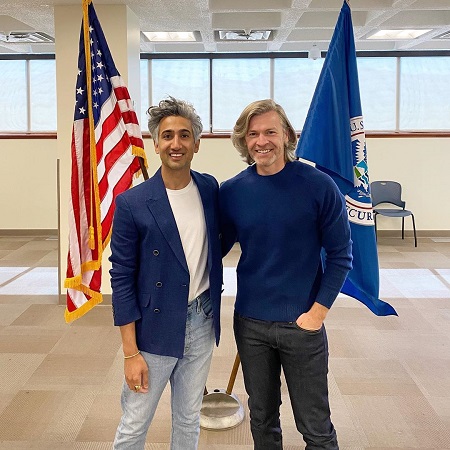 Rob was there all the way.
Photo Source: Tan France, Instagram
Bobby Berk also commented, "SO PROUD OF YOU TANNY!!! I love YOU ❤️," and Karamo Brown wrote, "Welcome! Love you!"
"I hope you realize you can no longer say things like 'you Americans always...', " once rumored Van Ness' boyfriend Antoni Porowski joked.
Know What It Is: Jinger Duggar and Husband to Start a New Venture
But it was huge for him. In a group interview alongside the show's co-stars on 'The Tonight Show with Jimmy Fallon', he extended his experience of not getting to vote for all this time. "We're so darn grateful," he said. "I was just thinking of all the times I've been sent home and the people I've missed. I was away from my husband for six years because I was sent home."
"And so just to now be in a position where I know nobody can kick me out and I can actually truly make some changes, actually vote to change and encourage people to vote to change the state of this country," he continued. "Like that really made me feel very emotional. The timing couldn't be more perfect for me."
Watch: Tan France Is Jonathan Van Ness' Hero As He Talks As a US Citizen
The hope is he can really be a part of the group that makes a difference.
Stay tuned and connected to GlamourFame for more celebrity news and updates.
-->