Rainer Andreesen: Victor Garber's Loving Husband and Their Heartwarming Marriage Journey
Rainer Andreesen is a well-known figure in the fashion and modeling industry and is also the life-long partner of Victor Garber, making them a beloved celebrity couple. Their love story is heartwarming and captivating, drawing the attention of many admirers.
As an artist, he has created numerous portraits, with a particular focus on painting Victor, his life partner. He draws inspiration from acclaimed artists such as James Whistler, John Singer Sargent, and Rembrandt, who have had a significant influence on his artistic style and techniques.
Rainer Andreesen is Happily Married To Victor Garber
Rainer Andreesen is happily married to his boyfriend, Victor Garber, a Canadian actor. The couple had kept their relationship private since 2000, but in 2013, Victor publicly announced his homosexuality, which led them to reveal their status as a couple to the public.
In October 2015, they took their relationship to the next level and got married, confirming the happy news with a heartwarming Instagram post. Their love story has since been celebrated and admired by many.
More Than Two Decade-Long Love Journey
In a surprise elopement, Canadian actor Victor Garber and his longtime partner, model/painter Rainer Andreesen, got married in Tofino, Canada over the weekend.
The couple had kept their relationship private for 16 years, but Andreesen confirmed their nuptials with an adorable photo on Instagram. Garber also shared a photo of them exchanging vows at the magical Wickaninnish Inn in Tofino.
While they have been low-key about their relationship, Garber has expressed his love and happiness with Andreesen in interviews. He considers their relationship, which has spanned almost 13 years in Greenwich Village, as one of his biggest achievements.
Garber's coming out as gay was also subtle and quiet, with the actor confirming their relationship to the public in 2013. He mentioned that he and Andreesen didn't talk much about it, but it was widely known among their close circle.
Also See: Who Is Canadian Actor Hayden Christensen Dating after Divorcing Wife Rachel Bilson?
Interest in Modeling, Acting, and Paintings
After completing college, Rainer Andreesen initially planned to open a studio and pursue a career in artistry. However, his fashion photographer encouraged him to explore modeling. Taking this advice, he moved to Milan, where he caught the attention of a modeling agency and embarked on a successful modeling career.
Andreesen had the opportunity to work with renowned international brands such as Hugo Boss, Zenya, and Giorgio Armani, gaining recognition and popularity in the fashion industry.
Eventually, Andreesen returned to Canada and continued to focus on his artistic endeavors in New York and Los Angeles. His artworks received praise from numerous celebrities and art enthusiasts, further establishing his presence in the art world.
In addition to his work in modeling and artistry, Rainer Andreesen has also ventured into acting. He appeared in films like "Pretty Boys" (2002) and "Salvage" (2015), showcasing his diverse talents and passion for the creative arts.
Rainer Andreesen's Net Worth and Salary
Rainer Andreesen, the multi-talented artist, model, and actor, has built substantial wealth from his successful career. Collaborating with prominent brands has allowed him to earn a considerable income.
As of 2023, his estimated net worth is $2 Million. He has achieved all of this through his contributions to the entertainment and fashion industries. On the other hand, Victor Garber, the talented actor and TV personality, boasts a net worth of $5 million. His successful career has led him to work on various projects, contributing to his impressive earnings.
He reportedly earns over $100,000 annually from his diverse endeavors in the entertainment industry. With his remarkable talent and hard work, Victor Garber continues to solidify his position as a prominent figure in the world of acting and television.
Rainer Andreesen Wiki, Bio, Family, and Education
Rainer Andreesen, the renowned Canadian artist, was born on April 18, 1963, in Prince Rupert, British Columbia, Canada. As a 59-year-old, he hails from a Canadian family and holds Canadian nationality. However, specific information about his parents and siblings is not currently available.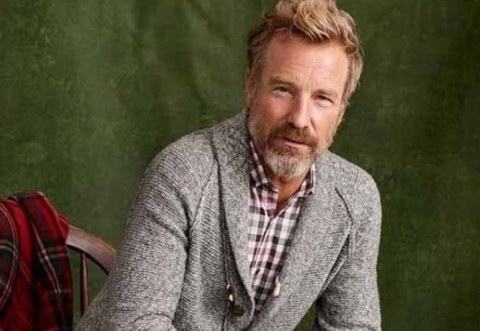 Growing up, Andreesen's parents were incredibly supportive of his artistic pursuits, encouraging him to follow his passion and become an artist. He pursued his dreams and eventually graduated from Capilano College's Arts and Design Program in Vancouver, further honing his artistic skills.
In terms of his personal life, Rainer Andreesen publicly came out as gay and later tied the knot with Victor Garber, the Canadian actor. Their marriage brought him considerable attention and recognition, further solidifying his place in the public eye.
Height, Weight, and Body Measurement
Rainer Andreesen is not only a talented artist but also possesses a striking and captivating physical appearance. Standing at an impressive height of around 6 feet and 2 inches, he exudes a commanding presence.
His blonde hair, coupled with a high hairline, adds to his attractive features, and he often sports a well-groomed beard that complements his overall look. Rainer's captivating blue eyes further enhance his alluring personality, making him a truly handsome and charismatic individual.
Is Rainer Andreesen Active in Social Media
Rainer Andreesen, the talented Canadian artist, maintains an active presence on Instagram with an impressive following of over 20K followers.
On his Instagram account, he showcases his captivating artistic works and shares glimpses of his personal life through images.
His engaging posts offer a delightful insight into his creative journey and artistic expression, making his Instagram profile a must-follow for art enthusiasts and fans alike.
Rainer Andreesen Revealed the Secret of Victor Garber
In 2017, Rainer Andreesen inadvertently revealed some top-secret news about Victor Garber's casting in a comment on an Instagram post by Brad Goreski.
He mentioned that Brad would have to come back and see Victor and Bernadette in January, hinting at a potential replacement.
However, he quickly deleted the comment to keep the news under wraps. Fortunately, the slip-up did not affect Victor Garber's role in "Hello, Dolly!" and the show continued without any disruptions.
Recommended: Matt Danzeisen is Married to His Longtime Partner Peter Thiel - When Did They Tie the Knot?
Follow Glamour Fame
-->