"Raised By Wolves" Cast Ethan Hazzard - Some Facts You Should Know
Here's what you should know about Raised By Wolves actor Ethan Hazzard.
Raised By Wolves is an American science fiction series created by Aaron Guzikowski for HBO Max. According to the reports by Deadline, the show has one of the most successful debuts, and its viewership grew by more than 50%.
While talking about Ethan Hazzard, the actor portrays the role of "Hunter," and is one of the prominent characters of the show. If you have watched the trailer of the show, you can pretty much guess the storyline of the show, but again, it's the storytelling that really matters. It just captivates you with the surprising events and equally awe-inspiring visual effects.
Also Read: What is Jannik Sinner's Net Worth in 2020? A Brief Overview of His Wealth and Income
Set on the distant future, the show tells a story of two androids who are tasked to save the human children, but it's the humans who are against them. Religious difference between different human colonies is something androids find it hard to control.
Ethan Hazzard's Character on 'Raised By Wolves'
We will try not to spoil anything for you, but still, some points are hard, not to mention and spill the beans. So, be advised, if you haven't watched a single episode, then we suggest you watch at least two ep from the first season, because if not us, then someone will, for sure, spoil it for you.
So, still trying to be as less spoiler as possible, here's what you should know about Ethan Hazzard's character, Hunter, on the HBO Max series, Raised By Wolves.
Ethan Hazzard plays the character of Hunter, one of the children who is "saved" by "mother," one of the two androids. Ethan's character is a highly intelligent boy, age 17. Hunter's father was a high ranking member of a powerful religious order back on Earth.
Also, See: Who is Jannik Sinner's Girlfriend? Is He Dating Someone in 2020?
Since the hierarchy "Hunter" once sat atop no longer exists, Ethan Hazzard's character must learn what it's like to be just like everybody else. You will get to see Ethan's character in action from the first episode of the season. Though he only makes his appearance on the last half of the first episode, Hunter starts making a lasting impression from the second one.
Ethan Hazzard is From London
While not much is known about the actor, according to some sources, Ethan Hazzard was born and raised in London. He is expected to be around the same as his character, Hunter, that is 17 years old.
Despite appearing on several television shows, and movies, 'Raised By Wolves' is considered his breakthrough role, and believe us, the actor is doing pretty good so far.
As we mentioned earlier, Ethan Hazzard's character starts to make an impact from the second episode; you will be really surprised to see what he does on the other episodes. All we can say is, Ethan did a really well job on his major breakthrough role.
Also Read: Liberte Chan is Engaged to Her Boyfriend Luis Strohmeier, Find Out About Their Relationship
While talking about his physical appearances, Ethan has a well-built body, with an average height. Some sources claim the actor is 5 feet 7 inches tall, which seems pretty agreeable, but that's not the official details and needs to be approved by the actor himself.
Ethan Hazzard's Other Movies and TV Series
According to his IMDb page and CVs online, Ethan Hazzard is quite experienced when it comes to acting. Though the actor is getting the recognition he deserves from "Raised By Wolves,' Ethan has plenty of credits to his name already.
According to different sources, the "Raised By Wolves' actor has appeared on television series like "GIRI/HAJI" as Joel, "The Long" Song as Elias, and "Damned " as Limahl.
Moreover, Ethan also has some movie credits to his name as well, like "Break" as Michael and 'The Dare' as Isaac. Though he may have failed to grab the attention of people from his previous work, this new HBO Max series is doing wonder for him, but just like we said, he deserves more; he is an excellent actor!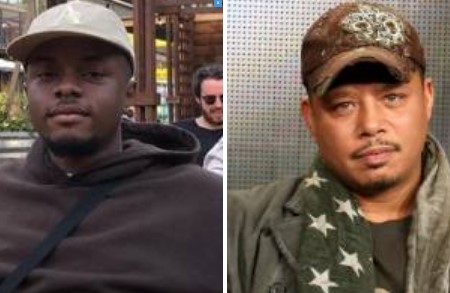 People are already comparing Ethan Hazzard with Terrence Howard; they think they look quite similar, and it's a huge compliment for the "Raised By Wolves" actor.
Photo Source: Agency/GF
Ethan Hazzard is now working on Aaron Guzikowski's project, "Raised By Wolves." Aaron has previously worked with other big names in the industry like Hugh Jackman, Jake Gyllenhaal, Melissa Leo, Viola Davis, Terrence Howard, Paul Dano, and Maria Bello in his first film "Prisoners."
So, Ethan Hazzard working with Aaron, kind of links his name with those top-notch celebrities. And by the way, Some people think Ethan looks like actor Terrence Howard, and when you try to see the similarities, it completely makes sense.
You May Also Like: Something You Should Know About "Raised By Wolves" Showrunner Aaron Guzikowski
For more information on your favorite celebrities' lifestyle and other news, stay tuned to Glamour Fame.
-->