Reese Witherspoon Enjoy her Evening with Husband Jim Toth At The Harlem Globetrotters Game
Published Tue Feb 19 2019 By Jessica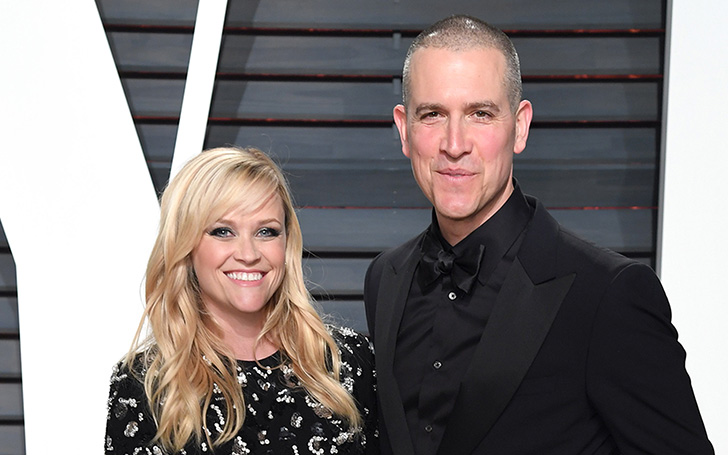 Reese Witherspoon and her husband enjoy a romantic evening at the Harlem Globetrotters Game.
When Hollywood actress Reese Witherspoon and her husband Jim Toth received courtside seats to watch the Harlem Globetrotters game this weekend, they had no idea that the evening would turn into a romantic one.
The couple stepped into the Staples Center in Los Angeles on Sunday.
Reese Witherspoon at the Globetrotters game in Staples Center in Los Angeles

SOURCE: Reese Witherspoon Instagram
And when you're a big star and happen to be sitting at the front row, chances are you might become the spotlight attention.
After the Globetrotters discovered the 42 years old actress was there with her husband of nine years, they started serenading the couple to a tune by The Temptations.
You may also like: Jennifer Lopez Tribute To The King of Rock, Elvis Presley During 'Elvis All-Star Tribute' Performance
Hand in Hand, Reese and her husband, Jim sweetly started dancing to 'My Girl'.
SOURCE: Reese Witherspoon Instagram
The party didn't stop there.
Whilst sitting on the front row seats to watch the Globetrotters play on the court, Reese Witherspoon again received a special surprise by Anthony Atkinson.
Anthony pulled the star and brought her on the court for a little dance party.
Don't miss: Ariel Winter Shows Off her Cleavage in White Blazer During Her Birthday Celebration
Well, thanks to Anthony, now we know Reese still got that, when she started dancing along with the player after the beat start playing at the venue.
Harlem Globetrotters official Twitter account shared the sweet video of the two dancing.
The actress too shared brief videos of her and Tennessee from the front row. Another shared video on her Instagram story displays the introductions of the player that included Moose Weekes.
Reese again shared another video of player Bull Bullard, making a group of kids learn on how to do the Y.M.C.A. dance.
She posted the video on her Instagram writing:
"When one of the #harlemglobetrotters steals your phone #danceitout🤣🏀 🔥 🎥 : @bullbody84"
After that, the Legally Blonde actress shared several other videos of her with Antony when they brought her husband Toth onto the court.
In other news: Phoebe Bridgers Released New Statement in Response To Allegations of Alleged Abuse Made Against Ryan Adams
Well, not sure about the others, but we are certain Reese and her family surely had a blast Sunday evening.
-->