Find all the WWE superstar Rhea Ripley tattoos and meaning.
Many of you might recognize the Australian professional wrestler Demi Bennett aka Rhea Ripley as the NXT UK Women's Champion and former NXT Women's Champion.But here we are discussing on the the first female Australian champion in WWE history amazing career instead peaking at his fascinating tattoos and learn the meaning behind them.
So without wasting any time, let's find out all the women wrestling sensation Rhea tattoos and the story behind 'em,
Rhea Ripley Leg Tattoo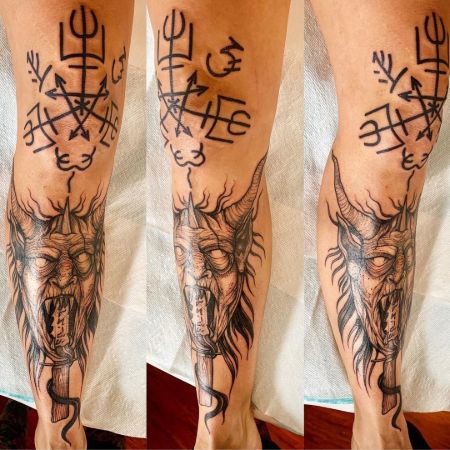 Rhea Satanic Leg Tattoos.
Image Source: Instagram (@rhearipley_wee)
Overviewing Rhea, seems like she's into the Satan culture and also listens to Heavy Metal bands such as Slipknot, Metallica and so forth. Cool, isn't it?
Ripley's Satanic theme tattoo was inked by Celeste, a tattoo artist. The ink articulate a satanic demon demon with horns. And similarly from the devils mouth there's a sword pierced inside it with a venomous snake wrapping all over it.
Check Out: Jeff Hardy New Tattoo 2020 and Their Meaning
Truly satanic! And adding more thrill to the ink, on the parts of her knees she has a satanic chart inked on parts of her knees with alchemical symbols.
Wolf Girl & Rose Calf Tattoo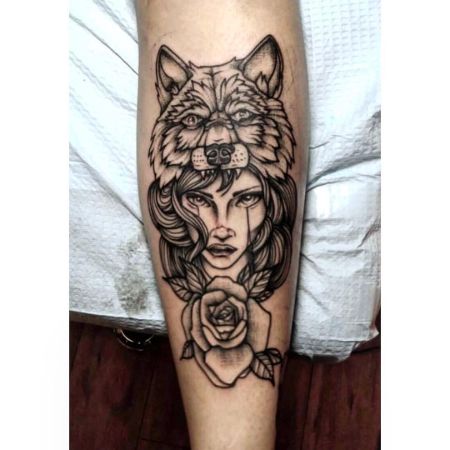 Rhea Calf Tattoo.
Image Source: Instagram
On Ripley's calf she has inked a beautiful art which shows a girl burst in tear coming out from the animal's face. And underneath it there's a rose tatted.
Meaning: Seems like Rhea Ripley holds a toxic past relationship. As the art clearly reflects the girl being Ripley who's been manifested by a wolf and the rose below shows how her love was misguided.
Right Leg-Side Tattoo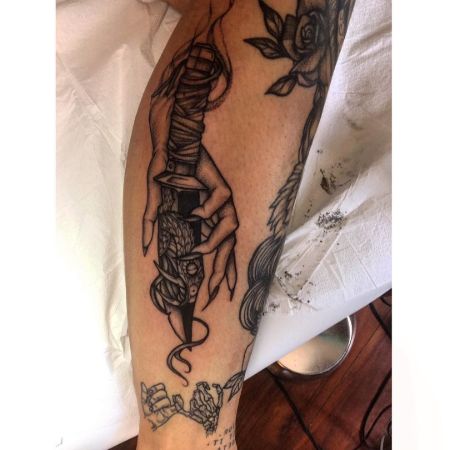 Snake Sword Hand Tattoo.
Image Source: Instagram
On the right side of Rhea's calf (above wolf-girl tattoo) there's a venom sword with snakes rolling all over it. The picture shows a devilic hand with nail about to stab someone. And right beneath it there's two hands (one normal human hand and devil hand) making a 'pinky-promise'.
Meaning: The wrestler herself wrote the tattoos meaning which is 'not to trust anyone'. And right beneath it there's two hands which reflects a correlation with the Satan and her.
Demonic Creature Thigh Tattoo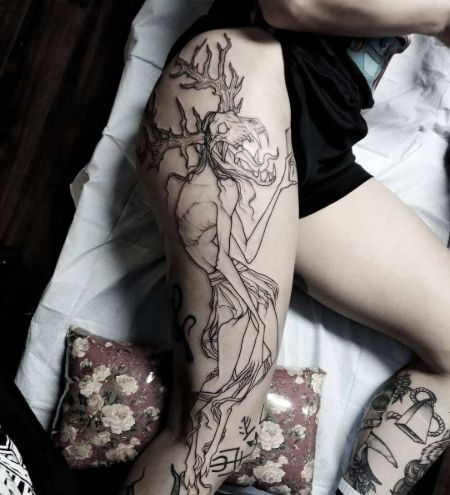 Demonic right thigh tattoo.
Image Source: Instagram
Ripley right thigh tattoo is creating quiet a stir in the world right now as it reflects a full satanic vibe among rest of all her tattoos.There were also rumors of the Australian wrestler being band from WWE for inappropriate tattoo. Each new ink the wrestler's about to ink must be first verified by WWE.
And there are also rumors of the 5 feet 7 inch star wearing pants to hide the tattoo after WWE insisted her too.
Ripley Dog Back Thigh Tattoo
Over her thigh, Ripley shares a dog with multiple pinned swords on back of her right thigh. Similarly on the back side of her left thigh, the women wrestling star has a beautiful butterfly inked.
You May Like: Baron Corbin Tattoos and Their Meaning
So that's all, which you did you guys loved the most? Well all of 'em, right? Hope you enjoyed the article, stay tuned for more Celebrities Tattoos articles on Glamour Fame.
-->