'RHOA' Star storms Off Set After Housewives Gossip About Her Being Broke
Published Tue Mar 26 2019 By Tess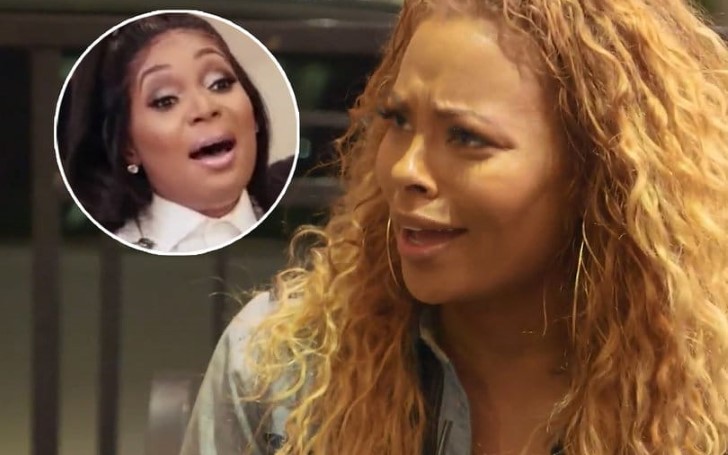 'RHOA' star Eva Marcille walks out upset after housewives gossip about her finances.
On Sunday night's The Real Housewives of Atlanta, Eva Marcille stormed out of Kandi Burruss's restaurant opening after finding out the other Housewives were gossiping about her finances.
Earlier that night, Tanya Sam revealed the housewives discussed Marcille's finances while they were at Marlo's house and decided it'd be best for her to share what was said.
Sam uncomfortable about the gossip swirling about Marcille's financial situation decided to let Eva know which upset a few of the other Housewives.
Also see: Is Teresa Giudice Moving On? The Real Housewives of New Jersey Star Spotted Holding Hands with a Younger Man While Her Husband Joe Giudice Serves Last Month of Jail Sentence
According to Tanya, "This girl was kind of spilling some negative stuff. She was like, 'Eva isn't living in this house, and she was, like, you know, 'I know the person who owns that house, and she doesn't own it.'"
Fed up with the gossip which swirled around her finances, Eva stormed out of the Real Housewives of Atlanta's set telling producers she was done the filming.
"I am in the midst of my honeymoon bliss. So to hear just despicable dirt, this whole thing just stinks, and I don't want nothin' to do with it. So, thank you, excuse me, and good day."
With NeNe's guidance, Eva went back inside and explained herself to the ladies. Marlo told Kandi she didn't believe any of it.
Read more: 'Real Housewives of Beverly Hills' Star Lisa Vanderpump visits fans in Katy
While Sam was unsure of the person spreading the rumors, Marcille claimed to know the person behind the rumors. "I know exactly who she was. She's not anonymous. This person's name is Seannita. She called the world and spoke my name and tried to spit venom and lies and take a fraction of truth of any story and spin that and make that as disgusting as possible."
The Real Housewives of Atlanta star Eva Marcille
SOURCE: The Grio
However, some of the other Housewives weren't convinced by Marcille's story about having to live in multiple homes to hide from her ex-husband.
Don't miss: 'The Real Housewives of Beverly Hills' Star Lisa Vanderpump says Brother's Suicide was Unintentional
So while some continued to gossip, Marcille decided that the only opinion that matters is her own: "I don't care what y'all think about me. Or anyone else in the world. I do the best that I can do every day and I sleep well."
"The Real Housewives of Atlanta" airs Sundays at 8 p.m. on Bravo.
-->