Is Riley Keough Related to Elvis Presley? Details on her Family
How is Riley Keough related to Elvis Presley? The complete story here!
Known for her roles in the thriller The Good Doctor, the anthology drama The Girlfriend Experience, and the black-comedy film Zola, Riley Keough is an actress and filmmaker. Although a star in her own right, Keough is better known for her illustrious lineage. The actress has Hollywood's Presley's blood running in her, and Riley is not one bit flustered by the fact.
Before making her film debut in the 2010 biographical drama The Runaways, where she portrayed young Marie Currie, Keough had a brief career in modeling; call it her family's influence in the industry, but at 15, Riley appeared in Dolce & Gabbana's ready-to-wear show and graced the covers of Vogue and Elle. Keough also landed her breakthrough role pretty early in her career.
How is Riley Keough related to Elvis Presley?
Keough is famously known as the granddaughter of the late rock n roll sensation Elvis Presley. Keough might require a context or two about her celebrity status, but Elvis doesn't. Here's a gist anyway. Presley was one of the most significant stars of the 20th century. Dubbed the king of rock & roll, Presley was a pioneer, and his legacy continues.
The Good Doctor actress was born on May 29, 1989, in Santa Monica, California, to musician Danny Keough and singer-songwriter Lisa Presley, the only child of the late rock star and his surviving wife, Priscilla Presley. Elvis is not the only icon Riley is related to. The actress lived as the step-daughter to legend Michael Jackson, who Lisa married following her divorce from Riley's father, though the nuptials lasted only two years, from 1994 to 96.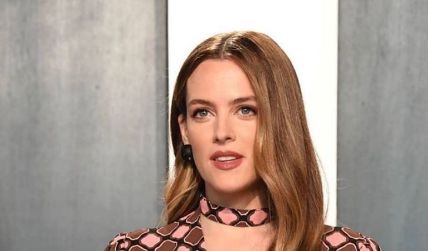 Riley is the eldest daughter of Elvis's only child Lisa Presley. Photo Source: Instagram
You might think that such an amount of family star power might have equipped Riley to become an imperious and spoiled inheritor, but it's really the opposite. "I always wanted to have my own money — not my family's money," says Riley. The actress adds, "I don't think any of it had to do with me being Elvis' granddaughter. None of my drives was 'I need to get away from my family legacy."
Don't Miss: Who are Florence Pugh's Parents? Learn About Her Personal Life Here.
Riley says she is aware of the clout she gets just for being born into the iconic family, but she can't care less unmerited attention. "People always ask, 'How crazy is it that your grandpa was Elvis and your stepdad was Michael Jackson?' said the actress, adding, "I make them happy and say, 'Yeah, it's so crazy."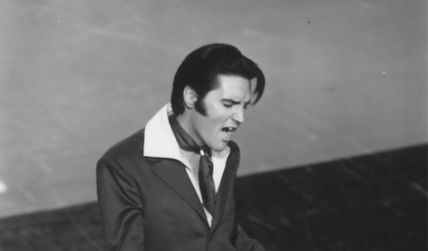 Riley has two half-sisters from her mother's fourth marriage. Photo Source: Instagram
The Girlfriend Experience star is not the only grandchild of the late icon. Keough has two half-sisters, twins Harper and Finley, from her mother's fourth and ten-year marriage with guitarist Michael Lockwood. Riley had a full brother Benjamin Keough, known for his uncanny resemblance with Elvis. Benjamin committed suicide, aged 22, in 2020.
Riley Keough on Baz Luhrmann's 'Elvis'
Baz Luhrmann-directed Elvis, a biographical musical drama, premiered on May 25, and the world hasn't stopped talking about Austin Butler's biting portrayal of Presley and Luhrmann's genius since then, including Elvis's granddaughter Riley. The Good Doctor actress got up on the stage at the 2022 MTV Movie & TV Awards and introduced a clip from the biopic.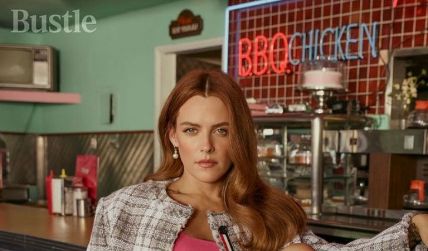 Keough embraces her family's legacy during the introduction of the biopic 'Elvis' at the MTV Movie Awards.
Photo Source: Instagram
"In 1954, a young man from Mississippi walked into sun records and changed music forever. That man was my grandfather. And though I never got the chance to meet him, I grew up in a world that had been profoundly shaped by his existence," Keough said in her introduction. Riley revealed that she watched the 159 minutes long biopic with her grandmother Priscilla and her mother Lisa. Keough describes the experience as an "emotional."
Starring Austin Butler as Presley, 'Elvis' premiered on May 25. Source: Warner Bros Pictures
"To capture an iconic figure like Elvis, but thankfully, the visual genius Baz Luhrmann was up to the task," Riley says; she continues, "Seeing my family history brought to life through Austin Butler's mesmerizing performance was an incredibly emotional experience, and I feel honored to have this story in his hands."
Riley Keough's late brother, Benjamin Keough!
On Sunday, July 12, 2020, a heart-wrenching tragedy hit the Presley family as Riley's younger brother Benjamin died by suicide. Benjamin, only 22 at the time, succumbed to a self-inflicted gunshot wound. Sources revealed Riley and Ben's mother, Lisa, was "beyond devastated."She is completely heartbroken, inconsolable, and beyond devastated; she adored that boy. He was the love of her life," the source said.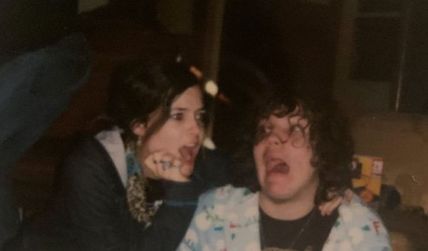 Riley's younger brother, Benjamin, died of a self-inflicted gunshot injury.
Photo Source: Instagram
Benjamin was laid to rest in Meditation Garden at Presley's former residence, next to his grandfather, Elvis, great-grandmother, Gladys Presley, and great-grandfather, Vernon Presley. Despite his background, Benjamin didn't keep a popular presence and was low-key all his life. Musician Brandon Howard, who was also a friend to Ben, said the boy suffered from intense family pressure and sadly couldn't escape his demons.
Recommended: Who are Awkwafina's Parents? Learn About Her Family Life Here.
Riley mourned her brother's death with an emotional tribute on Instagram. "I can't believe you've left me. Not you, sweet Ben Ben. Anyone but you. I guess this is true heartbreak. I hope we meet again," Keough wrote. The Golden Globe-nominated actress got honored her brother by tattooing his name on her collarbone. The actress is married to Ben-Smith-Petersen.
Stay connected to glamour fame for more.
-->