Rob Gronkowski Weight Loss - How Did the Former NFL Player Lose Weight?
Published Tue Mar 10 2020 By Matthew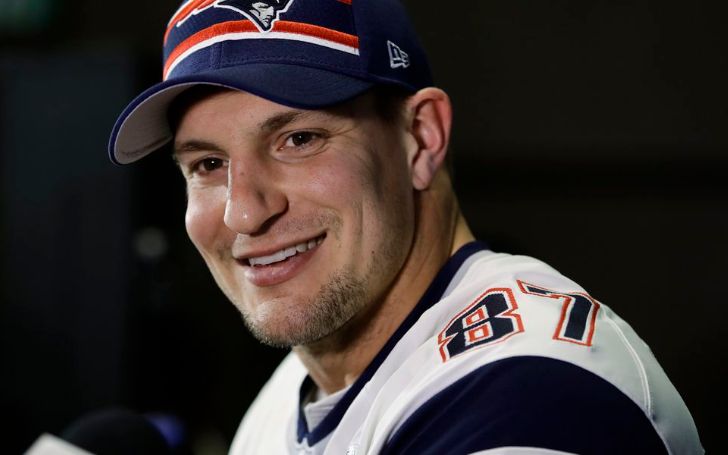 Here's all that you need to know about how the former tight end of New England Patriots Rob Gronkowski lost weight!
Rob Gronkowski is one name in NFL that is rarely unheard of by most sports fans. The former tight end of the New England Patriots managed to bag three Super-bowl championships during his career until his retirement in March 2019. The player is known for being a notoriously skilled receiver and talented blocker, Gronkowski holds numerous NFL records to his name.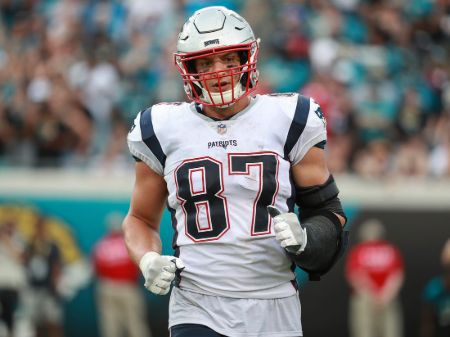 Rob Gronkowski is the former tight end of the New England Patriots.
Photo Source: Business Insider
If you've followed the star even after his retirement in March of last, then you've noticed the change in his body. The 'Gronk' looks a lot slimmer and fitter now than he did post-retirement. This unprecedented change took up a life of its own and started quite a online frenzy leading most to speculate the weight loss of the former NFL star.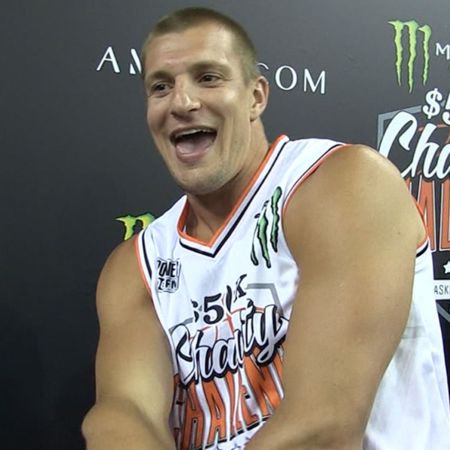 Rob Gronkowski aka The 'Gronk' was talk of the town for losing weight.
Photo Source: TMZ
The speculations, however, came to an end almost six months after his retirement when the player himself revealed the details of his weight loss in a 'Pardon My Take' episode. So how exactly did the 30 years old shed his pounds and how much did he lose? Let's discuss!
Rob Gronkowski Weight Gain After Retirement
Around the time Rob retired in March of last year, he weighed somewhere in the range of 260 to 268. Post-retirement Gronkowski's body mass took a further hike and reached an all-time high of 270 pounds. He confessed that his weight never hit 270 before, not even during the seasons.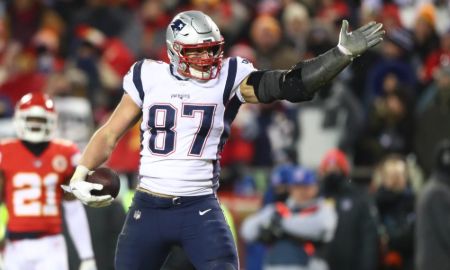 Rob Gronkowski's weight increased to 270 pounds post retirement.
Photo Source: USAToday
Talking on the podcast about his weight gain, Ron commented, "My heaviest, I've hit 270 before. I've never hit 270 during the season, I was like 268 some games. I always range from 260 to 268, in between that throughout my whole career."
Recommended: Camille Kostek Dating Her Boyfriend Rob Gronkowski - Facts About Their Relationship
Reaching the all-time high recorded weight was a turning point for the athlete, and he soon began taking necessary steps to lose a few pounds.
Rob Gronkowski's Weight Loss
When the New England Patriots took the field to play the Miami Dolphins, they did so without tight end Rob Gronkowski. The big man and fan-favorite had retired following the victory in Super Bowl LIII and has been away from football ever since. A guest on Pardon My Take, a podcast is presented by Barstool Sports, Gronkowski confirmed the details of his weight loss.
The former tight end managed to cut his weight from 270 pounds to a very slim 245. On the podcast, he said, "I'm 245 (pounds) right now. I'm 245, I'm ripped, it feels good." And the end result truly was noticeable and evident. The fans soon took notice, and that gave rise to the whole internet storm about his weight loss.
Rob Gronkowski's Return Post Weight Loss
It might turn out to be nothing but a joke in the end, but Rob himself made that particular joke, so maybe it just might come true.
Multiple sources began speculating, losing a few pounds as a sign of preparation to create a spectacular return to his former team. Being smaller than his playing weight makes it appear less likely that Gronk will make a return to his former team, but that isn't out of the question.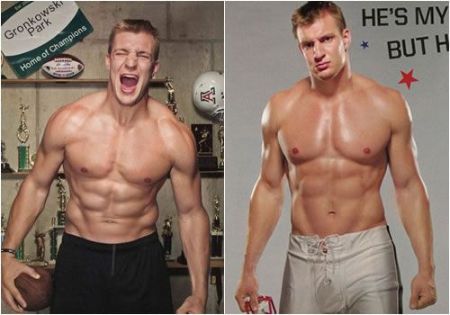 Rob Gronkowski lost 25 pounds and went from 270 to 245.
Photo Source: Pinterest
Rob even jokingly threw out a return date following the discussion on Pardon My Take, and if that were true, he would return to the field at the end of the regular season. Whether the player will come back or not, only time will tell.
Also See: New York Giants' Former Quarterback Jared Lorenzen Passed away at the age of 38
For more articles on celebrity weight loss, head on over to Glamour Fame, and don't forget to sign up for the newsletter.
-->