Royal Fans are Not Buying Prince Harry and Meghan Markle Pretending to Care About the Environment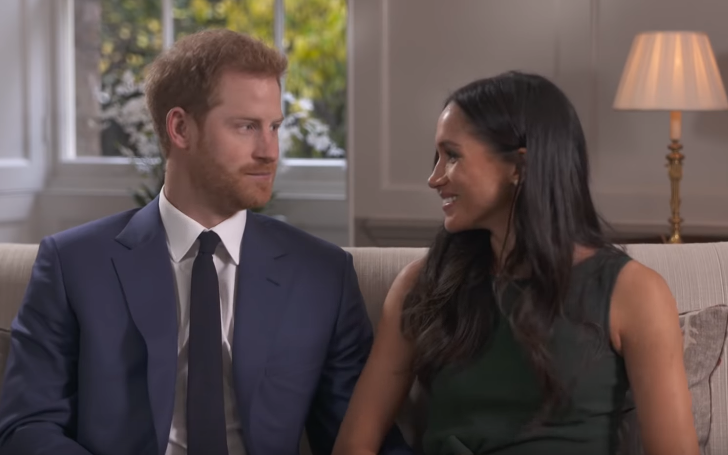 The Duke and Duchess of Sussex are losing the grip.
Things are not going very smooth for The Duke and Duchess of Sussex. Over the past few months, the Royals have lost a vast majority of their popularity.
The recent failure to convince people about their credibility took a whole lot of toll on the two, just when Harry decided to lecture Britons about climate change. People are not buying it.
Watch: Prince Harry Reacts To Private Jet Backlash
Apparently, the news came from one of the events where Prince Harry flies to Amsterdam to launch his new eco-travel project, Travalyst.
Also Check: Is Meghan Markle Finally Cracking Under Royal and Public Criticism?
Travalyst aims to curb the impact of tourists on the countries and local communities they go. The overall idea of the whole concept has all-round positive aspects, but the Dukes and Duchess really upset the people with their action.
Prince Harry became the target of the critics when he took the private jet to launch an eco-friendly project, and lecture about the environment.
One of the senior TV presenters of Britain, Piers Morgan, was the one who could not hold himself as he said, "Prince Harry preaching about the environment again. He can do this, or be a constant private-jet-setting celebrity. Not both."
Watch: Piers Morgan rant about Prince Harry using private jet while lecturing on environment.
One of the outlets in the UK polled between September 3rd to September 4th to know if Prince Harry should be lecturing people of Britains on climate change.
The overwhelming 27,181 people took part in the poll, out of which whopping 78 percent (21,181 people) voted - NO.
Following which many people took to their social media to vent their anger, as one user wrote, "Does anyone care what the celebrity prince says now. He had lost his credibility."
Another user wrote, "practice what you preach."
While a few people tried to defend the royals saying Prince Harry donates to renewable energy incentives and plants trees which balances out his act.
Don't Miss: Piers Morgan Launched A Fresh Attack On Meghan Markle Accusing Her Of Caring More About "Promoting Herself Than The Royal Family"
But people are not convinced. One of the voters said, "Carbon offsetting. The new way for the rich, superstars, supermodels and politicians to carry on doing exactly what they have always done but salve their consciences by claiming I offset my emissions. Then have the gall to lecture the rest of us NOT to do what they are doing!"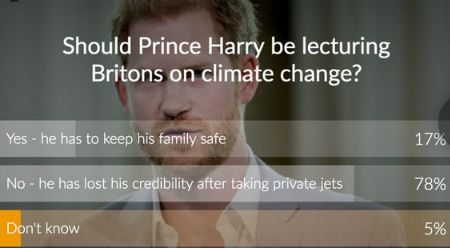 Poll results on Express.co.uk
It seems like the royals are losing their grip! And indeed, people are right, just because they have money, they don't get to make excuses for their excess.
-->