Ryan Seacrest Falls From His Chair During 'Live With Kelly and Ryan'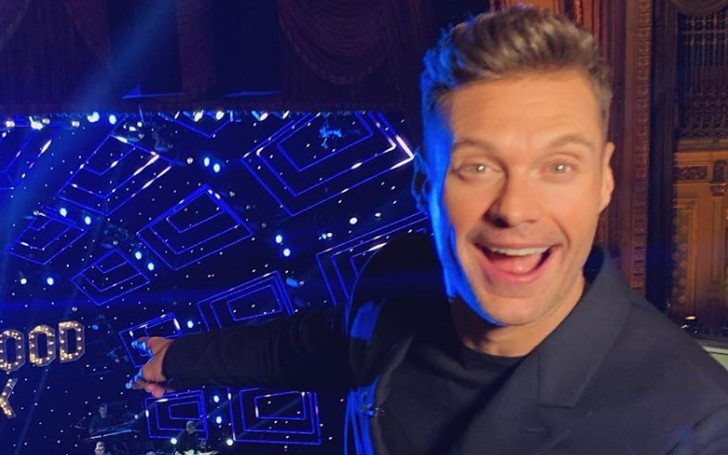 Oh no! Ryan Seacrest is down!
It was a regular day, and Ryan Seacrest, with his co-host Kelly Ripa was on the set of 'Live With Kelly and Ryan.' but something sad, but a funny thing happened during the taping.
Seacrest, 45, apparently fell off his chair, and we guess people will never get over it. A funny incident happened while Ryan tried to catch a gold balloon from his seat on Tuesday, January 7.
The host of the show leaned way too much from his chair and could not control his chair and eventually fell off. Ripa was mid-sentence when that hilarious incident happened.
Also See: Meet Dracula star Chanel Cresswell; What about her personal life?
The former American Idol uploaded a clip of his fall on Instagram and captioned it, "The first fumble of the new season. Hope I make the playoffs…."
After the fall, the 45-year-old TV personality puts on a brave face and bounce back from the fall with a great sense of humor. He exclaims, "I got it!"
Instagram followers seem to enjoy his fall, one of the fans wrote, "You guys are a mess, and I love it." Ryan's co-host for the "On Air with Ryan Seacrest,' Sisanie, also took to his comment section and wrote, "I needed this today! Thank you. Also, are you ok? 😂"
Some comments from fans.
While another fan wrote, "You're never too old for balloons!! 😂😂." Well, it was an unfortunate event, but people seem to enjoy this little incident, including Ryan himself.
Also Read: Netflix Orginal Series 'Luna Nera' - Everything You Need to Know About the Show
Well, we hope he is okay. And of course, thank you for making our week wonderful, Ryan. For more information on your favorite celebrities' lifestyle, stay tuned to Glamour Fame, and don't forget to sign up for the newsletter.
-->