Sarah Hyland and Well Adams' Wedding Update: A Timeline of Their Relationship
Inside Sarah Hyland and Well Adams' upcoming wedding: The complete story here!
Modern family fame Sarah Hyland is a soon-to-be bride. The actress's wedding with Well Adams, a radio personality and The Bachelorette alum, has been a long-awaited event for the duo's family, friends and also their millions of followers on Instagram, who've been closely following the pair's every feat and setback. Hyland had her bridal shower earlier this year in June.
Sarah Jane Hyland, 31, is an actress and singer. She got recognition playing Howard Stern's daughter Debra in the 1997 film Private Parts and has since been living a life in the spotlight. Hyland's role as the stereotypical teenager Haley Dunphy on Modern Family, where she and the rest cast ensemble starred for ten years, made her an ultimate fan favorite. Sarah and Adams' relationship has been one of the favorite modern love tales on Instagram since its inception in 2017.
Sarah Hyland and Well Adams are gearing up to get married. Finally!
Hyland and Adams got engaged in July 2019, which makes the duo three years engaged. The Modern Family star even commemorated their third engagement anniversary last month. Posting snaps of what appears to be from a pre-wedding shoot, Hyland wrote, "three years engaged. I love you to pluto and back."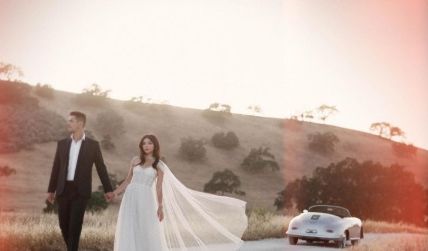 "Three years engaged. I love you to pluto and back," Sarah writes while commemorating their third engagement anniversary.
Photo Source: Instagram
The pair's nearly perfect, by which we mean a bump-free relationship, has faced many misfortunes, including three wedding postponements. Hyland and Adams never intended to have a long engagement; the duo originally had a fixed date in the month of August 2020, which was tossed out of the window due to the pandemic. The couple's wedding, now scheduled for the 2021 summer, was pushed once again.
The soon-to-be bride recently celebrated her bridal shower with bridesmaid Vanessa Hudgens and her girl group.
Source: Access
"If this thing continues and we're not able to do it, we'll do a courthouse. I'm really pushing for Vegas — powder blue suits, Elvis officiant," The Bachelorette alum said. But the wait is finally over, and we really see it happening this time. Hyland and her girl group celebrated the actress's bridal shower, and the fun-filled bash was a sight to behold. "Soooooo, I finally had my bridal shower yesterday," the Modern Family actress wrote.
Check Out: Olivia Newton-John Survived By Husband John Easterling: Inside Their Enduring Relationship.
The soon-to-be spouses are yet to reveal the wedding date, but various signs, including Sarah's bridal shower, her BFF/bridesmaid Vanessa Hudgens' vivid excitement, and Hyland's former colleague, Sofia Vergara saying that she has her dress ready for the wedding, indicates the big day is just around the corner. Hyland and Well's relationship started with a flirtatious DMS exchange.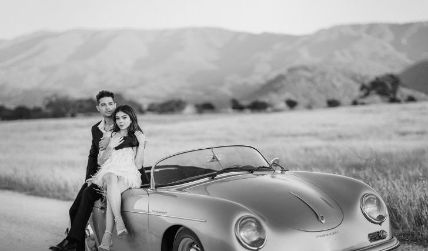 Hyland says her fiancee has seen her at her worst.
Photo Source: Instagram
Hyland reveals the radio personality slid into her inbox at the perfect time when she was single and ready to mingle. The couple announced their relationship soon, and a few months, they had already moved in together. Hyland, who was born with kidney dysplasia and has been undergoing a great ordeal all her life, reveals Adams has seen her at her worst. She adds, "I think that's why I feel the most beautiful in his eyes because he still finds me beautiful after seeing all that."
Inside Sarah Hyland's dating history!
The Screen Actor Guild-winning actress's relationship chart paints her as an old school. In her over twenty years in the showbiz, Hyland hasn't dated more than three men, let alone indulged in flings. Before Adams put a ring on her finger, Sarah dated her co-star Dominic Sherwood, who she met on the sets of Vampire Academy.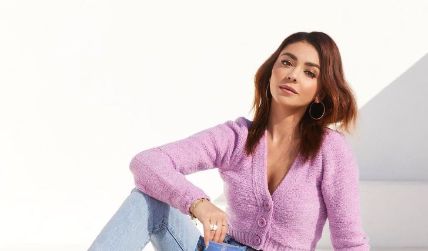 Before Adams, Sarah dated her co-star Dominic Sherwood.
Photo Source: Instagram
The pair's romance was a smooth three years long journey, and even during their split in 2017, there was no bad blood. "Sarah makes me want to be a better version of myself. That's what I love most about her. She inspires me to be the best version of me," Sherwood had said. Every woman has at least one pain in the a** ex who just doesn't understand the meaning of boundaries. For Hyland, it is Matt Prokop.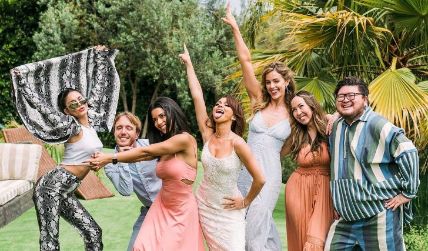 Hyland dated Max Ehrich before becoming a household face with 'Modern Family.'
Photo Source: Instagram
Hyland and Prokop met while working on Disney's Geek Charming in 2010. The pair dated for almost five years and called it quit in 2014. Their relationship ended with Sarah obtaining a restraining order against Matt, who Sarah recalled physically and mentally abused her throughout their relationship. Before rising to stardom with Modern Family, Sarah dated fellow actor Max Ehrich for a year.
Recommended: Everything to Know About Hilary Duff and Husband Matthew Koma's Relationship.
Stay connected to glamour fame for more.
-->