Everything to Know About Hilary Duff and Husband Matthew Koma's Relationship
Inside Hilary Duff and Matthew Koma's marriage: The pair have been married since 2019!
Best known as the former Disney child star, Hilary Duff is an actress, singer, author, and mother of three. Duff rose to the title of a teen idol after starring as the titular character on Disney's Lizzie McGuire in 2001. Hilary's Lizzie McGuire would be remade into movies, animations and merchandise, catapulting the actress into massive stardom in her early career.
Hilary Erhard Duff was born on September 28, 1987, in Houston, Texas. Before landing her breakthrough as a teen, Duff had done several commercial gigs and had raked minor credits in The Soul Collector, Chicago Hope, and Daddio. The 34-year-old is currently married to her second husband, Matthew Koma.
Who is Hilary Duff's husband, Matthew Koma?
The former Disney star has been happily married to singer-songwriter Matthew Koma since 2019. Before Koma, Duff had a few failed relationships and one unsuccessful marriage. The How I Met Your Father actress and Koma started dating in 2015, a year after Duff announced her estrangement from her first husband, Mike Comrie.
Duff is married to her second husband, Matthew Koma, a singer-songwriter.
Photo Source: Instagram
Koma, 35, a singer-songwriter, DJ, and record producer, met Duff while collaborating on Lizzie McGuire alum's album Breath In, Breathe Out. But it was only after Duff's divorce was finalized that the new lovebirds made their relationship official. Duff and Koma debuted at the pre-SAG Awards party in January 2017, marking the serious status of their romance, followed by a brief split two months later, which had many wondering if the singer pair were goofing around.
Don't Miss: Inside Cole Sprouse and Ari Fournier's Budding Romance.
Duff and Koma rekindled their romance a few months later in October and have been going strong. In the next few years, the Disney alum and Matthew moved in together, adopted a senior dog, and even welcomed a daughter, Banks Violet Bair, a year before their wedding in October 2018. The duo's wedding, on December 21, 2019, was a low-key affair with just family and close friends assembled in their backward. The duo welcomed another daughter, Mae James, in March 2021.
Duff shares two daughters with Koma.
Photo Source: Instagram
While Duff is a cultural icon, her husband Koma may come off as a relatively smaller star, but Koma's credits and contributions are more than some. A native of Seaford, New York, Matthew has many impressive collabs in his profile, including with Zedd, Ellie Goulding, LMFAO, and more. Koma co-wrote the Grammy-winning song Clarity with Zedd.
Inside Hilary Duff's relationship history!
Getting the big break at a young age meant an array of suitors for the young Duff and an array of heartbreaks. Duff was only thirteen when she started dating Aaron Carter, a fellow teen star. Though the former teen stars' love story ended ages ago, Carter admitted his unrequited love for Hilary in 2014. While in the on and off course with Carter, Duff romanced Frankie Muniz briefly.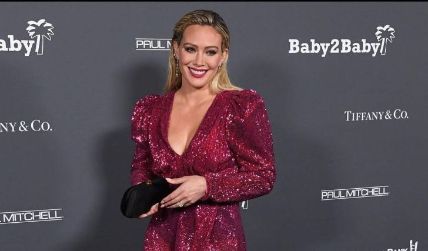 Duff's dating history includes names like Aaron Carter, Frankie Muniz, and Shia LaBeouf.
Photo Source: Instagram
Duff's teenage dating timeline also includes Shia LaBeouf, but as per Disturbia actor, "it was the worst date either one of us has ever had." The Agent Cody Banks actress had a fling-sort of relationship with Jordan Masterson and Joel Madden before she fell in love with ice hockey player Mike Comrie in 2007. As the couple's whirlwind romance ensued, the duo announced their engagement in February 2010 and tied the knots on August 14, 2010.
Duff shares her oldest son, Luca, with her ex-husband Comrie.
Source: US Weekly
The How I Met Your Father star shares a son, Luca, with her ex-husband Mike, with whom she finalized her divorce in February 2016. While many pointed out that the duo might have jumped into marriage too young, Duff, too, in retrospect, seemingly concurred with the hard-to-swallow mass opinion. "I do. I was 22 when I got married. I'm now divorced; I have a 4-year-old," the actress/singer said.
Inside Hilary Duff's life as a mom of three!
The former Disney star is a mom of three, and so far, Duff is loving her role as a mom. "I'm so in love with all my kids, and I love this mayhem," says Hilary, who was introduced to us as a kid and is now juggling a career and kids. Duff is on the healthiest bond with Comrie, with whom she is co-parenting her oldest kid, Luca Cruz Comrie.
"I love this mayhem," Duff on, raising three kids.
Photo Source: Instagram
"We talk about [him] often," Hilary says while giving an insight into mommy-son time with her oldest. "I like to tell him about how I met his father, about the good times we spent together, about the greatest joy when I found out I was pregnant," Duff further reveals. "Mike is great. He's still very close with our family, so I think it makes it easy for everybody to coparent or cofamily," Hilary's sister, Haylie Duff, once revealed, assuring a blended family dynamics.
Don't Miss: Who Is George Clooney Married to? Inside His Relationship History.
Duff believes in a hybrid form of parenting where she can be easygoing and imposing on her children. "I like to play with them and listen to them. Don't get me wrong; I'm also the one who imposes discipline in the house. It's all fun and games until they cross certain limits," says the Lizzie McGuire alum.
Stay connected to glamour fame for more.
-->