'Saturday Night Live' Spoofs The Jussie Smollett Case in a Controversial Sketch In First Episode Back After Two-Week Break
Published Mon Apr 01 2019 By David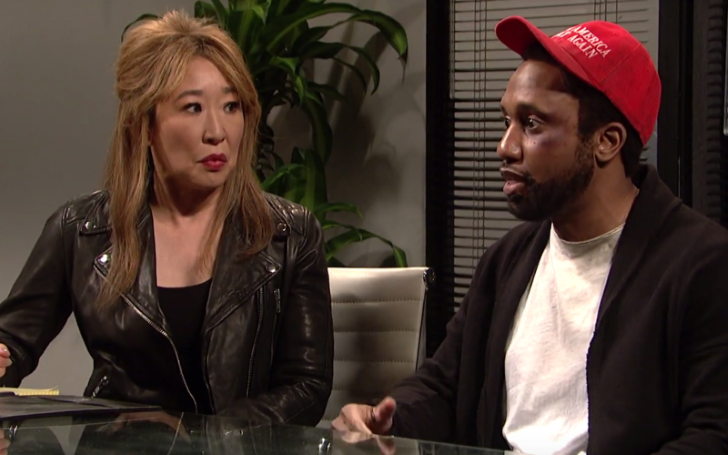 Saturday Night Live relives Empire actor, Jussie Smollett's recent controversy with some hilariousness.
SNL showcased a point of being an equal opportunity offender in its first episode following the show's two-week break. The return opened up with a cold address towards the latest Donald Trump news–specifically the long-anticipated release of Robert Mueller's report–and featured the reappearance of Robert De Niro in the show for the fifth, and likely final, time as Mueller.
But the night's hilarious yet surprising moment turned out to be the savage act of Empire star Jussie Smollett, who was recently in the news this week after Chicago prosecutors had dropped all charges against him for allegedly faking his own attack.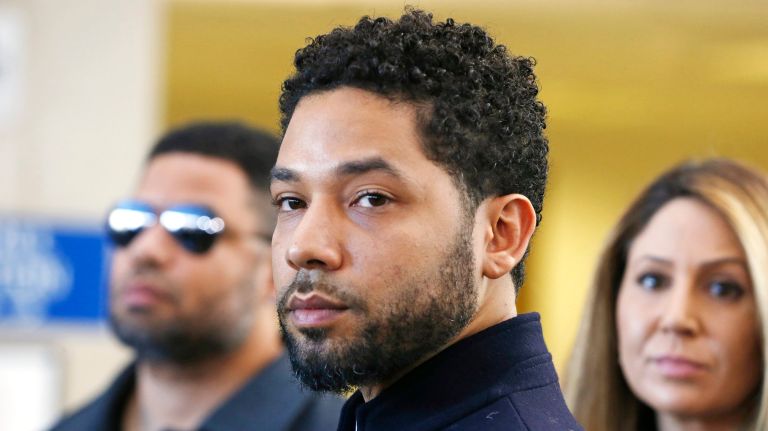 Empire actor, Jussie Smollett's controversial case teased up in SNL.

SOURCE: News Day
The playlet entitled "Network Meeting," opens in a boardroom where a trio of executives portrayed by Mikey Day, Kate McKinnon and Ego Nwodim are lined up alongside Kenan Thompson as Empire co-creator, Lee Daniels, while the episode's host, Sandra Oh, serving in the role of Smollett's manager. "Just give Jussie another chance," Oh begs, as she tries to vouch for her client for being two hours late to the meeting to which Daniels responds with, "I just hope it's not some crazy excuse."
At the same moment, Smollett (played by Chris Redd) barges into the room, holding a plastic bag and wearing Trump's titular hat with a slogan, "Make America Great Again." (Earlier in the week, Trump backlashed the prosecutors' decision of dropping disorderly conduct charges against the actor, remarking it by saying, "an embarrassment to our nation.")
Also Read: Is Kate Beckinsale Pulling a Taylor Swift? The Actress Deletes All Her Instagram Posts Amid Pete Davidson Romance
"Guys, you are not gonna believe what just happened to me," Redd says, after which whole room groans "Not again." Chris then continues the act by saying, "I know what you're thinking, but it's not that." The room then goes on to believe the initial suspicions of Redd being attacked for the second time. After that, Day's executive says, "What is wrong with you, man," to which Nwodim sharply answers by saying, "He means mentally."
In the beginning, SNL's Smollet is unable to convince the rest of the guys, so he reaches into his plastic bag to reveal the evidence, and hints that it carries the possible clue for identifying Smollet's attackers. "I think it's a bag of clues," Tedd suggests, pulling out a box of Crest Whitestrips, three oversized red K's to spell out KKK and the purple member of the Teletubbies, the latter which Tedd claims as a "gay one." McKinnon then recommends calling the authority, which Tedd's Smollet straightly denies. "They said I could never call again as part of the deal," Smollett explains–a reference to a classified agreement that led to Tedd's charges being dropped.
Don't Miss: Pete Davidson And Several Other Celebs Are Changing The Way We Perceive Mental Health
Over at the Empire, Smollett's character, Jamal Lyon, has been removed from the final episodes of Empire's current season. As of now, no decision has been announced regarding the actor's return whereas Tedd has continued to insist that he's been truthful and honest throughout the case.
But in the world of SNL, Smollett is already in his way to retirement from Empire. "You know we gotta fire you, right?" says Daniels (as played by Thompson). He loses his agent, Oh as well. "I just hope he gets the help he needs," says the Oh's SNL character. The drama then ends with Smollett re-entering the room, this time wearing a neck brace and dark sunglasses, and complaining about yet another attack.
Watch SNL parody of Jussie Smollet
In this particular SNL burlesque, the audience wasn't entirely certain how to respond to "Network Meeting." Most of the one-liners were met with rather a nervous giggle than some usual big laughs, especially on the account of explicit comment, "Smollett's state of mind." The parody wasn't received well by social media either.
Recommended: BTS Set To Make Their 'Saturday Night Live' Debut With Emma Stone
Interestingly, on the same night when SNL teased Smollett, former "Not Ready for Primetime Player," Chris Rock, had also mocked the actor while presenting an award at the NAACP Image Awards. (Smollett was submitted in the nomination of Outstanding Supporting Actor in a Drama Series, but the honor was later won by Grey's Anatomy star Jesse Williams.)
Following the incident, Rock has reacted by saying,
"What the hell was he thinking? From now on, you're Jessie from now on. You don't even get the 'U' no more. That 'U' respected. You don't get no respect from me."
-->