Meet Sean Burke, Husband of Braunwyn Windham-Burke
Published Thu Dec 12 2019 By Matthew
Here's all that you know need to know about Sean Windham Burke, Husband of The Real Housewives of Orange County's new star Braunwyn Windham-Burke.
Recent 'RHOC' reality star Braunwyn Windham-Burke, was born on November 25, 1977, in California. She is the daughter of a medical doctor, Deborah Windham alias Dr. Deb whereas the information of her father remains unrevealed at the moment.
Before 'RHOC', Dr. Deb's daughter ran a successful lifestyle blog site called 'Barefoot in Heels' consisting of several categories that include family, outfit of the day, pregnancy, kids corner, and travel.
The RHOC's Recent Cast Braunwyn Windham-Burke.
Source: Braunwyn Windham-Burke Instagram
Braunwyn spent almost 19 years as a stay-at-home mother caring for her big family before finally cracking down to her yearnings for something more out of her life.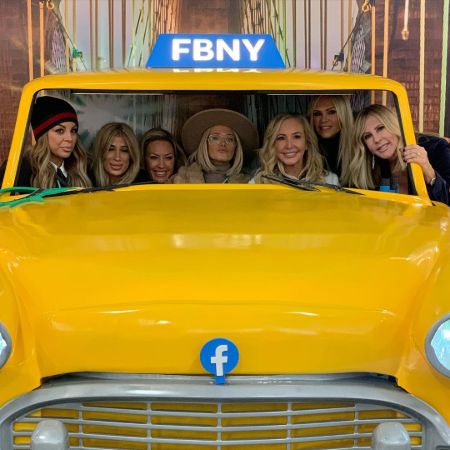 Cast of RHOC Season 14.
Source: Braunwyn Windham-Burke Instagram
Speaking in her interview with People, the reality star said,
"Right before I got cast on Real Housewives, I was sitting in my bed, and I was crying. I looked at my husband and said, 'I have to have something else. I have been a stay-at-home mom for almost nineteen years, and I need something that's just for me."
The 42 years old mother joined the season 14 of ROCH after getting introduced through Kelly Dodd. The Burke family is of considerable size with seven children between Braunwyn and her husband.
Also See: 'The Real Housewives of Orange County' Star Kelly Dodd - Who Is She Dating?
The long-time married couple has a baby Hazel, a toddler Koa, twins Caden and Curran, and teenagers Jacob, Rowan, and Bella.
Braunwyn is Married to Sean Burke; High School Sweetheart Turned Husband
The mother of seven married Sean Burke sometime around 2000. Braunwyn admitted to meeting Sean at a frat party in the season premiere of the 14th 'RHOC'. Their marriage hasn't been a smooth ride, but the family managed to stay together nevertheless.
They met quite young and have managed to stay together despite the tumbles.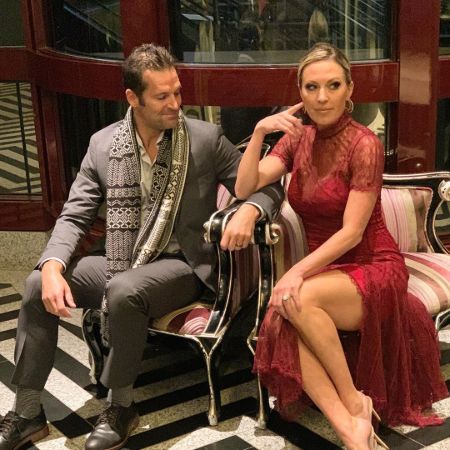 Braunwyn With Her Husband.
Source: Braunwyn Windham-Burke Instagram
Braunwyn revealed, "I've been with my husband since I was eighteen, so a child, so I had to stand on my own two feet for the first time in my entire adult life."
Who is Sean Burke?
Sean Burke, initially an American entrepreneur and business, is also a TV reality star now. Sean Burke appeared in 'RHOC' alongside his wife Braunwyn after she joined the reality show for season 14.
Sean Windham Burke with Baby Hazel
Source: Sean Windham Burke Instagram
Early on, Sean graduated in Bachelor of Economics, Business/Managerial Economics from 'UC Santa Barbara' during his time there from 1991 to 1996. He might have met his future wife in the same college.
Also See: The Real Housewives Of Orange County Star Shannon Beador Lost 40 Pounds And Is Living Her Best Life Following Divorce!
Right around his final years of study, Sean founded a high-end enterprise solutions and services providing company named 'Govplace' in 1995. He also became president of 'Kolatech' in December 2009 and 'California Green Information Technology (CGIT)' in November 2010.
Sean is currently the CEO of 'Channelstars', a leader in technology, marketing, startups, and collaboration.
Their Marriage Survived Infidelity
Sean's wife confessed to cheating on him when they separated for a brief period.
I cheated on Sean. We separated. I took the kids. He was with someone else too. We were separated; we were in two different homes. I went to Hawaii; I took the kids, I enrolled them in school. I told Sean I was done. I just didn't want to be a single mom anymore. He traveled 25 days a month.
While in Hawaii, Braunwyn dated a man, but they kept their endeavors strictly under wraps.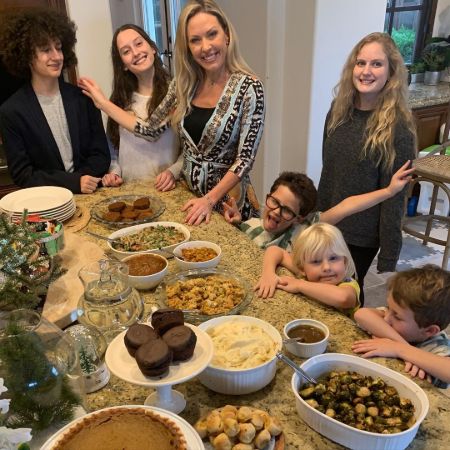 Braunwyn With Seven Kids.
Source: Braunwyn Windham-Burke Instagram
Braunwyn claimed,
We surfed together; we would go for walks, and I wasn't ready for anything more, but it was just nice to have someone listen.
Braunwyn explained the details on how they got back together as,
After a few months, he flew out to Hawaii, and he got down on one knee and re-proposed to me. He had quit his job; he was the president of a very successful company. He sold his shares, and he walked away, and he became a stay-at-home dad for like eight years. He said I would rather choose you guys than my work.
Sean's 35th Birthday Gift: THREESOME!!!
The RHOC cast member opened up about how the married couple's threesome rituals began from Sean's 35th birthday in an interview with Hollywood Life.
Braunwyn explained how they've missed a few threesome rituals on Sean's birthdays because of her frequent pregnancies.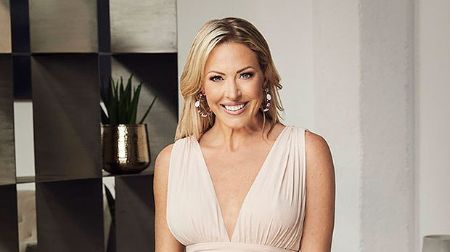 Sean's Wife Braunwyn, Mother of Seven.
Source: Hollywood Life
Turning to Sean during the interview, she said,
It just sort of happened. Everyone lost their mind. And then it became a joke. For his 45th, I was pregnant, and keep in mind, I've been having babies nonstop.
Despite their ups and downs, Braunwyn and Sean's union shows no signs of coming to an end. The progressive family thinks that society should be more like them. The question being, Should It?
For more celebrity relationships and gossips, head on over to Glamour Fame.
-->