Selena Gomez is Dating Drew Taggart after He Called it Quits with Eve Jobs, Details About their Affairs and Relationship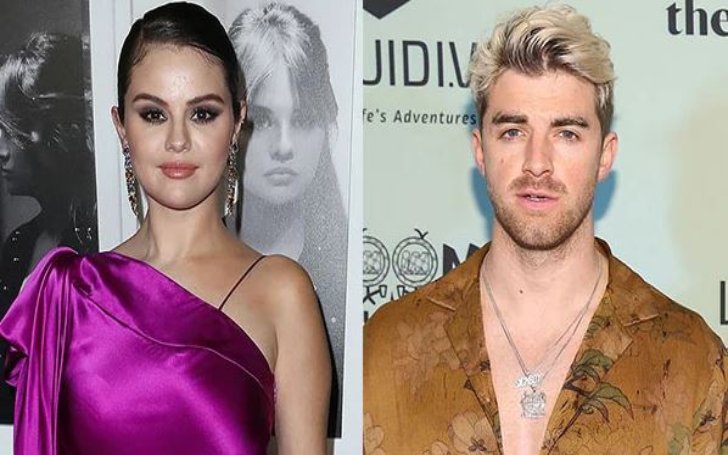 Selena Gomez is one of the biggest pop artists in the world. She is an American producer, actress, and singer who hugely impacts the music world. All her songs are huge hits and are listened to by millions of people around the globe. She has also tasted success in acting with various recognizable appearances.
Gomez's acting credits include Another Cinderella Stories, Barney & Friends, 13 Reasons Why, and many more. In 2020, she even was listed among the 100 most influential people in the world by Time magazine. Recently she made a huge buzz on the internet through her love life. So, let's find out about it.
Selena Gomez is Dating Chainsmoker Drew Taggart After He Broke Up With Steve Jobs's Daughter, Eve Jobs
The gorgeous singer Selena Gomez often makes headlines with her deeds. Her career and personal life are often highlighted to the world due to her enormous fame. Selena recently took the internet by storm after getting linked with Drew Taggart. The pair are just starting their relationship passionately and aren't afraid of the media and the public.
They enjoy a sweet date by going to movies and bowling during their free time. However, the duo isn't yet captured together, but many sources have claimed they are having the time of their life. Like every new couple, they have quality time together. We could see them together in each other's arms sooner or later.
Taggart recently faced a breakup with Eve Jobs, the daughter of Steve Jobs. The model and DJ enjoyed their New Year's Eve trip together but couldn't hold it long and finally split. Eve even shared pictures stating Happy birthday lover on Drew's Instagram account. However, her Instagram account is now disabled for some reason.
Recommended: Jennifer Aniston's ex-husband Justin Theroux Romantically Linked To Selena Gomez
Gomez was rumored to be dating Nicola Peltz Beckham's brother, Bradley Peltz. Neither of them has opened up regarding the news. In December, the singer confirmed that she is not seeing anyone currently open for dating.
Who is Selena Gomez's New Boyfriend, Drew Taggart?
Drew is a Portland native primarily known as one-half of The Chainsmokers alongside Alex Pall who has amassed fame through Roses and Selfie. Both of the songs are charted top 20 in UK and US. In 2017, his song Not Open went platinum and became number one in the US.
Taggart is originally from Maine and later moved to Los Angeles, formed a group with Alex, and changed the music world. Regarding his relationship, he dated popular female DJ and model Chantel Jeffries in 2020.
Within a year of dating, they finally parted ways. Back in 2016, he started dating popular Instagram model Haley Rowe. They ended their relationship in 2017. Furthermore, Taggart dated TikTok star ana1prin3ss, and Model Christine Burke, for some time.
Selena Gomez Broke Up With The Weeknd
Award Winning Singer, Selena made her recent heartbreak with The Weeknd. The two dated for almost ten months before splitting in October 2017. They were first seen making out together after, Abel Tesfaye broke up with Bella Hadid. Bella even unfollows Selena after the news and creates a huge fizz inside the industry.
The singer duo went on vacation together to Italy, including Venice and Florence. The Weekend even put her in his Instagram story and gave a massive clue to the world. With so much love, Selena even paid over $30,000 for The Weeknd's Buster & Dave birthday party despite not being present.
On Valentine's Day, they were caught together on a Yacht in California. Till now, Gomez has attended his concerts on three different continents. Despite so much love and connection, they split in October of the same year. Their last pictures were taken on 12th October, and their relationship faded in a blink of an eye.
The Relationship Ended With Canadian Singer Justin Bieber.
The actress's most popular relationship was with the Canadian singer Justin Bieber. Their relationship was not only within the country, but the whole world knew about their love life from the beginning to the end. The lovely former duo is one of the most popular celebrity couples globally.
They began their sweet romantic journey in December 2010 during their teenage years. Both of them were rising stars who soon gathered massive fame. However, the two often faced problems dating and had on-and-off relationships. In March 2018, they finally parted ways and shocked the whole world.
Also See: Selena Gomez & Hailey Baldwin Wore The Same Sweater, Who Wore It Better?
Despite their split, they are still very close friends and often visit one another. Now, Justin is happily married to his wife, model Haily Baldwin. They exchanged their wedding vows on 30th September 2019. On the other hand, Selena even dated German DJ Zedd and Priyanka Chopra's husband, Nick Jonas, for a short period.
Kidney Transplant in 2017
In 2012, the pop star was diagnosed with lupus, which was later cured in 2014. Later, Salena Gomez revealed she was undergoing a kidney transplant from actress Francia Raisa in September 2017. She even ignored several public events and shows during that time.
At the time of surgery, her artery broke, and a new artery was buildup using a vein from her leg. However, everything went as planned; her ex-boyfriend, Justin, also helped him. When she reached 100 Million followers on Instagram, she took a break from social media accounts.
Selena opened up about her struggles with depression and anxiety during that period. In October 2022, she tested positive for COVID-19 and failed to appear on The Tonight Show with Jimmy Fallon.
How Rich is Pop Idol Selena Gomez? Know About Her Net Worth Details
The super-talented pop queen, Selena Gomez, is one of the richest singers in the United States. She is also the most followed musician on Instagram, with over 368 Million followers. Talking about her wealth, she holds a net worth of $95 Million as of 2023.
All of her fortunes are from her incredible career as an actress and singer. In 2016, she made a $10 Million endorsement deal with Coach and a $30 Million deal with Puma for two years. With so many followers on Instagram, her single Instagram post is valued at over $3.5 Million.
From her every single sponsored post, she makes over $800,000. As an estimate, she makes over $5 Million annually through her overall involvement, including films, music, and other businesses. She also does tours around the world and makes millions from her pretense.
Multi-million Worth of Properties
Actress Selena has utilized her fortune very wisely in various investments. She owns several homes in the United States, all of which are lavish. In July 2011, the talented singer/actress bought a Tarzana, California home for $2.175 MIllion, Jonah Hill previously owned that particular home.
In May 2014, Selena listed the home $3.495 Million and sold it for $3.45 Million. That same year she paid $3.69 Million for Calabasas property which she later sold to rapper French Montana for $6.6 Million in 2020. With a loss of over a million, she sold Fort Worth, Texas, Property in October 2020 for $2.4 Million.
Gomez paid $4.9 Million for an 11,500 sq foot California home in April 2020. The queen of pop is living a lavish lifestyle in her multi-million homes and enjoying life to the fullest.
Stay Connected To Glamour Fame For More Contents
-->