Jennifer Aniston's ex-husband Justin Theroux Romantically Linked To Selena Gomez
Published Mon Mar 11 2019 By Jessica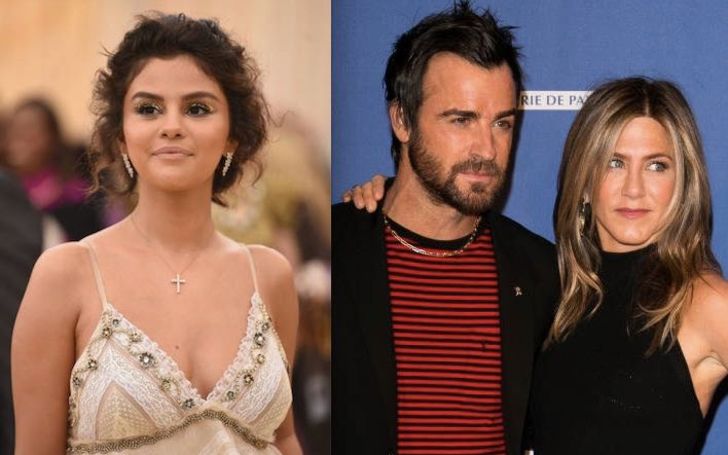 Jennifer Aniston's ex-husband Justin Theroux reportedly linked with Selena Gomez, any evidence to it?
Is Selena Gomez actually in a romantic life with Jennifer Aniston's ex-husband Justin Theroux or it's just another gossip led by tabloids?
Last year, a magazine addressed the 47 years seemed keen on the 26 years old singer and actress. However, at the time, the claim turned out to be false after reports disclosed 'The Leftovers' star never asked Gomez since he was still involved with the 'Friends' actress.
As a matter of fact, some articles even claimed Justin started crushing hard on Gomez following his split with Aniston, and that he even started frequently texting and making calls to her.
Justin Theroux and Selena Gomez at an event.
SOURCE: Pinterest
Well, exactly a year later today, the article released by NW exposed themselves revealing the magazine, basically, created a completely false story that mentioned the Texas native tagged the young singer in an Instagram post that showcased the actor holding two puppies at a pet shelter.
You may also like: Twitter Reacts To Tyga's New Hairstyle
However, the site claims there existed no intentions of any hidden message nor any agenda in the respective Theroux's post.
Both Justin's former spouse Jennifer and Selena shares a positive relationship with each other. Though there never happened any difficult situations between the two, the rumors still took the 50 years old actress by surprise when she found out his ex was romantically linked with Gomez.
As the actress 'feeling betrayed by Gomez' news surfaced, the whole situation somehow upset the Disney alum as well.
A close source told a Hollywood news site:
"She has been close to Selena for a few years and has taken her under her wing. But Jen has clearly been offended, which really affected Selena"
However, all of this information that surfaced on the internet was nothing but another fake rumor again.
Similarly, the singer was also romantically linked with Jennifer's other fellow former husband Brad Pitt. Both Selena and Brad were pictured together at a party. As a matter of fact, things heated up even more when the 'Monte Carlo' star shared an image on her Instagram with Pitt.
The rumors later faded away when there was no strong proof to support the claims.
Don't miss: Louis Tomlinson Speaks About His Strained Relationship With Zayn Malik
The same thing can be applied here regarding Justin and Selena's dating case.
Meanwhile, just a few days ago, another similar rumor swirled around the internet that Theroux is now dating the newly single singer Lady Gaga. There doesn't exist any strong evidence to it either.
-->