Louis Tomlinson Speaks About His Strained Relationship With Zayn Malik
Published Sun Mar 10 2019 By Jessica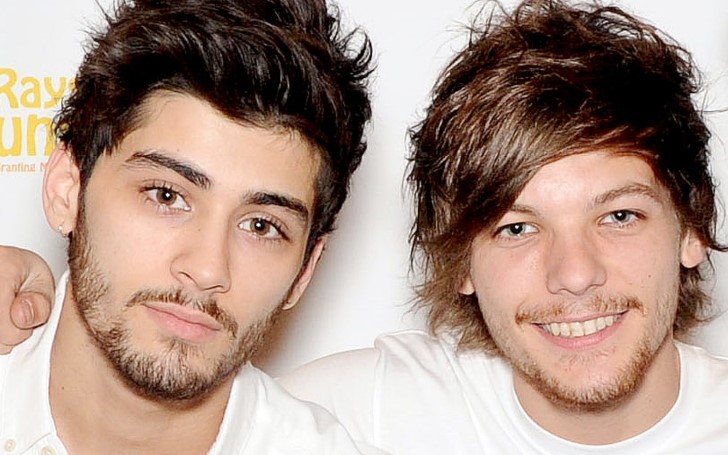 One Direction's Louis Tomlinson sheds light on what damaged his friendship with former bandmate Zayn Malik.
Some more upsetting news for Zouis fans regarding their friendship.
Honestly, where did the friendship and bonding that used to live between Louis Tomlinson and Zayn Malik go? Where did the day go when Zouis would go clubbing together, smoke the same blunt together, their bromance and really not shade each other.
Today, it only seems like a heavenly dream when One Direction fans think of the good old days that happened between these two back when they used to be band members.
Surely, to even begin with the bittersweet reality of their friendship that exists today, it all started after Zayn left the group in March 2015. So much happened between the two, not to mention their Twitter feud starting from the ones that involved Naughty Boy.
You may also like: Tristan Thompson Dating Model Karizma Ramirez After Cheating On Khloe Kardashian
OMG, Let's not go back there to rewind all the chaos, hurts and sufferings.
Despite everything that went wrong between the Bradford and Doncaster native, the fans still expected and hope things would turn okay.... one day.
Well, but, it appears that the tensions between the two still remain unresolved today.
In his recent interview at The Dan Wootton Interview podcast, Tomlinson claims his relationship with Malik turned sour after the 'PILLOWTALK' hitmaker failed to show up at his X-Factor tribute performance to his late mother, Johannah Deakin who passed away from a long battle with leukemia in December 2016.
As a matter of fact, the singer who recently released his new single 'Two Of Us' in honor of his late mother addressed his friendship with Malik actually 'never really got better' since then.
The 27-year-old singer said:
"Truthfully it never really got better to be honest."
Louis also claimed he made a couple of calls with Zayn after the death of his mother to invite him over the show.
The 'If I Had You' actor added he appreciated how the other boys including Niall Horan, Harry Styles, and Liam Payne flew across the world to support him, but Zayn not making the effort to show up really bothered him.
In his words, he said:
"I had a couple of calls with him after I lost my mum and, you know, all the boys had agreed to come to that performance and he didn't show and that really bugged me."

"Everyone showed, and it was a moment of ... I got goosebumps there, and seeing Harry, Niall, and Liam, that was what I needed that night, that support."
Tomlinson, however, insisted he hopes his former friend (ouch!) is doing alright.
"So on the other end of the spectrum, it kind of really showed. So, eh, I hope he's all right, but..."
By the end of the interview, the singer also claimed the band might reunite one day, though he showed expression of uncertainty whether Malik would actually consider joining the group or not.
See more: Private Plane Carrying Jason Momoa Made An Emergency Landing After Engine Fire Scare
He revealed:
"I mean that's a more difficult question then are we going to get back together one day, because I would say with all certainty that we are, but as a five it's a different question and it's a hard question to answer."
Meanwhile, since the podcast convos released, 1D fans on social media are sharing their opinions explaining the two shall actually discuss their matter in private rather than telling things off about each other publicly in interviews.
On the other side of the story, some of the fans appear convinced that Louis holds no hatred for Zayn following the 26 years old singer tweet's to Louis on the day of his X-Factor performance.
Zayn practically tweeted:
"@Louis_Tomlinson love you bro! All of your family is in my prayers. proud of your strength and know your mum is too x"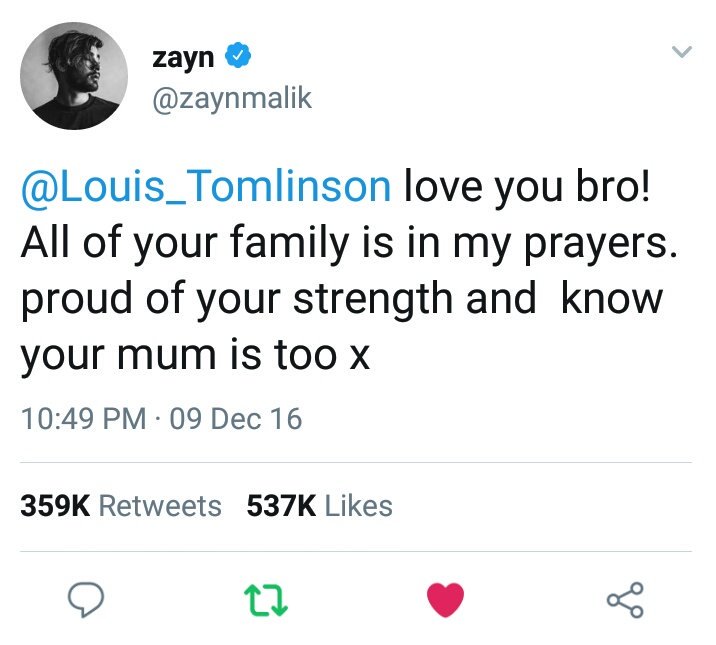 SOURCE: Zayn Malik Twitter
All of the One Direction guys are currently focused on their solo career. And, as for Louis, he is currently working on his first debut album that will be soon released this yet. However, the album is untitled yet.
-->