Tristan Thompson Dating Model Karizma Ramirez After Cheating On Khloe Kardashian
Published Sun Mar 10 2019 By Chester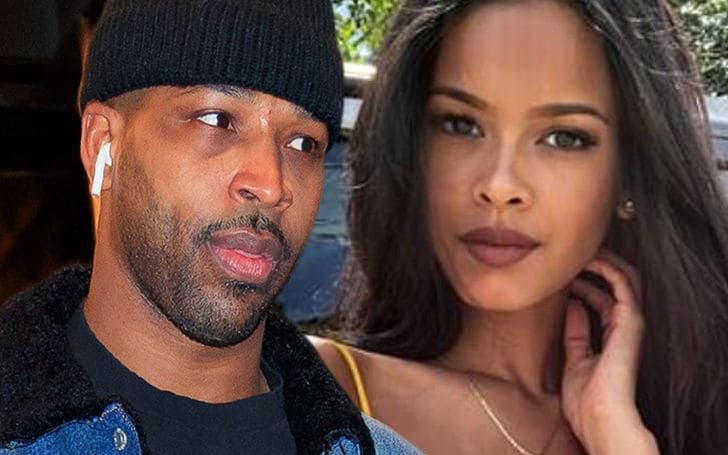 NBA star Tristan Thompson is dating model Karizma Ramirez soon after cheating scandal with Khloe Kardashian.
After week-long baffles and controversies regarding Khloe Kardashian's former boyfriend Tristan Thompson cheating allegation with Kylie Jenner's best friend Jordyn Woods, the story has now has taken a new part.
Recently, NBA star Triston shocked many by introducing his new date, model Karizma Ramirez. The 28-years-old model is not new to the entertainment field as she has previously dated rapper Chris Brown back in 2013.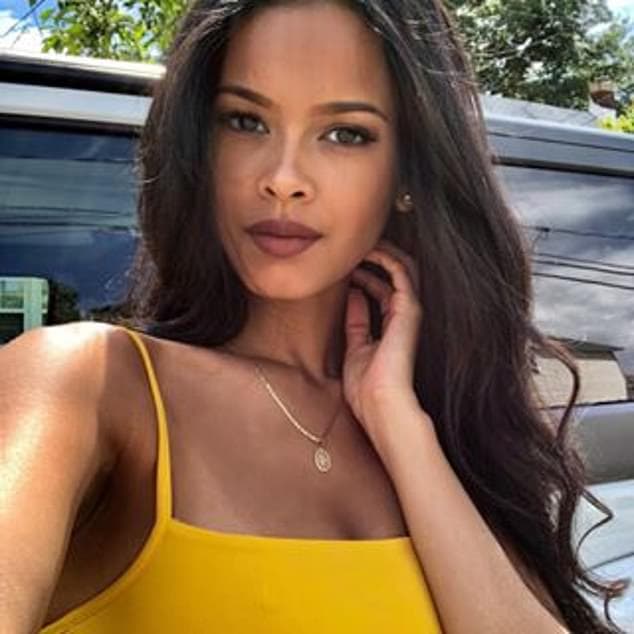 Tristan Thompson's Alleged Girlfriend, Model Karizma Ramirez
SOURCE: Informationcradle
Interestingly, the model previously dated another NBA star Shane Larkin back in 2015 before Cleveland Cavaliers player met gorgeous model Karizma during a basketball match against Brooklyn Nets in New York.
Since then, Tristan hung out multiple times with his new love Karizma. According to DailyMail, their first apperance came when they went out along with his basketball mate Jordan Clarkson at Carbone last week.
Also find: Travis Scott Slams Claims That He Cheated on Kylie Jenner
Consequently, the love birds were photographed having dinner together at Nobu, New York on Tuesday, March 5.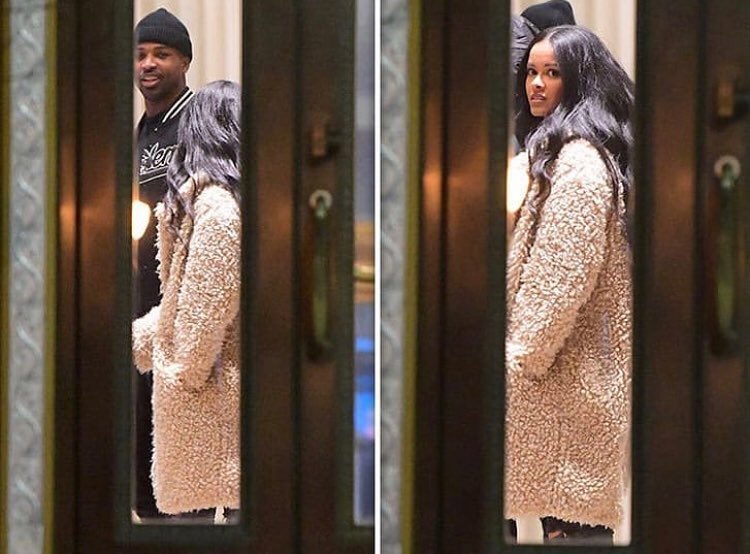 Tristan Thompson and Karizma Ramirez caught dating on Nobu for a night out on Tuesday in New York
SOURCE: Feed Imo
The 27-years-old was open about his new relationship and shared a huge smile without hesitation when paparazzi snapped them. The 27-years-old star even showed his middle finger in one of the pictures showing as if he didn't give an f***, had he pointing that for someone?
Check out exclusively: Kim Kardashian West Springs To The Defence of Her Sister Khloe Kardashian For Going Out
Whereas on Tuesday, Tristan ex Khole was seen in tragedy. The 34-years-old model shared an emotional poem on Instagram and ongoing sleeping disorder problem.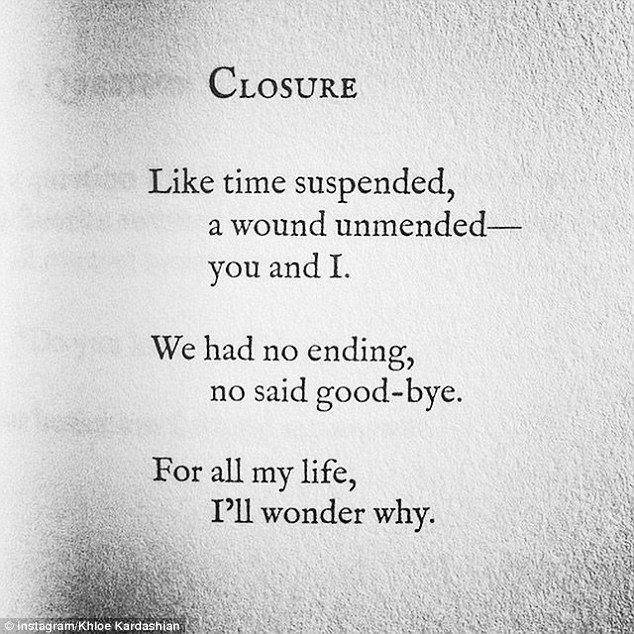 Khloe Kardashian shared an emotional poem from her Instagram on Thursday.
SOURCE: DailyMail
During their years-long relationship, Khole and Tristan became a parent to a 10-month-old daughter together named True Thompson and despite all the extra affairs Tristan had even during Khole maternity period, the reality star always supported and loved Tristan unconditionally.
Her love and emotion for the Canadian basket player can clearly be witnessed and felt through her heart touching poem 'Closure'.
A lot of trauma is going on with the Kardashian sisters lately. However, Khloe cleared all the misconceptions and barriers forgiving Jordyn Woods and blaming the cause as his former partner's fault.
'Honestly, Tristan cheating on me & humiliating me, wasn't such a shock as the first time. What's been harder & more painful is being hurt by someone so close to me. Someone whom I love & treat like a little sister. But Jordyn is not to be blamed for the breakup of my family. This was Tristan's fault.

'I have to move on with my life & count my blessings, my family, my health, & my beautiful baby True.'
Kylie's BFF Jordan shares about the accused cheating allegation with Tristan Thompson describing the incident exclusively on media and marking herself innocent.
The 21-years-old shares his affection and sympathy towards Khole and her ongoing emotional trauma with Kylie Jenner. The model justifies herself as innocence saying:
"I will never hurt someone home, especially the one I love".
Interviewer:
"Do you think you are the reason Christen and Khole are not together?"
Jordyn replies:
"No, I'm not the reason."
So it seems like the former couple has chosen different paths in their life placing an end to their two-and-a-half year relation.
Did You Know: Iggy Azalea Responds To Trolls Who Say She Looks 40-Years-Old
Tristan seemed happy and moved on with his new model girlfriend Karizma and whereas, Khole recent Instagram post reflects the ongoing emotional trauma she faced from recurring cheating behavior of his former lover Tristan.
-->