Iggy Azalea Responds To Trolls Who Say She Looks 40-Years-Old
Published Thu Mar 07 2019 By Chester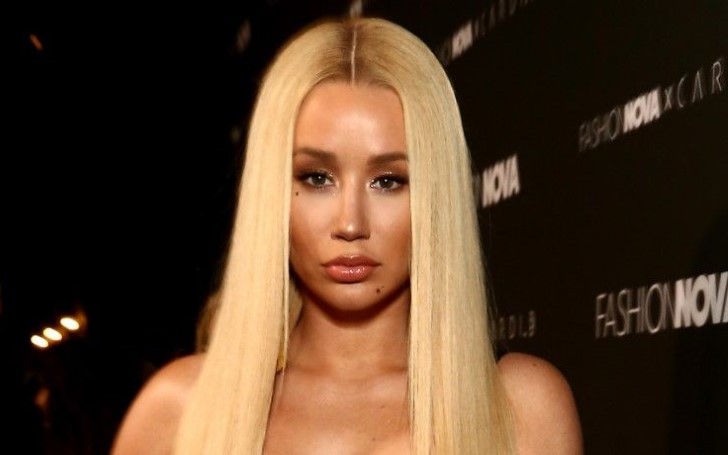 Rapper Iggy Azalea responds to trolls mocking her age through a post on Twitter.
This is not the first time the American singer Iggy Azalea has been accused of her inconvenient age claim. The wrangle restarted soon after 'Bounce' star tweeted a post highlighting her longtime age controversies on Tuesday.
Recently Iggy is seen promoting her upcoming single Ep which is about to get released next week. The album will be shortly released soon after publishing her single track.
Find out: Machine Gun Kelly Is A Huge Fan Of Pete Davidson Dating Kate Beckinsale
The post is also speculated to be Iggy's move for garnering mass attention for her upcoming album's goodwill. Recently the singer posted an alluring photo of her in lingerie which gained massive media attention.
View this post on Instagram
.
On May 5, the actress tweeted a post provoking her previous age controversies leading social media to fill with numerous retweets and comments regarding the subject.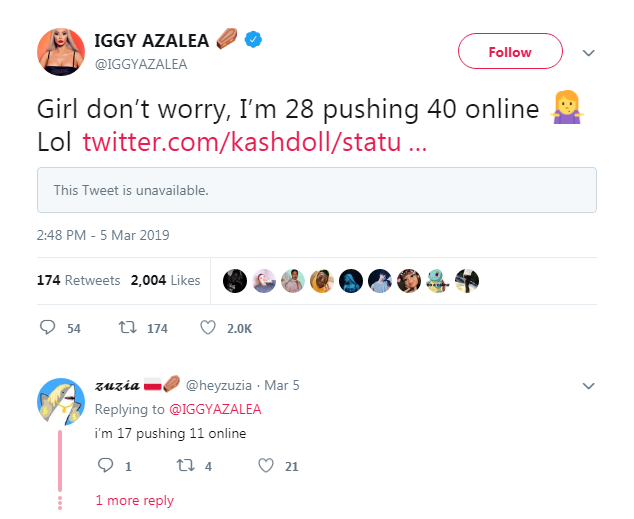 Rapper Iggy Azalea Official Twitter Post
SOURCE: Twitter
Following the Iggy tweet, some of the highlighted comment was from her friend rapper Kashdoll Sr. who replied saying that
"people have a tendency to scale up her age"
The Rapper added:
"People often mistake her for being 30 even though she's only 21"
Iggy's old age looks is the result of her plastic surgery that she admitted back in 2015.
Also find: Halle Berry Reveals Massive New Back Tattoo in Topless Instagram Post
She exclusively shared during an interview with Seventeen magazine, where Iggy said:
'I'm not denying it. Denying it is lame,' she told the publication. 'I don't think you should be ashamed if you made a change to yourself.'
The following year in 2016, the 'Hey Iggy' singer opened exclusively about surgery being undertaken by both famous and non-famous women saying 'That's just the reality'.
The Grammy winner added:
'And I think more people need to admit that s*** so it doesn't have to be so taboo - because we're all doing it anyway.'
Iggy has always been criticized for her looks from the very beginning of her career. She shared in an interview about offensive feedbacks she gets from her fans regarding her looks. The singer even got criticized by one of the fans saying 'You look ugly in real life'.
Check out: Someone Great Trailer: Gina Rodriguez Stars In Unique Netflix Romcom

This may also be one of the reasons Iggy performed surgery. However, it has now been clearly declared that the young actress is just 28 years old clearing the misconception of her age difference.
-->