Jordyn Woods Breaks Her Silence Since Allegedly Hooking Up With Khloe Kardashian's Baby Daddy Tristan Thompson
Published Sun Feb 24 2019 By Tess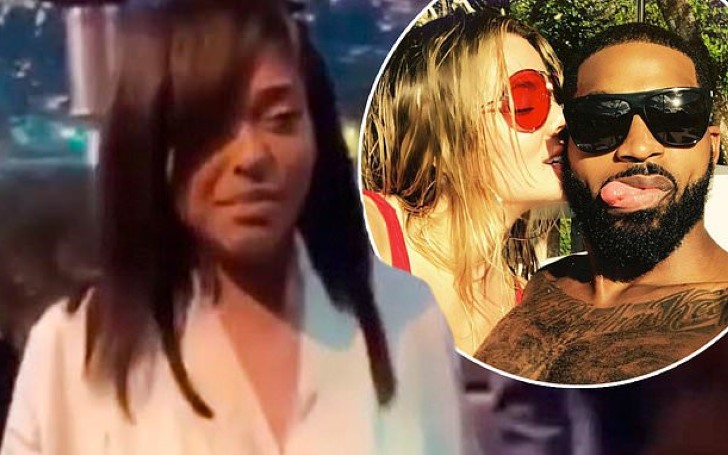 Jordyn Woods finally speaks about the alleged cheating scandal with Khloe Kardashian's baby daddy Tristan Thompson.
Jordyn Woods, Kylie Jenner's longtime best friend allegedly accused hooking up with Khloe Kardashian's now ex-boyfriend Tristan Thompson low key speaks out about the accusation.
During Woods' Eylure eyelash collection launch event on Thursday held at E.P. & L.P. in West Hollywood, the model made a subtle remark on ongoing cheating scandal.
"Through everything that's been going on, you know it's been real, and Eylure have been super real."
The model furthermore paid her gratitude to everyone supporting her during the bad times.
"I just want to thank everyone who's been supporting me throughout this entire situation. It's been real. And that's the tea!"
Although Jordyn didn't go into much more detail, the account who uploaded the video, Kyliesnapchat, posted it alongside the caption: "Jordyn's first outing since the news broke… She is currently at her launch event for Eylure."
Last week Jordyn was spotted hooking up with Khloe Kardashian's boyfriend Tristan Thompson during Valentine's week on a house party.
Following the disrupting news, Jordyn reportedly moved out of her best friend Kylie's home to live with her mom.
Leaving her best friend must have broken Jordyn as People reported Woods was "trying to reach out to Khloé and Kylie and everyone else in the family to apologize."
Furthermore, an insider added, "Jordyn wants to apologize and make everything right and she spent the whole night crying with her mom and sister."
The heated scandal seemingly burnt all the bridges between Jordyn and Kar-Jen family as Kylie Jenner, Joydyn's best friend since high school, quietly reduced her 'Jordy' lip kit, named after her.
Don't miss: Fans React To Khloe Kardashian's Break Up - Check Out Their Responses Including These Hilarious Memes
The originally $27 priced lip kit was cut off to $13.50 and was immediately sold out.
Apparently, Jordyn is yet to make official announcements on her social media.
-->