So What Will Happen To The Friendship Between Kylie Jenner and Jordyn Woods?
Published Thu Feb 21 2019 By Jessica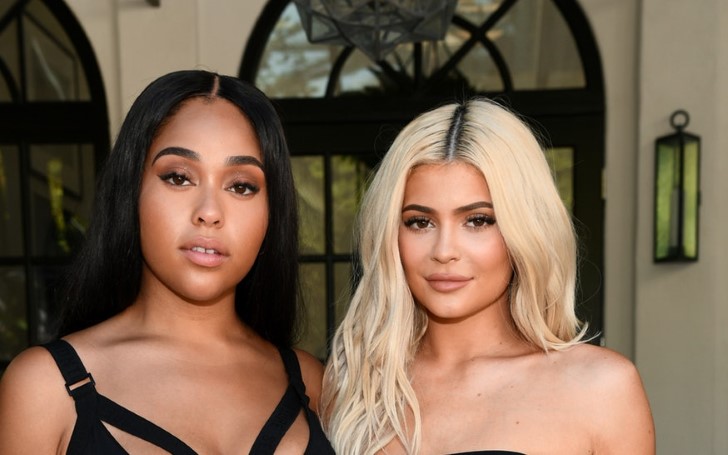 Kylie Jenner reportedly 'devasted' after Tristan Thompson and best friend Jordyn Woods cheating scandal. So, what's left of their friendship?
One can only imagine what it feels like to have your best friend betray you by keeping an affair with your future brother in law. But we totally comprehend what Kylie Jenner is going through right now.
Kylie and her BFF Jordyn Woods were inseparable since day one. From their first meet in middle school through Kylie's then-boyfriend Jaden Smith to their beautiful Peru trip to their 'a partner in crime of a friendship' turning to partner in their business, their friendship truly marked as everyone's goals.
Kylie Jenner and Jordyn Woods arriving at a party hand in hand
SOURCE: People
As now the news of her best friend and sister Khloe Kardashian's now ex-partner Tristan Thompson's cheating claims surfaced, Kylie being torn and devasted by the situation is no surprise.
After all, how could she, right? Jordyn was Kylie's little daughter, Stormi Webster auntie.
You may also like: Kylie Jenner Slams Plastic Surgery Rumors and Reveals a Good Reason Her Looks Have Transformed
Kylie and her whole family regarded Jordyn as their own blood. They were always rooting for the aspiring model and even helped her in building her career. And whenever there happened to be important ceremonies in the family, the Kardashians made sure Jordyn was invited. Not to mention the Italian lavish nuptials of Kim Kardashian and Kanye West.
Could we forget to list out how Jordyn was a special key member when Kylie run own branch show of 'Keeping up with the Kardashians's called 'Life of Kylie'? Nope.
An insider close to the family says Khloe learned about the shameless rumors from several of her friends. The source says Khloe is actually angrier than she is upset. Khloe who shares a 10 months old daughter with Thompson is shocked that out of all, Jordyn would be the one hooking up with her partner, her baby father.
Don't miss: Khloe Kardashian and Boyfriend Tristan Thompson Relationship Timeline
Whilst now many news reports Kardashians are raged and appalled at Woods, compelling Kylie to kick her out of her life, it can't be debated why. They have every right.
Kylie, on the other hand, who is devasted by the news, won't have it easy to just drag her best friend from her life, who she considered as her 'soulmate'.
Though several reports claim Jordyn recently rolled into her mother home after moving out from Kylie's LA mansion, many of the fans questions how will Kylie now cope with such agonizing pain and betrayal for the rest of her life?
Whilst some assume that the Kardashians will never take her back into their lives, some express their false hope that they will later get over the trauma and forgive Woods.
See more: Fans React To Khloe Kardashian's Break Up - Check Out Their Responses Including These Hilarious Memes
Kylie and both Jordyn are yet to publicly leave a statement on the situation.
Nonetheless, the former BFF's still follow each other on their social media. So, there could still be a fewer chance they might patch up their friendship again.
-->