Does Selena Gomez Have A Husband? Find Out All The Intriguing Details Of Her Dating History!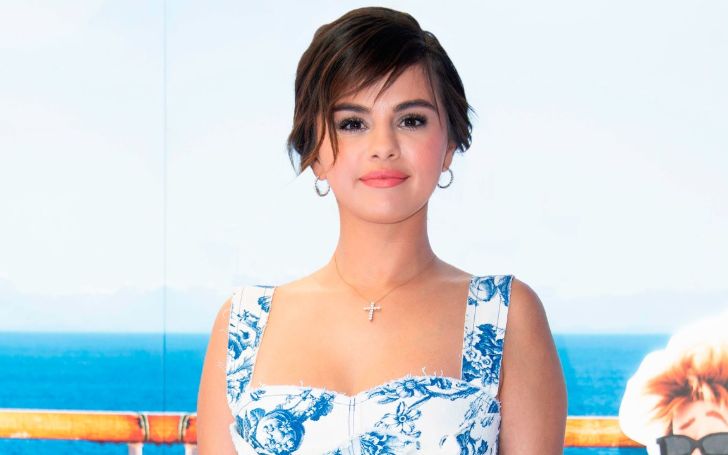 We all know Selena Gomez as an artist, we think we don't need to stress how amazing a person and a singer she is. The 27-year-old singer is busy throwing lavish parties, releasing fashion collection, and obviously working on her music career.
While we know the singer was in a relationship was with Justin Bieber, but the relationship was short-lived, but what happened after that? do you want to know? Let's dive into the facts now.
Is Selena Gomez Married?
The simple answer to this question is 'NO'; Selena Gomez is not married as of now, not to our knowledge! However, a few speculations were floating around the internet the 27-year-old singer is married.
Also See: Selena Gomez & Hailey Baldwin Wore The Same Sweater, Who Wore It Better?
Well, that's sham! If Selena marries someone, its pretty obvious the whole world will know. The artist has been open about her past relationships as she is not the kind of a person who keeps her personal life private.
All of Selena's past relationship has made the news, and we sort of know everything when the artist is dating someone new, if she doesn't want to.
Who is Selena Dating Now?
Fresh from the oven, Selena Gomez is getting married to 68-year-old, Bill Murray, well let us tell you, people, this a complete bogus! However, you will find plenty of articles floating around the internet confirming to this hoax.
Selena Gomez has been single for pretty much long time; however, according to a few reports, Selena is open to start putting herself out there again when it comes to dating.
Also Read: Demi Lovato Spotted Out Dinner Date With New Boyfriend Henry Levy And Have a Sweet Kiss
Well, it seems like the wait may almost be over because, about a year after her emotional breakdown, the singer seems to be in a good place, and is apparently ready to start dating again soon.
It seems, after a year of emotional breakdown, the singer is ready to start dating again, and amid all of this healing, it's only a matter of time before the singer will be ready to date again.
There were some rumors suggesting the artist is dating her long-time friend Niall Horan as they were spotted together in multiple events, while the longtime friends have been rumored to have a thing for each other for quite a while, it seems like they might just be pals.
Meanwhile, it is also speculated the singer might have a new mystery man, according to the source, Selena is getting a little serious with a new boyfriend, but there's no confirmation of who that lucky guy is just yet.
Who has Selena Gomez Dated?
Well, the list is long though! which includes some of your favorite celebrities, but the only public and longest relationship of Selena was with Justin Bieber.
Selena and Justin's relationship was pretty much on-and-off from 2010 to end in 2018. Shortly after, Justin went on to marry Hailey Baldwin.
Gomez's other infamous long-term relationship was with The Weeknd in February 2017, which lasted for good ten months.
It was reported the couple ended their relationship because they could not find time for each other, while some speculated the reason could be Bieber as Selena was seen with Justin following the split with Weeknd.
In 2016, Selena was linked with Charlie Puth as they recorded their hit duet "We Don't Talk Anymore" though both the singers never admitted it, however, Charlie confirmed the fling in 2018 interview with Billboard.
Charlie implied, "very short-lived, very small, but very impactful. And it really messed me up. I'm trying to put this the best way possible: It wasn't like I was the only person on her mind. And I think I knew that going in -- what I was getting myself into."
Also Check: Dolce & Gabbana Controversy Go Together like Catwalks and Celebrity Spawn
While in the same year (2016), Selena was briefly linked with Orlando Bloom as well, but both denied it.
The speculations came after pictures of Orlando and Selena getting cozy in a Las Vegas nightclub surfaced online. Well, those rumors were put to rest soon enough, and we never really knew if there was anything between the two.
In 2015, Selena had a fling with Zedd, which lasted for a couple of months. Both the star admitted their relationship in an interview. Selena said, " I adore Anton [Zedd] alot, and I definitely had a thing with him, which was nice."
It seems as if the singer has lived out every girl's dream as she has dated all the hot guys of this era. In 2009, the 27-year-old singer dated Twilight actor, Taylor Lautner, the couple spent a lot of time together while they were both filming a movie in Vancouver, and sadly, the couple ended their relationship as soon as they completed the movie.
Well, looking at the list so far, we can definitely say there is no shortage of hot guys that have been on Selena's radar, including Nick Jonas, David Henrie, and an Italian Businessman, Tommy Chiabra, in 2014.
-->