Shawn Mendes Permanently Inks Butterfly Tattoo On His Left Arm Following Suggestion From Fan
Published Thu Jul 25 2019 By Jasmine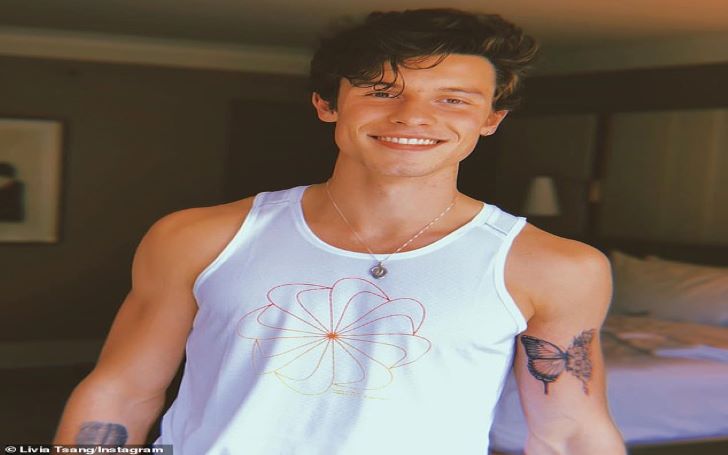 Shawn Mendes permanently inks butterfly tattoo suggested by a fan.
The Heartthrob Shawn Mendes just got a new tattoo, and the tattoo's got an epic story of itself! Shawn now sports a beautiful tattoo on his left bicep. As cute as the art itself is, the story behind it is even cuter!
The new Shawn tattoo is no ordinary. It is a black monarch butterfly with have majestic wings and half flowers. So what is so unique about the tattoo? Well, it was recommended by one of Shawn's dear fans!
Recently, one of Shawn Mendes' fan posted an edit of him with a butterfly tattoo. She even suggested that Shawn is in a desperate need for that tattoo on his arm. She wrote,"Shawn Mendes with a butterfly tattoo. I rest my case,". Along with the post, she attached two separate images of Shawn. Both the images displayed the butterfly-edit on his arms clearly.
The fan named Kayla also mentioned the actual art in the picture wasn't hers, and she was responsible only for the edit. The original art belongs to a male tattoo artist Mac Dreaper, located in Santiago, Chile.
Also See: Liam Hemsworth Hospitalised for Kidney Stones, Skips Grammys and Forced To Cancel Press Tour
The most amazing part of Shawn's tattoo story was he directly initiated the conversation with Kyala, the fan who made the edit. She revealed the screenshots of her conversation with Shawn Mendes in her twitter account.
The fan who posted the edited picture of Shawn is more than delighted to see him actually get the tattoo she recommended on his left bicep! She even wrote about it in her twitter bio. She stated, "now this is phenomenal" and ended the bio with a butterfly emoji.
Recommended: Shawn Mendes is The Big Winner At Juno Gala
Shawn Mendes' tattoo proves how much he truly values the opinions of his admirers. In addition, this new tattoo has driven all Shawns fans, even crazier!
-->