Sheena Easton's Heartfelt Journey: Meet Her Spouse and Explore Her Personal Life!
Sheena Easton, a Scottish singer, and songwriter, rose to fame in the late 1970s and 1980s with her captivating vocals and versatile musical style. Born on April 27, 1959, in Bellshill, Scotland, Sheena's journey to stardom began when she won a BBC talent show, leading to her debut single "Modern Girl" in 1980.
Her success soared with hits like "Morning Train (Nine to Five)" and "For Your Eyes Only," the theme song for the James Bond film. Throughout her career, she embraced various genres, from pop and dance to adult contemporary and jazz, showcasing her vocal prowess and earning multiple awards and accolades.
Sheena Easton Married First Time At the Age of 19
Sheena Easton, the Scottish singer, has had a colorful personal life, being married and divorced four times. Her first marriage, at the age of 19, was to Sandi Easton in Britain, but it lasted only eight months.
Tragically, Sandi Easton passed away in 1998 at the age of 48. Throughout her life, Sheena has also embraced motherhood through adoption, and she has two adopted children.
Despite the challenges in her personal life, Sheena Easton has continued to shine as a talented and successful artist, captivating audiences worldwide with her mesmerizing voice and unforgettable performances.
Other Marriages, Divorces, and Kids
Sheena Easton has experienced several marriages and divorces in her life. Her second marriage, to talent agent Rob Light in 1984, ended after 18 months. She later became a US citizen in 1992 while retaining dual citizenship with the United Kingdom.
Her first child son, Jake Rion Cousins Easton was adopted in 1994. Later, she adopted her daughter, Skylar Easton in 1996. In 1997, she married producer Tim Delarm, whom she met while filming an episode of ESPN Canon Photo Safari, but their marriage lasted only a year.
Sheena married Beverly Hills plastic surgeon John Minoli on November 9, 2002, but they divorced in 2003. She now resides in Henderson, Nevada.
Also See: Is Kate Phillips Married? Who is her Husband? Detail About their Married Life and Relationship
Wonderful Singing and Acting Career
Sheena Easton gained fame through the British reality TV series "The Big Time: Pop Singer," where she pursued a record deal and signed with EMI. Her debut singles, "Modern Girl" and "9 to 5" (also known as "Morning Train (Nine to Five)" in the US), both reached the Top 10 of the UK Singles Chart simultaneously, establishing her as a successful British female artist in the 1980s.
She is a six-time Grammy Award nominee and a two-time winner, earning Best New Artist in 1982 and Best Mexican-American Performance in 1985 for her duet with Luis Miguel on "Me Gustas Tal Como Eres." With great hits, she sold more than 40 Million records worldwide and gather massive recognization.
She holds the distinction of being the first artist with Top 5 hits on all of Billboard's primary singles charts. She has collaborated with notable musicians, writers, and producers, like Prince, Kenny Rogers, and David Foster. Her hit songs include "For Your Eyes Only," "Telefone (Long Distance Love Affair)," and "U Got the Look."
All of Sheena Easton Awards So Far
Sheena Easton has achieved significant recognition and accolades throughout her career. Her Grammy nominations, totaling six, included wins for Best New Artist in 1982 and Best Mexican-American Performance for "Me Gustas Tal Como Eres," a duet with Luis Miguel, in 1985.
Additionally, she received nominations for Best Pop Vocal Performance, Female for "For Your Eyes Only" (1982), "Telefone (Long Distance Love Affair)" (1984), and "Strut" (1985), as well as Best R&B Performance by a Duo or Group with Vocal for "U Got the Look," a collaboration with Prince, in 1988.
Sheena Easton's achievements extend beyond Grammy recognition. In 1981, she won a "Billboard" Music Award for Top Pop New Artist and received an American Music Award nomination for Favorite Pop/Rock Female Artist in 1982.
Her talent was celebrated in the UK as well, as she was named Best British Female Singer by the "Daily Mirror" Pop & Rock Awards, and Best Newcomer by Capital Radio in 1980. With her great career, she was later inducted into the Casino Legends Hall of Fame in 2004.
Net Worth and Earnings of Sheena Easton
As of 2023, the accomplished Scottish singer, Sheena Easton, boasts a remarkable net worth of $12 Million. Her talent and success have made her one of the most renowned actresses and singers worldwide.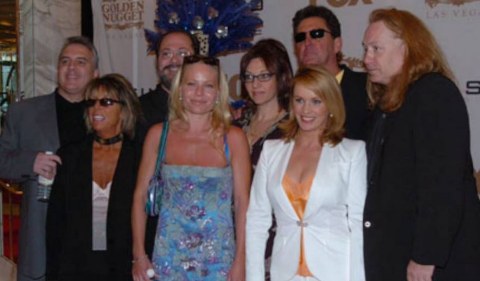 During the peak of her career, Sheena's involvement in various projects allowed her to earn over $2 Million annually. Must Read: How Rich is Singer, Dante Bowe in 2023? Know About Dante's Earnings, Salary, Tours, and Many More
Houses
In 2005, Easton made a significant real estate investment, purchasing a splendid 4,137-square-foot home in Henderson, Nevada, for $511,000. The exquisite property features six bedrooms and 4.5 bathrooms, showcasing the comfort and luxury befitting of her successful career.
With her impressive accomplishments and continued popularity, Sheena Easton's legacy in the entertainment industry remains unparalleled.
Bio/Age/Family and Education
Sheena Shirley Orr, known professionally as Sheena Easton, was born on April 27, 1959, in Bellshill Maternity Hospital, North Lanarkshire, Scotland. She was the youngest of six children, with two brothers, Robert and Alex, and three sisters, Marilyn, Anessa, and Morag.
Her musical talents surfaced early, and at the tender age of five in 1964, she performed "Early One Morning" at her uncle and aunt's 25th wedding anniversary celebration, impressing her relatives.
Tragedy struck in 1969 when Sheena's father passed away, leaving her mother, Annie, to support the family. Despite the challenges, Annie was always there for her children, and Sheena fondly recalls her mother's dedication and the invaluable support she provided.
Annie's efforts included teaching all her children to read even before they started school, a testament to her love and commitment to their well-being.
Seek Glamour Fame For More Related Contents
-->