Shocking New Details Emerge From Nipsey Hussle Murder
Published Sun Jun 30 2019 By Travis
New details emerge from court documents in Nipsey Hussle's murder.
It was a beautiful day on March 31, two days before Nipsey Hussle was scheduled to meet with the LAPD to talk about better improving the relationship between the LAPD and the people in South LA. That was the man Nipsey Hussle was, looking out for his neighborhood, place where he grew up, a place he called home.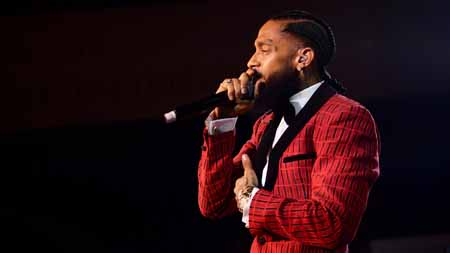 On March 31, 30 minutes into his visit to Hyde Park where he owned several businesses, he met Eric Holder. Before Nipsey was signing autographs and taking photos, then Nipsey met Eric, the two shook hands, and now new details have emerged from the unsealed grand jury that says Eric and Nipsey talked about snitching before Nipsey was shot dead.
Eric Holder got chili cheese fries after his talk with Nipsey then he walked to a woman's car, and both of them drove off. After circling the park, they returned as Holder was holding a gun in each hand and asked the woman to drive by the clothing store. She refused and then he got out, told her to wait there and went back to talk to Nipsey, this time though, he shot the famed rapper ten times.
Deputy Dist. Atty. John McKinney told the grand jury that the implication made by Nipsey was enough for Holder to come back and shoot him. He said, "Apparently, the conversation had something to do with [Hussle] telling Mr. Holder that word on the street was that Mr. Holder was snitching. The conversation wasn't particularly intense. It wasn't particularly belligerent," but "that it moved Eric Holder to the point of wanting to return to the parking lot and kill Nipsey Hussle."
Holder shot the rapper ten times and then kicked the rapper's head, multiple times. As soon as he was done, Holder ran to the car where he told the woman to drive the vehicle. The woman who was only identified in the court documents as "Witness 1", as she has received multiple credible threats to her life for being involved in the shooting, said she asked Holder what happened and he shouted at her to drive, or he will slap her.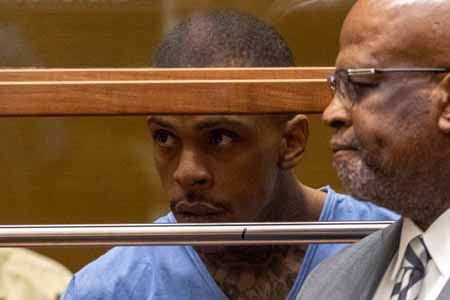 Witness 1, who was testifying under immunity from future prosecution, said she drove Holder to a motel where later that night she confronted him after she realized he shot and killed Nipsey Hussle. After she returned home, she saw her car's license plate and her photo all over the internet connecting her to murder. As soon as she saw this, she went to the police station where the police questioned her for five hours, and after assessing the threats made against her, she was relocated by the police to protect her from retaliation.
Eric Holder, who is facing six counts of indictments, which includes one count for murder, two counts each for attempted murder, and one count for possessing a firearm as a felon, appeared in the court in standard prison garment as he looked stoically at the proceeding.
Herman Douglas, one of Nipsey Hussle's associate, was also in court to testify. In his testimony Herman said, he heard the two greet each other and talked in a normal tone for a while, and then the topic turned to snitching as Holder asked Hussle if he had ever snitched. Hussle asked the same question to Holder. Douglas said, "Man, you know, they got some paperwork on you," Hussle told the former gang member, "Like you need to maybe take care of that."
According to Douglas, Hussle was telling the guy to be careful as there were rumors that Holder was talking to the police about someone.
As Holder left, Douglas went inside to eat his lunch, and that is when he heard gunshots and when he ran out, Hussle was on the ground with multiple wounds and Holder was running away. Douglas said;
He was still breathing, you know, like biting his tongue a little bit, then he — he was just trying to fight it, trying to gain consciousness, and he was going out. And he just kept — he just kept fighting.
That is heartbreaking, and something even more tragic is when DDA McKinney told the court, the last words of Nipsey Hussle. McKinney said, after Holder shot Nipsey, lying on the ground, Nipsey looked at Holder and allegedly said, "You got me."
The "Status Symbol 3" artist was 33 years old when he was shot dead, but he had already achieved elite status in the underground and mixtape hip hop scene. He most recently released the acclaimed album Victory Lap which was the culmination of his years of struggle.
Watch: The music video for Status Symbol 3
Hussle's funeral was held in the famed Staples Centre where many paid tributes as the speakers played Nipsey's music. The funeral that stopped the hip hop community was a gathering for love and respect for the hero of South LA. Many paid tribute at the funeral and the former president of USA, Barack Obama, also wrote a letter to commemorate the slain rapper. He said;
While most people look at the Crenshaw neighborhood where he grew up and see only gangs, bullets and despair, Nipsey saw potential. He saw hope. He saw a community that even through its flaws, taught him to always keep going.
The rapper, whose Crenshaw mixtape was supported by Hip Hop's first billionaire, Jay-Z, as he bought 100 copies of the CD for $100 apiece, was honored throughout the hip hop as well as the music community.
Most recently a tribute for the slain rapper was televised during the 2019 BET Awards. In a moving tribute performance, Marsha Ambrosius, YG joined John Legend and DJ Khaled on the stage. Later T.I. presented the rapper with the humanitarian award for his work in South LA. Hussle's girlfriend, Lauren London, received the award alongside her ten-year-old daughter and two-year-old son, Emani and Kross Asghedom. She also provided a moving tribute at the show.
Watch: The tribute for Nipsey Hussle at the BET Awards
Nipsey's grandmother also paid tribute to the rapper; she said, "God said to Nipsey, 'You've done your job, you've made your mark.' So thank you so much, world, for loving him, too."
Hussle's parents were also among the speakers at the show, and Hussle's father said, "He wanted to be here so badly. Last year he made it to perform here, and we were so happy for him. You recognize him, and we appreciate that. The marathon continues."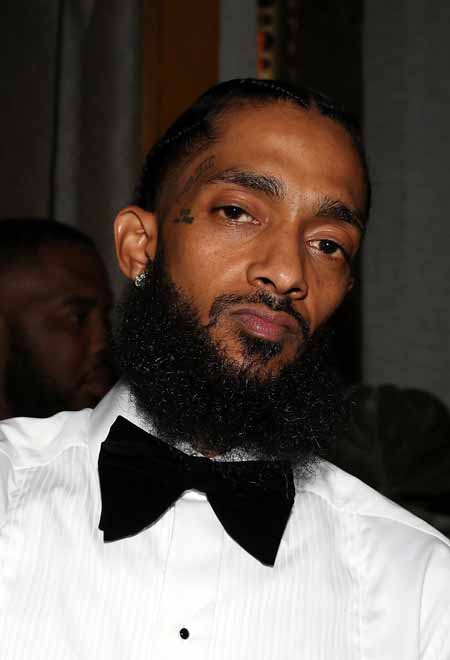 The rapper was murdered in a moment of rage by a hateful person, and the world lost one of the brightest stars on that fateful day of March 31. Nipsey is gone, but his music and his words are still with us, and like the talented rapper said, "The Marathon Continues."
-->