Sky News Presenter Gets Slammed For Patronising Argument In Awkward Interview
Published Wed Apr 17 2019 By Eden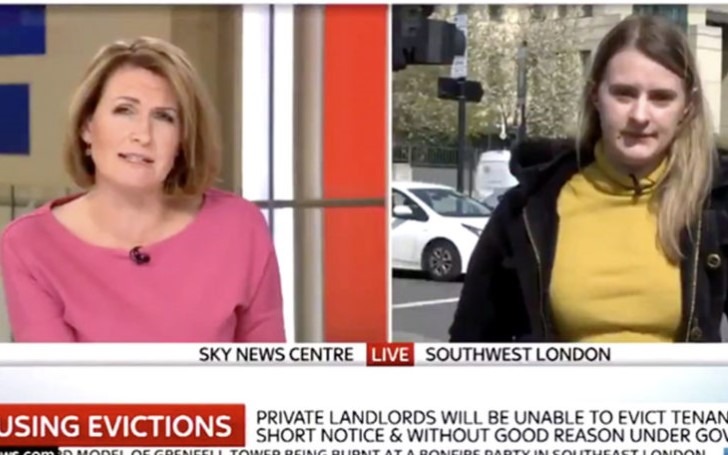 Sky News presenter faces backlash over a patronizing argument in an awkward interview.
Sky News presenter Jayne Secker faces criticisms for her part in an awkward interview about Britain's housing crisis.
While speaking to recently-evicted tenant Kirsty about the cost of renting in London, Secker revealed she was a landlord herself. The presenter first argued that the cost of renting was the fault of the housing market, rather than the landlords.
You Might Like: Passenger Gets Arrested For Throwing Six Coins At Plane Engine For Good Luck
"But that's not the landlord's fault, is it? That's just the housing market. The landlord would have the same issue if you decided to move out in two months."
Jayne continued: "I suppose some would say, and I am speaking as someone who has rented flats and who also rents flats out, that especially with the younger generation, you very often find that the younger tenants don't really know how to do a great deal in homes.
Also See: Kim Kardashian West And Kylie Jenner Will Be Launching A Fragrance Together On April 26
"I, for example, have had tenants complaining that lights have popped because they don't know how to change lightbulbs. I've had tenants complain about heating… and they haven't turned the boiler on. It's just very obvious things."
The presenter then asked, "Do you think you've found amongst your friends, perhaps, that you're aren't equipped with the necessary skills to rent?"
Also Read: Married At First Sight: There's A Video Proving Jessika Cheated With Telv
Clearly taken aback by Secker's comments, Kirsty described the questioning as "patronizing" – which many people have agreed with on social media. Check out some of the tweets.
Secker's comments relating to young people's inability to perform basic tasks at home are what got many riled up and rightly so.
-->