Speaking Of See-Through It Doesn't Get Much Better Than Kylie Jenner's Beaded Fishnet Pants!
Published Tue May 07 2019 By Andrew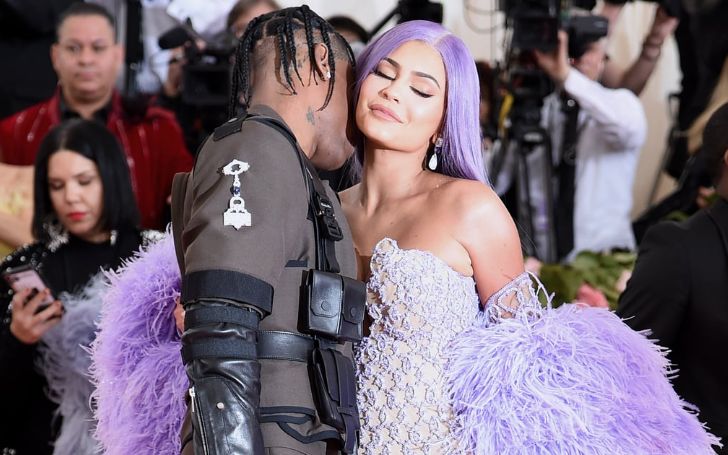 Nothing can top Kylie Jenner see-through Beaded fishnet pants.
Kylie Jenner started the Met Gala vibes ahead of time as she wore a plunging oversized Mach & Mach pinstripe blazer with sheer beaded fishnet pants. She complimented the all-black ensemble with lingerie-inspired mesh Alexander Wang slingback pumps.
Closely acknowledging her outfit one can totally witness the heel strap that looks just like the one you'd find on a bra. Could the addition provide a shred of a hint towards her Met Gala outfit? Kylie did rock that Alexander Wang design last year.
Also Read: Kylie Jenner Rumoured To Be Strongly Considering Quitting 'Keeping Up with the Kardashians'
Taking another shot to appreciate Kylie's outfit, she totally gave justice to a truly jaw-dropping ensemble that was enriched by a pinstriped blazer top with big, pearl-like buttons, sparkly mesh pants, and see-through shoes.
Kylie rocked a see-through for this year's Met Gala
SOURCE: E! Online
If closely observed, one can witness that Kylie is probably wearing the engagement ring that popped up on her Instagram yesterday morning. Although the ring is super blingy and Kylie and her boyfriend Travis Scott refer to each other as husband and wife, Kylie's ring seems to be in the wrong hand, suggesting that maybe it isn't an engagement ring after all!
Kylie Jenner is surely known to rock the best of outfits and she did the same with the see-through pants in this year's Met Gala as well.
-->