Stacey Solomon Boyfriend - Find Out About Their Beautiful Relationship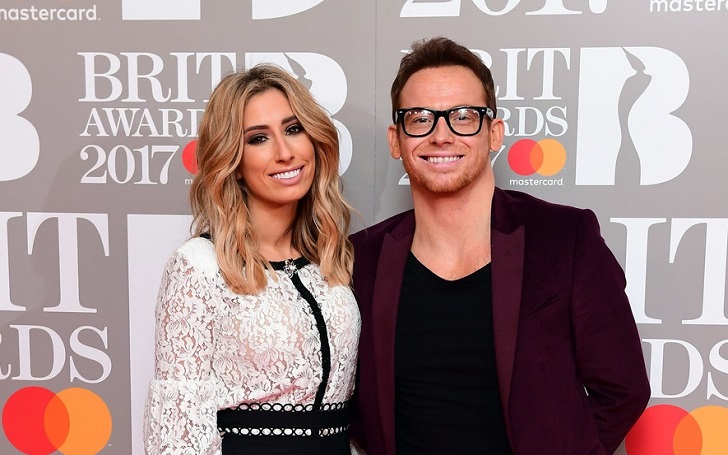 Lucky are those who find their true love even after going through rough patches in life. Same goes with the English singer, Stacey Solomon, who finally found the love of her life, Joe Swash, after facing two unsuccessful relationships.
Stacey and Joe created a very special place in the heart of the fans with their cheeky laughs, candid social media posts, and hilarious on-screen antics. So, it won't be wrong to say that they are one of the most-loved couples in showbiz.
While there have been some up-and-downs in their love life, they have quite a romantic story to tell. So without any delay, lets head right into their beautiful journey of love.
From First Awkward to Being The Parents of Four Children
Stacey Solomon and Joe Swash have been dating for almost a half-decade now. The couple first met on the show 'I'm A Celebrity… Get Me Out Of Here!' in 2010, however, it was not until 2016 that their romance blossomed.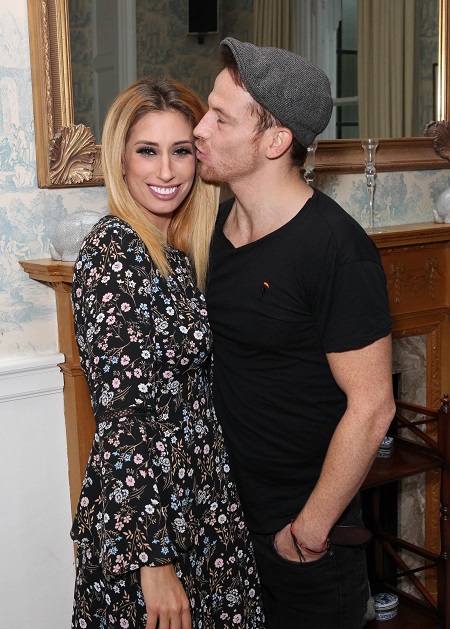 Stacey Solomon and Joe Swash are together for almost five years now.
Photo Source: The Sun
Though Joe was attracted towards the television personality Stacey from their first meeting, she was in a relationship with another man. So, it was only in 2015 when Swash finally took actions into his hands- leading to the most awkward kiss.
The couple first sparked the rumors of their romance in January 2016 with Stacey confirming their fling a month after. They first flaunted their love in public after attending a gala screening of Game of Thrones in March 2016.
Also Read: Greg Hardy Girlfriend - Find Out About His Dating Life
Solomon and Swash built a strong bond and respect in a short time as they planned for their own baby by August 2016. The duo finally moved in together and welcomed their first child together as a son named Rex on May 23, 2019.
Apart from Rex, the X Factor finalist is also the mother to her two children, Zachary, 11 from her childhood lover, Dean Cox, and second son Leighton, from former fiancé, Aaron Barnham. Similarly, Joe is also a father 12-year-old son named Harry from his romance with ex-finacee, Emma Sophocleous.
The lovebirds are together for almost five years and are yet to tie the knot. Well, it seems like they won't be walking down the aisle any time soon, as Stacey clearly admitted that a wedding isn't at the top of her priorities.
Stacey Solomon and Joe Swash Nearly Ended Their Relationship.
Stacey Solomon and Joe Swash were on the verge of breaking off their relationship if it was not for their son, Rex. The 38-year-old English actor admitted on Stacey's Here We Go Again podcast that they would have separated due to Solomon's drastic change in behavior.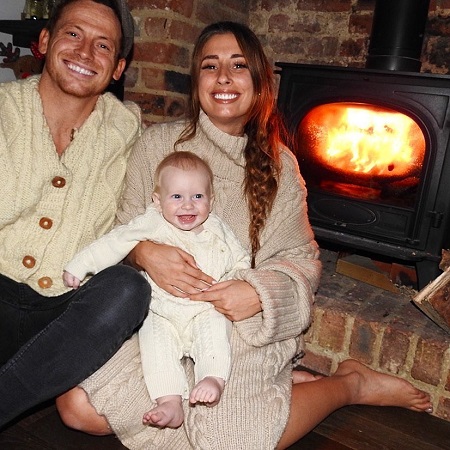 Stacey Solomon and Joe Swash would have broken off if it wasn't for their son, Rex.
Photo Source: Daily Record
Dancing On Ice star confessed that he "resented" his girlfriend in the first few weeks following Rex's birth as Stacey banned him from going near his son because he sprayed too much deodorant. Despite having a bump in the way, Joe handled the situation for their baby as he said,
"I think because it's a baby, it makes everything acceptable. There's a real reason behind it. If it was just a normal, everyday, this is how we are feeling. Fine, I would have to think about where we were in a relationship. Because we had our baby, our family, it all becomes acceptable."
On the further hand, Stacey also realized her mistake or excessive protectiveness and praised her lover for handling the situation perfectly.
Recommended: Some Facts to Know About Tekashi 6ix9ine's Girlfriend Rachel Wattley AKA Jade
Recently the rumors of their split again surfaced after Solomon, who has always been candid about her personal life on the social platform, took a break from social media for "personal reasons." And fans speculated her reason for retreating from the limelight was due to her break up with her boyfriend, Joe.
Loose Women panelist, however, shut the rumors of their split and reassured the fans that everything was rosy with her romance. She dismissed the speculations of their break up through an Instagram story saying,
"'Personal reasons' isn't code for divorce (we aren't married, you know what I mean) it just means some things are happening in our live personally at the moment. And some things aren't mine to share."
Meanwhile, Stacey and Joe are spending the lockdown period together with their three children. Their romance seems to be heating up further, as the English singer star jokingly said Swash is "trying to get me pregnant." Moreover, she also stressed fans' kind words keep her going after split rumors.
Don't forget to head to our Entertainment section for more exciting news and gossips. And stay updated with Glamour Fame to keep track of the entertainment world.
-->