Stas Karanikolaou and Jaden Hossler Are Dating. Details on Their Relationships
Stas Karanikolaou and Jaden Hossler are the new flames in the town and are making headlines. Stas, Aka Anastasia Karanikolaou, is an American Instagram star with a huge fan following. She is also famous as the best friend of socialite Kylie and Kendall Jenner. On the other hand, Jaden is an American singer and songwriter with a successful career.
Hossler has released one studio album and several singles with excellent feedback. His music even helped him to gather nominations for the iHeartRadio Music Awards. Now Let's dig into more detail regarding the duo. Are they dating, or is it just a publicity stunt? Find out below.
Stas Karanikolaou and Jaden Hossler Are Dating
The Celebrity duo Jaden Hossler and Stas Karanikolaou are a new couple in the industry and give headline after headline. After being a part of romance rumors, the lovebirds finally confirmed their relationship. They revealed their romance through their respective social media accounts, and fans went crazy about the news.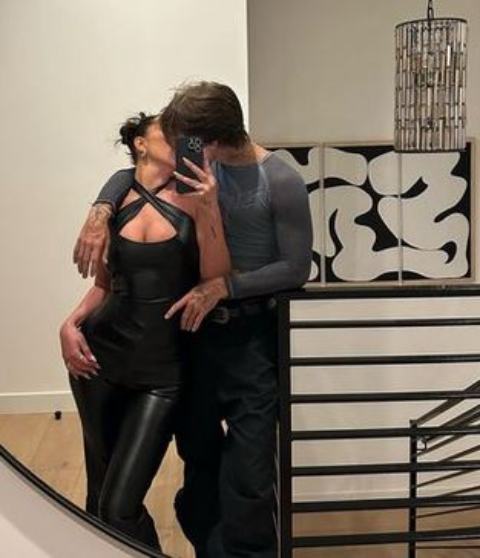 Jaden uploaded the kissing snap of the duo in a mirror selfie. The singer wore a sported long sleeve with black pants during the event while the model fitted leathery black. As they looked dashing in outfits, many assumed that they enjoyed a romantic date night and had a snap. Several known celebrities rushed into the comment section and congrats the pair.
However, the Instagram star hasn't yet posted pictures of the pair on her social media accounts. Maybe soon, she will also reveal their romance through her Instagram account. So, her fans and media are still waiting for the day.
Relationship Timeline of Jaden Hossler and Stas Karanikolaou
From early 2023, Jaden Hossler and Stas Karanikolaou have given a glimpse of their relationship with the world. In January, the singer hinted at their romance after he posted a TikTok! In the video, he recorded the beautiful model lip-syncing the audio,
"Excuse me? Excuse me? Excuse me? Mommy? Sorry. Mommy? Sorry."
Stas gave a beautiful smile to him while enjoying drinks in her gorgeous green bikini.
That particular video went viral and was viewed by Millions of people worldwide. Later in February, the Instagram star posted a TikTok with her partner and made the extra buzz. The pair were spotted together holding hands on February 4 in Los Angeles.
Hossler and Stas enjoyed the line on Hollywood Blvd to enter the Revel Group Party. The beautiful Anastasia showed her breathtaking figure in a strapless denim outfit with high black boots. While the singer dashed in his black sweater, exposing the tattooed abs and chest, followed by messy hair and black pants and boots.
As Hossler and Karanikolaou's love seems so much young, they are enjoying one another companionship to the fullest. They are officially dating and will surely give more surprises to their fans shortly.
Past Relationships and Break Ups of Jaden Hossler and Stas Karanikolaou
Jaden Hossler and Stas Karanikolaou have fairy-tale love lives. But before the duo met, Jaden and Stas had several noticeable relationships and breakups.
Stas was recently linked with Harry Jowsey from Too Hot to Handle after the pair posted romantic TikTok videos. However, neither confirmed the connection, and the news faded away.
In late 2020, she began dating TV star Noah Centineo. After several months they choose separate paths in their life.
In 2016, the Instagram star also dated fellow Sam Wilkinson. With the same working background, they were featured in several posts together. In November 2017, they finally broke up after several misunderstandings in their love life.
The singer, Jaden, was romantically linked with beautiful TikTok star Nessa Barrett. But neither of them has confirmed their affair. Currently, Nessa is in a relationship with Harley Solomon.
Hossler was officially dating another gorgeous TikTok star, Mads Lewis. For months, Jaden and Lewis shared an incredible romance. They enjoyed their relationship for several months and later broke up.
Also See: Explore Kylie Jenner's Friendship With Stassie Karanikolaou Over The Years
How Rich is Celebrity Duo Stas Karanikolaou and Jaden Hossler? Know About Jeden and his girlfriend's Net Worth and Earnings
Stassiebaby is a global phenomenon that has gathered both name and fame. As of 2023, she enjoys a net worth of $4 Million, which she amassed through her incredible career as a model. Most of her money is from Instagram and YouTube, where she does ads for various brands.
From her looks and talent, she has appeared in Teen Vogue and did modeling for Pretty Little Thing and Good American. Her estimated annual income is over $100,000. Also, she owns her clothing store under TJ Swim and adds more to her fortune. On the other hand, singer Jaden enjoys a net worth of $1.5 Million. He is a successful songwriter and singer who tasted success at a very young age.
Most of his fortune is from his record sales and tours. As estimated, he makes around $90,000 per annum through his participation. As of now, the duo is living a luxurious lifestyle. Not to forget that they are still young and talented and will surely add more to their account soon.
Millions of Followers on Social Media
Both lovely pairs are highly active on social media and share great content. As they are young, their so much thing to do in their life. The singer holds an Instagram account with over 4.2 Million follers in it. In 2013 he joined Twitter and gained almost 2 Million followers. His TikTok bill has over 290 Million likes and 9.3 Million followers.
Also, Jxdn's YouTube channel has more than 1.47 Million subscribers. Regarding the model, she holds an Instagram account with over 10.9 Million followers. Her TikTok bill has almost 4 Million followers and 39.7 Million Likes. Also, she runs a Youtube channel under her full name, with over 780K Subscribers.
Stay Tuned To Glamour Fame For More Relevant Contents
-->