Stranger Things' Robin Actress Maya Hawke - Who Is Her Boyfriend?
Published Mon Sep 16 2019 By Sea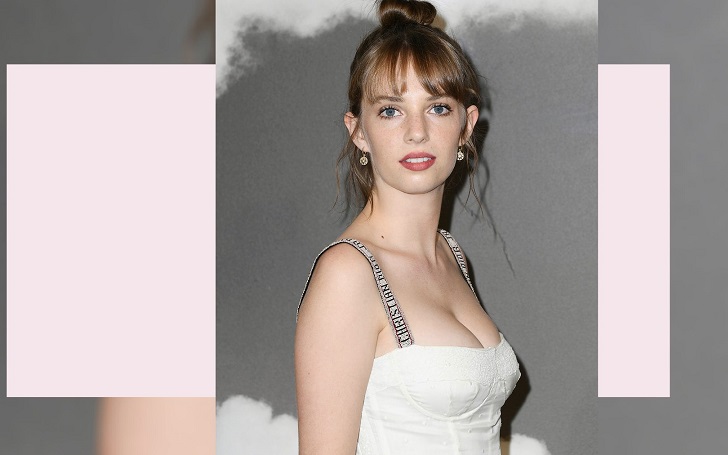 If Maya Hawke's face doesn't ring any bell for 'Stranger Things' fans, maybe her name itself will. She is the daughter to the infamous celebrity couple of Ethan Hawke and Uma Thurman. She plays the character 'Robin Buckley' on the show.
Maya came to the film industry only in 2017 with the character 'Jo March' in the BBC mini-series adaptation of 'Little Women'. Her acting is short till now, but being a child of two big-time celebrities can always make sure she is the spotlight whenever her parents. Despite all that, she is a very private person and doesn't like to talk about her personal life too often. Her representatives also keep their mouth shut on account of her privacy. Her romantic relationships are talked about often but not revealed exclusively.
Maya Plays A Gay Character On Netflix's 'Stranger Things'; Not In Real Life Though
The 21-year-old debuted in the cast of Netflix's 'Stranger Things' in its third season which was released on July 4, 2019. Despite being a new face and the series being her breakthrough, she won the hearts of the fans with her character, Robin Buckley, the former classmate of 'Steve Harrington' (played by Joe Keery).
Spoiler Alert!!! (If You Are A First Timer For Season 3)
This role was made for her. The writers, Duffer Brothers, tweaked the character to make it more like Maya herself. They initially had a different look for Robin. It bode well with the fans too. But there was one thing, in particular, that was different than who she actually is. Her character was made out to be gay on the show.
Robin isn't who you thought she was, right?
Source: Stranger Things, Netflix
Steve doesn't remember the girl from his past but confesses to her when they get captured and injected with truth serum. But later as they converse, Steve finds out that she was actually after a girl named 'Tammy Thompson' in high school when he was crushed on by Tammy. That revelation certainly blew the mind of the fans. Robin just wanted Tammy to see her, but Tammy was after Steve back then.
Watch: Robin Surprises Steve With Her Crush Being A Girl
Despite what character Maya so flawlessly nailed it with, she is not gay in real life. Don't assume anything yet.
Fans Were Shipping Maya And Joe, But He Already Had A Girlfriend
The fans noticed the chemistry between Steve and Robin (prior to the big revelation, that is) and started shipping the two actors even in real life. They thought they had more than what they saw on the screen. And they wanted them to get together.
There's no need to ship these two...
Source: Maya Hawke, Instagram
However, they were not going to be. The fact that the two seem to have such an effect on the fans just means they do their job quite spectacularly. Besides, there was one more shock the fans had yet to endure. Joe already was in a two-year relationship with another actress, Maika Monroe. They met on the set of 'After Everything' and even went to the season premiere of 'Stranger Things' together. By the way, his new hairstyle will absolutely shock you the first time you look at it!
A Wonderful Relationship Ended In 2017 But She 'MAY' Have Found It With With Gus Wenner
Back in December 2017, the actress opened about her rare relationship stories to 'The Sidney Morning Herald' saying that she was single. There was an anonymous but wonderful relationship for a year, but it ended around that time. She confessed that she scared men and "I was given the impression that being 19 and single in the world means you'll be fending off the wolves, but I can't find a wolf to save my life."
To solve the conundrum, she refused to use the dating apps back then, saying she prefers live human contact rather than digital communication. It may partially be why we don't see many photos of her with anyone that may indicate a possible relationship.
Despite it all, some photos do exist that may point towards a possible boyfriend in her life. She is often reluctant to talk about her dating life with people or media, for that matter. Her Instagram feed pops one person into the limelight — Gus Wenner, the son of the founder of Rolling Stone, Jann Wenner.
That's Gus Wenner that is partially seen.
Source: Maya Hawke, Instagram
The photo is purely just suggestive and not anything concrete. But both of them appear in each other's Instagram pages, however sparsely. By the looks of it, they like to travel together. One caption from Gus, "💙" on his post may be an assurance of their romance.
Despite what the mood in the photo indicates, Maya's caption is "Happy 🥳 happy 🥇." August post.
Source: Maya Hawke, Instagram
Taken in Amagansett, New York and no words needed, June post.
Source: Gus Wenner, Instagram
On Maya's wall... May post.
Source: Maya Hawke, Instagram
A picture of Maya on Gus' Instagram page that captions "💙", February Post.
Source: Gus Wenner, Instagram
Both of them haven't talked about what the nature of their relationship is, but they do seem to enjoy each other's company. We can't assume anything by it, and it's best not to dig more into than that. Until they come out and declare to the public, let's just see them enjoy some more.
Stay tuned and connected for more of celebrity lifestyles on Glamour Fame.
-->