Uma Thurman And Ethan Hawke's Daughter Maya Hawke Comes Out As A Gay Character In Stranger Things Season 3
Published Sat Jul 06 2019 By Travis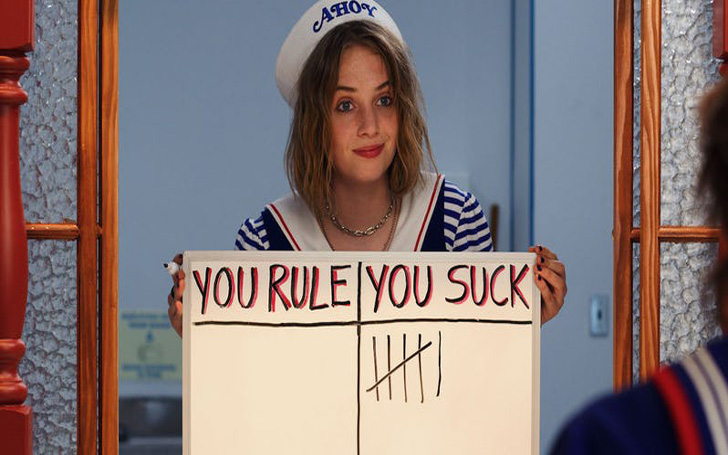 Huge revelation was made in Stranger Things season three and we love it!
On July 4, 2019, everyone held their breath and waited with anticipation for the release of the third season of Stranger Things. Finally, it arrived, and wow, it was great, we will even say that it was the best season of Stranger Things yet.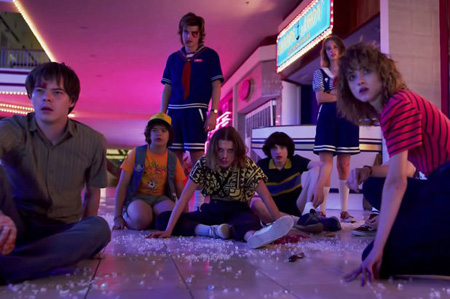 The past relationships, past characters were there, but there was one person who won our hearts and stole the show. 'Robin', played by Maya Hawke, daughter of Ethan Hawke and Uma Thurman, was a revelation throughout the eight-episode season. When we first saw her in the Ahoy ice cream shop inside the Starcourt mall, she just felt like someone who would be the love interest of 'Steve', but wow, we were royally wrong about that.
When we first saw Robin, she was the partner of Steve at the ice cream shop, who kept track of all the girls that rejected Steve. She was a great partner for Steve to play off and then after the arrival of 'Dustin', all three of them (later joined by 'Erica', sister of 'Lucas') turn into a gang of amateur spy hunters.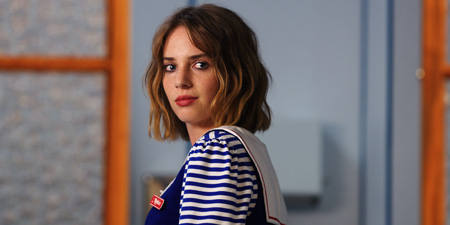 When the four of them infiltrate the Russian base underneath the Stracourt mall, which is when the relationship between Steve and Robin shines through. Robin and Steve are captured and beaten in the Russian base; then they are given a truth serum, that is when Robin reveals that she was obsessed with Steve. Inside the locked room she confessed, "Do you even remember me from that class? Of course, you don't. You were a real asshole; you know that? But it didn't even matter. It didn't matter you were an ass. I was still obsessed with you. Even though we losers pretend to be above it all, we still just want to be popular, accepted, normal."
That was a revelation almost everyone watching the show expected, and after they get rescued and they are in the bathroom puking the truth serum out, Steve tells Robin that he likes her and he should have seen that earlier. But then Robin hints at something unexpected, she says, "I'm not like your other friends." Then she explains the reason she was obsessed with him because a girl 'Tammy Thompson' in high school used to be obsessed with Steve when all Robin wanted was for Tammy to look at her. She said, "…you were a douchebag. And you didn't even like her. And I would go home and just scream into my pillow."
Watch: The coming out scene of Robin
Steve was clueless and even said it out loud with a smile that "Tammy Thompson is…a girl," no shit, Sherlock. She glances at him, and he finally understands, and he lets her know that it is fantastic and also teases her about the singing prowess of Tammy.
This was such a refreshing moment for the show and film industry as a whole; it is nice to know that some creators and writers don't just bring in a person for a role so that they can be a love interest. More things are going underneath than only superficial appearance and her coming out to Steve; you could see that it was the first time she had ever admitted to someone that she was gay, eyes brimming with tears, you could see that Robin found someone that she can indeed be herself with.
When you watch the episode, you can see, the formation of a real relationship between people of the opposite sex, that isn't sexual, it is just love and friendship and that moment touched our heart.
It is also a great move by the writers of the show, knowing their audience. For them to realize that their audience is predominantly millennial and Generation-Z, it was important that the show provided some amount of representation. Recently, Tom Holland also talked about more representation in the MCU. Maya echoed the same sentiment about the representation, she said;
The great thing about Stranger Things is it has such a reach and so many people watch it in the middle of the country. Even a little gesture like having a gay character is a big deal. It feels wonderful to have a piece of that humanity involved in this giant action-packed drama. It's such an amazing thing the Duffer Brothers did, stopping the whole show -- there's an action scene going on [elsewhere in the episode] -- and it stops for a seven-minute conversation between two people who really care about each other. It's a really beautiful thing. I feel really lucky that I got to play that.
Robin was the person who was on a real journey throughout the series, a journey about finding herself and finding people she can grow with, and this journey was practical and uplifting and inspirational. Maya also talked about the journey she was on, she said;
Robin starts the season with a lot of hard walls. The more she gets involved with this mystery, the more herself she becomes. The reason she has all these hard walls is that she doesn't feel like she fits in. She feels like an odd one out. She's gay, and nobody knows that. There's a lot she's bored by, and there's a lot she's too nervous to express about herself that makes a person put up a lot of walls. But once these other characters start to reveal themselves to her, and once she gets to be on the front of a mission, her personality really comes through because she feels like herself. She can use her abilities, and she be useful, and nothing makes a person feel better than being useful.
The end of the season was not the end of the series as we know Netflix will renew the series for season 4, and the nugget seen after the credit is almost a confirmation that we are getting one more season. Now that Robin has come out, Maya expressed her desire, for her character to grow even more in future seasons. She said;
I hope more and more of her is revealed. The amazing thing about the show is that every season, more about the characters comes out. Like, Joe's character is the perfect example. In season one, he seems like the biggest jerk. Slowly, each season, he learns more about how to be a good man and a good person. It's such an exciting transformation to go through, and I hope Robin gets more and more comfortable in her own skin.
Season three ended with a big bang, and it was the best one till date, this was their first foray into inclusivity, and we expect the show to push some more boundaries when season 4 finally rolls into town. For now, head on over to Netflix and watch the brilliant performance by Maya Hawke in Stranger Things season three.
-->