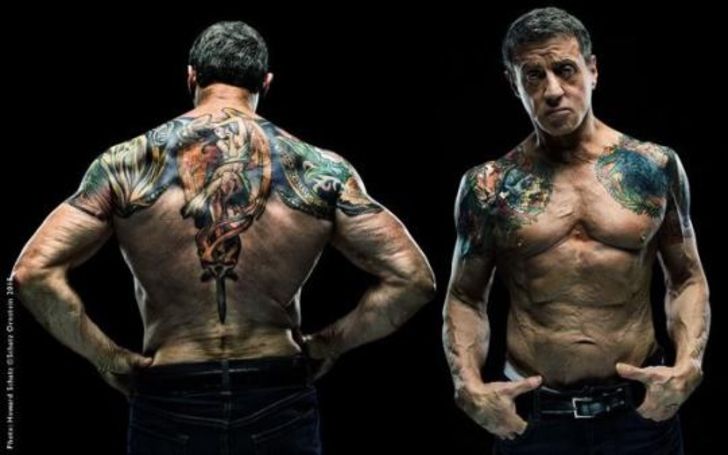 Find out Megastar Sylvester Stallone's all tattoos and their meanings.
We all love, adore, and grew following the legendary artist and the action king of Hollywood, Sylvester Stallone. From movies like Rambo to Rocky to The Expendables, Stallone is an inspiration to all millennials.

Through Stallion's decades-long journey in the showbiz, the 75-year-old living sensation has also transformed himself with time, and here we're talking about his fascinating yet meaningful tattoos.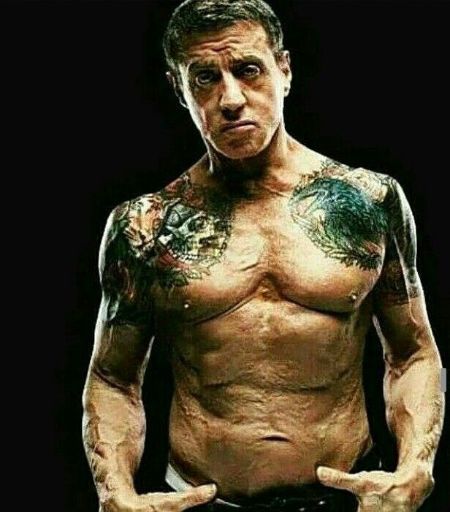 "Success is usually the culmination of controlling failure" - Sylvester Stallone.
Image Source: Pinterest
As behind every tattoo, there's a meaning, Rocky star does hold lots of stories to tell through his tats, and here we present you with Sylvester Stallone's all Tattoos and their meanings.
Sylvester Stallone's Back Tattoo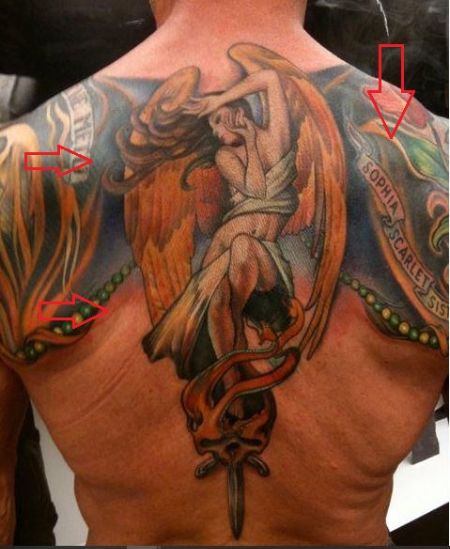 Stallone Angel Back Tattoo
Image Source: Stallone Back Tattoo
Starting with the iconic star's gripping back tattoo, he has a large angel with rust-colored wings rolling over the sword.
To the right of the angel is a tattoo of a banner with the names "SOPHIA, SCARLETT, SISTINE" tattooed on the banner. And on his left shoulder, Sylvester has a rose tatted.
Check Out: Get Every Detail of Jason Momoa Tattoos
The person behind the names is the names of his daughters, Sophia, Scarlett, and Sistine Stallone. Tattoo artist Fzeff Kogu did the masterpiece ink.
Sylvester's Chest Tattoo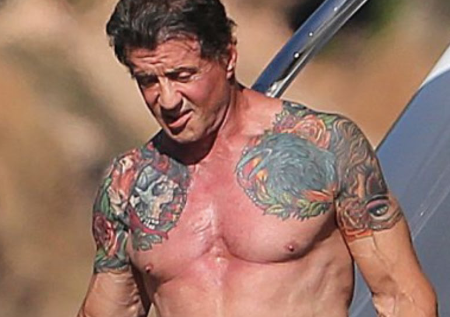 Sylvester's Chest Tattoo.
Photo Courtesy: Pinterest
On Rocky's right side of his arm, covering the chest, he has a devil tattoo blazing with colorful graffiti art and making a helmet out of it.
Similarly, on Sylvester's right arm wrapping around the chest, he has a crow inked on the middle of a bunch of roses where the edges are filled with 'green leaves.'
Eyes and Horse Tattoo
Sylvester Stallone's Left Arm Tattoo.
Photo Courtesy: BodyArtGuru
On the Creed star's left arms, he as a 'horse' and captivating 'blue eye,' the majority of fans seem to wonder who 'she' really is!
You May Like: Tom Hanks' Son Chet Hanks Tattoos and Their Meaning
Prepared to be enlightened cause we've got you covered, those beautiful blue eyes are the eyes of his wife, Jennifer Flavin. Stallion even has a fascinating portrait of her, which we've included below.
Sylvester Stallone's Right Hand Tattoo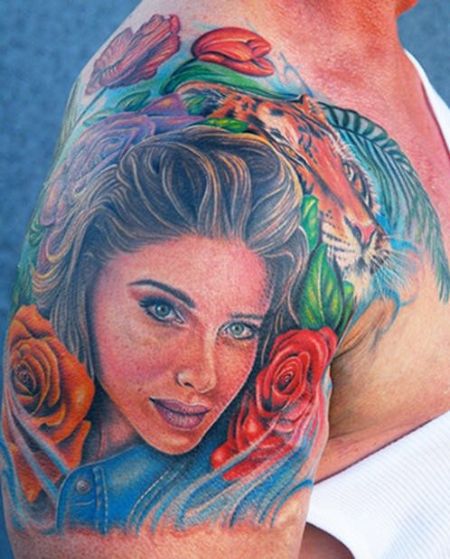 Sylvester has a beautiful portrayal of her wife, Jennifer Flavin.
Image Source: Pinterest
The 75-year-old actor inked a beautiful portrait of a gorgeous woman. Well, the lady is no other than Rombo's soulmate Jennifer Flavin.
Yes, Sylvester has made a face art of his gorgeous wife covered all in beautiful red roses blended with blue fumes. On the top of Flavin's hair, there's a tiger, which might mean Stallion is the Tiger, the protector of his beautiful wife and family.
And interestingly all the three roses on the background symbolizes three of their daughter who shares 'Rose' as their middle name.
So that's all of it; we hope you enjoyed Stallone's tattoos. Stay tuned to find more celebrity-related content on Glamour Fame.
-->